McCoy Fluoro100 100% Fluorocarbon Line 200yd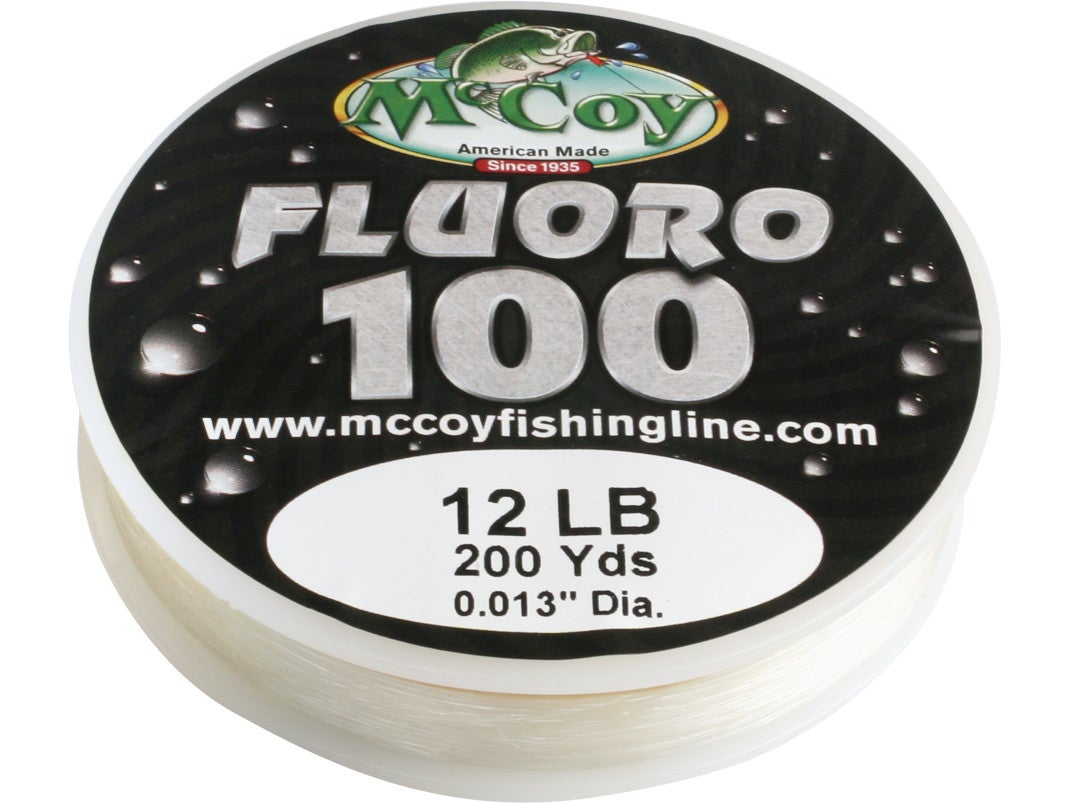 "When winning is on the line, the winning line is McCoy"
New and improved, McCoy Fluoro100 100% Fluorocarbon Line now features a thinner diameter, better abrasion resistance and a smoother feel. It utilizes a proprietary formula of the purest PVDF fluoropolymer available enhanced with McCoy's Advanced Polymer Coating for maximum abrasion resistance. The end result is a crystal clear line with minimal stretch, exceptional knot strength and virtually no spool memory. Developed to improve on conventional fluorocarbon lines, the McCoy Fluorocarbon 100 also delivers superior sensitivity to feel every bite and UV resistance for greater durability. McCoy is also now levelwinding the spools to eliminate line twist when re-spooling your reels.
Made in the USA
**McCoy BassMaster Elite Series Pro, Jason Williamson, used 15lb McCoy Fluoro100 to take home the biggest bag and biggest fish, as well as the win at the 2010 Bassmaster Elite Series "Pride of Georgia" on Clarks Hill. Williamson also used McCoy Fluoro100 in route to his huge win last year at the 2009 Elite Series "Battle on the Border" on Lake Amistad.
| | | | | | | | |
| --- | --- | --- | --- | --- | --- | --- | --- |
| Line Diameter | 6lb | 8lb | 10lb | 12lb | 15lb | 17lb | 20lb |
| Inches | .010 | .011 | .012 | .013 | .015 | .017 | .018 |
| Millimeters | .25 | .28 | .30 | .33 | .38 | .43 | .46 |
Place Your Order
More From McCoy Fishing Line
Customer Reviews
Comments: Best fluoro on the market. I pitched a 6lb line - drop shot under a dock while fishing at Clear Lake. Bass hit hard, and took me into the weeds. I thought I was a goner. After a good fight, I landed the 4 pounder and 5 pounds of salad. I am a believer in McCoy's flouro.
From: Robert: Colorado Springs 1/15/17
Comments: Fluoro100 is the best flipping & pitching fluoro i have ever used. This line is very abrasive restent! witch makes it great for fishing wood, metal or what ever you come by. I will recommend this to ever one!
From: Tyler: NY 3/18/16

Comments: Tryed a lot, an I'll always stick with Mccoy. I like 15lb for Pitchin and bigger cranks, 12lb for small cranks, Strong knots!

Comments: Great stuff Very limp..cast great. Ill be buying more.

From: Barry: San Clemente

Comments: Just got some today 11/15/12 and will be using it this weekend.. Ill let u know..I love mcCoys mean green so im sure i will love this too!!

From: Barry: San Clemente, CA

Comments: I use this in the 20lb test for my jigs and flippin craws and the 15lb for my swallow crankbaits. I have tried several Fluorocarbon lines and this is the best one yet. Its limp and does not coil and awesome abrasion resistance. You wont be sorry trust me

From: Kyle: Texas

Comments: Great line for flipping/heavy duty uses but way to stiff for spinning applications. Great abrasion resistance.

From: Andy: Fremont, IN