McCoy Mean Green Braided Line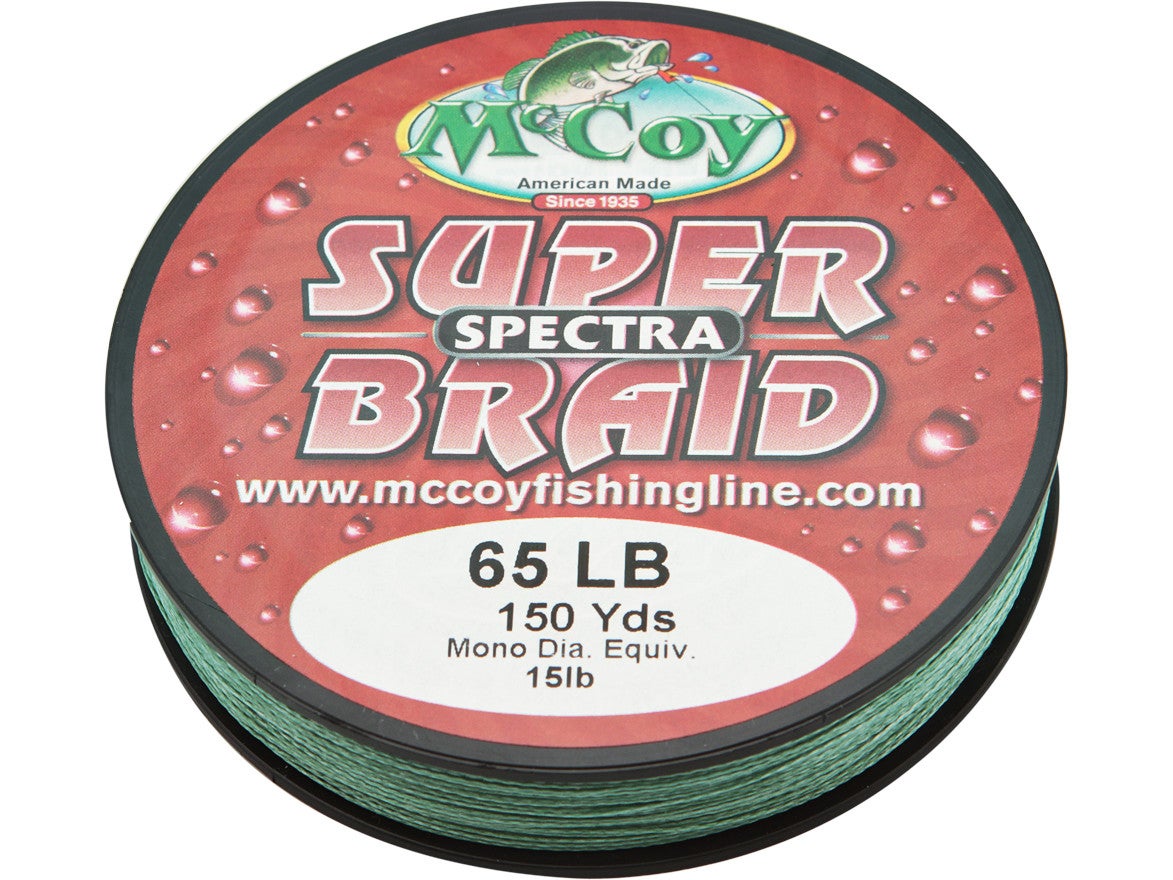 The legendary McCoy Mean Green Monofilament line has a new friend; McCoy Mean Green Braided Line. The manufacturer claims this line is 15% stronger than any other Spectra braid with the same diameter, and has an incredible 5 times better abrasion resistance. This is very important when fishing around rocky structure where ordinary braided superlines can easily be cut. Like other Spectra lines, McCoy Spectra Superline is about 25% the diameter of the same test mono and has virtually no stretch, giving you far greater sensitivity and hooksetting power.
| | | | | | | |
| --- | --- | --- | --- | --- | --- | --- |
| McCoy | 10lb | 20lb | 30lb | 50lb | 65lb | 80lb |
| Equivalent Mono Diameter | 4lb | 6lb | 8lb | 10lb | 14lb | 20lb |
Place Your Order
More From McCoy Fishing Line
Customer Reviews
Comments: This braided line is great for your frogging, pitching and flipping situations. this line is very castable. i am very imprersed and recommend this to everone
From: Tyler: NY 3/18/16

Comments: Received my order of your Mean Green Line 6LBS and have used in the past 4 weeks. This line is the best I have ever used on a spinning reel in my 50+ years of fishing, no memory, strong and virtuly invisable to the eye.Have introduced to my other fishing partners and they also believe best line ever used on a spinning reel.I will be ordering more next week and will be spooling up casting reels and see if Im as satisfied.You can't go wrong with MEAN GREEN!I'll let you know about my use on casting reels.
From: George: Yuba City, CA 3/7/15

Comments: I rarely offer a review unless the product is something I love or hate. This product is the former. While I enjoy the freedom of online retailers, such as this fine site, little is offered outside of manufacturing claims. IÕm sick thinking of the THOUSANDS OF DOLLARS over the years wasted buying into this grossly unregulated practice. This particular product came recommended by industry locals as that of which they never heard a complaint. So I tried it. They were right. While not the best for finesse tactics, and I wouldnÕt use it on a spinner, IÕve yet to find a braid offering such a wonderful compromise to general purpose usage. This stuff is tough. It casts well in wind, with no knots, no tip wrap, takes ink, and lays beautifully upon retrieve. Worth every cent.

From: Trio: NorCal

Comments: Love this braid. I use the 50lb for my frogs. Cast easy, super strong, and rips them out of the grass with ease.

From: Kyle: TX