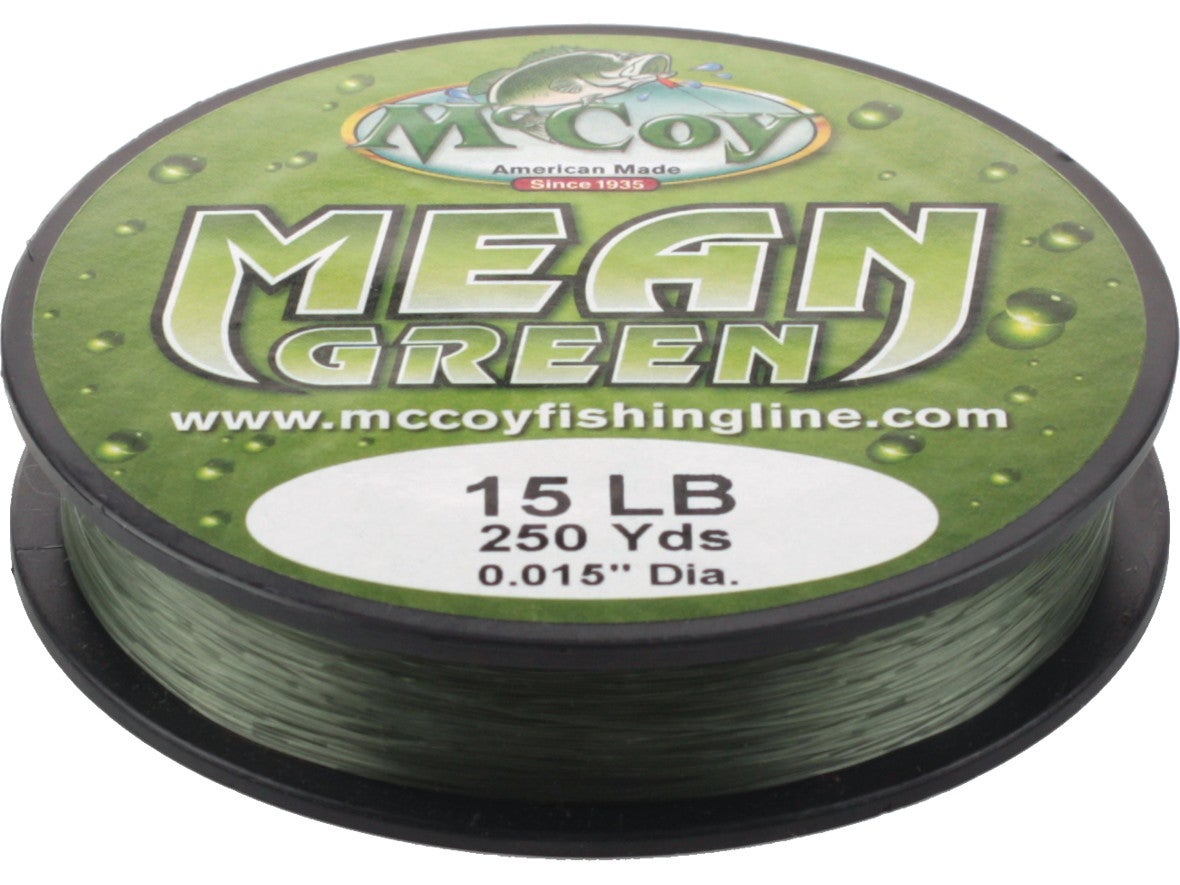 McCoy has been making premium monofilament line in the United States since 1935. Their research and development has kept the McCoy Mean Green line among the best lines available for generations. Today's Mean Green is a blend of nylons and other co-polymers that produces one of the easiest to use lines for both baitcasters and spinning reels. McCoy Mean Green has very little memory so it lays on the spool well and comes off with virtually no loops or coils. McCoy saturates this line with silicon, which eliminates the water absorption that creates tight coils when the line dries and hinders casting distance. When you handle this line you will feel the natural slickness. In addition, the Mean Green color disappears underwater so the fish will never see what hits them. Try this line on your spinning reels and you'll see the McCoy difference.
| | | | | | | | |
| --- | --- | --- | --- | --- | --- | --- | --- |
| Line Diameter | 6lb | 8lb | 10lb | 12lb | 15lb | 17lb | 20lb |
| Millimeter | .254 | .279 | .305 | .330 | .381 | .432 | .457 |
| Inches | .010 | .011 | .012 | .013 | .015 | .017 | .018 |
Place Your Order
More From McCoy Fishing Line
Customer Reviews
Comments: I was first told about this line by a guide in southern Oklahoma. We used it one afternoon while trolling for sand bass. We caught over 30 fish and never once broke off. We caught smallmouth, walleye & even a couple largemouth on 8lb test. It's difficult to find but have been extremely pleased when using this product. My seven year old son hooked a lady fish off the Okaloosa island pier a couple years ago while throwing a spoon on 8lb line. Before he was able to get it in a porpoise ate his lady fish. It nearly unspooled his reel before biting the lady fishes's body off. Nothing was left but the head,spoon, and LINE! Mean Green lived up to its name. 200 plus pound fish on 8lb line. I have pics and video to prove it. I'll stop there.
From: Jeff: Oklahoma City, OK 3/31/16

Comments: I have used most brands of line, at some point, through the years. For most of my life I prefered Trilene. A few years ago I discovered McCoy Mean Green. I have never used any other brand of line since then. This line is simply great. The greatest abrasion resistance I've ever found in a mono. Superior knot strength, and the perfect amount of stretch. I use it for all of my Crankbaits. Make the change..you WONT regret it.
From: Charles: Gallatin, TN 11/19/15
Comments: I've been using this line exclusively for 5 years now and I think it's time to write a review. This line is awesome if your looking for a copolymer line. I don't know if it's invisible under water like they claim, but what I do know is it's strong, very abrasion resistant and has absolutely no memory at all. I would say the low memory is this line's best attributes. I have left line on for over a year (10lb and 15lb) and didn't need to use my KVD L&L conditioner. After a few casts, it will become limp again. The negatives are this line does have some stretch which is normal for a copolymer line and it does turn kind of milky after a while, but doesn't seem to affect performance. Since the line is so inexpensive anyways, you can just change it out. Give this line a try and for the price it can't be beat.

From: Stephen: Ontario, Canada

Comments: Been using this stuff for 13 years and it is the best line I have found for CBs, topwater and SBs. It has little to no memory, VERY abrasion resistent and a good amount of stretch. These characteristics make it perfect for the above applications. In, November 2012, I caught a 9.17 LMB out of Lake Falcon on 17# test that had been spooled for 5 years. Just works great.

From: Thad: Lubbock, TX USA

Comments: I got my PB LMB (12.9lbs) on #12 test in july of 2000. This is some really good line.

From: DC: Cal

Comments: I can't verify that this lines disappears under water but the rest the manufacturers claims found in the description are a 100% accurate. I've used this line for over 20 years and it's consistency from one spool to the next is absolutely perfect. I most often use the 8# on spinning reels and got over a 100 hours of trouble free use on an old Symetre that I pair with a fiberglass rod for throwing small cranks in our local river. Throwing a crank and even in-line spinners for that long without being forced to change the line is amazing. Great product

From: Mike: Aurora, IL

Comments: After trying this on spincast and spinning reels, I no longer use Trilene XL. This stuff has no memory, cast like a dream, and is strong! Knot strenght is super. After about a month of use I can say for a fact that this is the best line I have ever used. I have used the 8 and 10 pound.

From: Scott: Peshtigo, WI

Comments: Excellent line for the price, virtually no memory.

From: Rob: MD

Comments: Ill never buy another fishing line again.. this stuff is where the moneys at!!

Comments: this stuff is good

Comments: McCoy Fishing Line is strong in all sizes and diameters! Lately I've been mainly using 8lb Mean Green in all my applications. I've caught more fish with it also!

From: Reginald: North Augusta, SC

Comments: Best line in its class!!! Super strong, abrasion resistant and smooth. If you could imagine PLINE CXXX that is soft and managable then you have McCoy Mean Green line. You will not break this line under normal fishing conditions. Best line for the money!

From: Andy: Fremont, IN