Megastrike Fish Attractant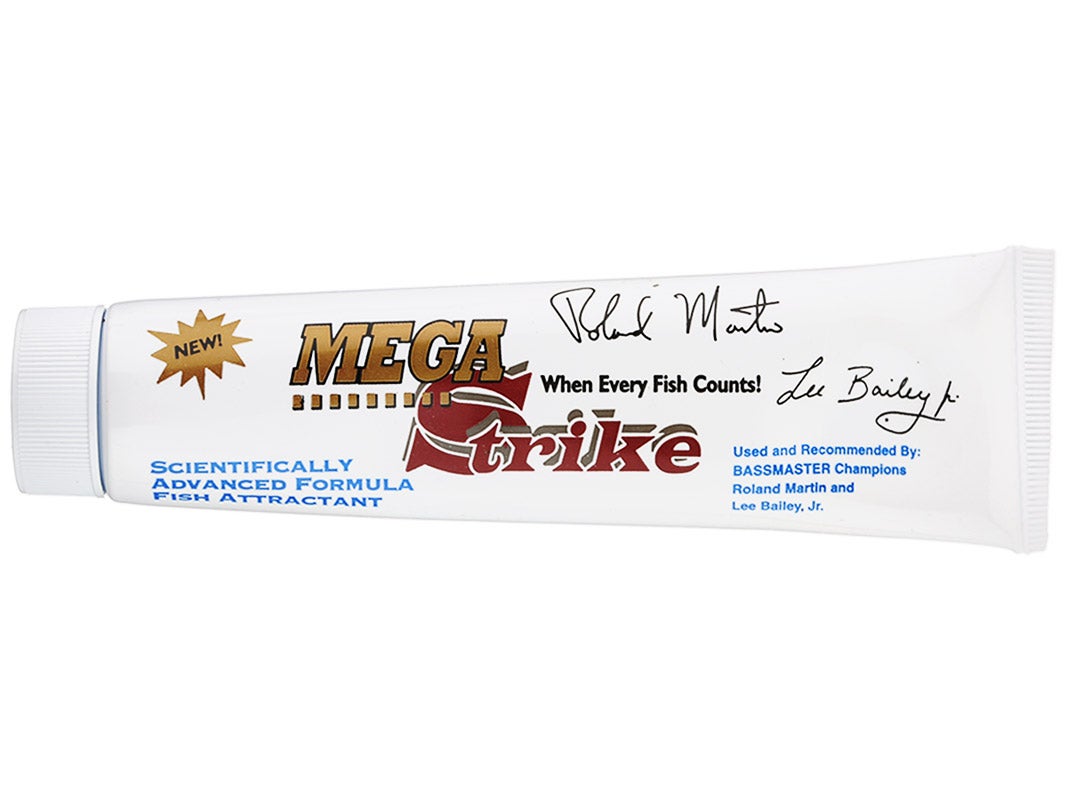 MegaStrike Fish Attractant has accounted for hundreds of thousands of dollars on the Pro Tour. This scientifically formulated attractant took years to develop and is now ready to help you catch fish. The developer identified specific amino acids that trigger a bass' feeding response. He then formulated the smells and tastes to be identical to a bass' favorite creatures. Endorsed by bass fishing legend Roland Martin and Lee Bailey Jr., this is the attractant you've seen on TV and heard about on the dock. Mega Strike is a thick gel that stays on your lure longer and comes in a convenient squeeze tube. Try the newest, most scientific fish attractant on the market today.
Net Weight 57 grams (2.25oz)
Mike Iaconelli used Megastrike Fish Attractant which helped him finish 2nd in the 2009 Bassmaster Classic.
Place Your Order
More From Megastrike Scents
Customer Reviews
Comments: Fished with a friend the other day. He didn't know about MegaStrike until our day on the lake! I caught 9 bass, the biggest being 5 1/4 pounds. He caught nothing. He had a couple of hits, but they didn't stay on. Guess who's a believer now! Lol!
From: Marc: Piscataway, NJ 6/3/14

Comments: Since the first time I tried Megastrike attractant, I was hooked. I started with the original, then went to the garlic scent. You cant go wrong either way. I cant tell you how many times I put this on a soft plastic and the very first cast I bang a fattie! This stuff stays on your bait for a long time unlike the sprays and dips, its very petroleum like so the water does not take it off easily. I like this stuff because those fish will hold on to it once they taste it since it tastes like real forage to them. I never leave home without it.
From: Jeremy: Dover, DE
Comments: don't be stubborn and say your too good for scent. This stuff makes any bait a chili dog to these bass. Big bass are wise bass. I use original megastrtike and it masks any scent I put on my bait. Just as good as smelly jelly without the horrible smell. Original megastrike has close to zero smell which is great if you think a bass gets spooked by a garlic, coffee, or doo doo scent. 5 stars.

From: Bassdale: NJ

Comments: Never was one to use scent but after the good reviews I was hearing and reading here, I thought I might give it a try. I put some of the ca ca smelling craw fish on my Norman crank-bait and BANG FISH ON. Got to say I'm a believer now.
From: LrgeMouthTaker: Fresno, CA
Comments: Just received the garlic scent, and I felt like cooking up some olive oil and pasta...

From: Ed: NY

Comments: Man this thing really smells!! it works great and stay on pretty long!! put this on every plastics and hard baits!! make sure it doesnt get on ur clothes since it smells!!

From: Ricky
Comments: I put that s*** on everything!!!!! This stuff rules. Pick yourself up some today!!!

Comments: Bobby is a genius! I like to apply on my hard baits and plastics but I like to use a q-tip to apply because I want to keep the scent fresh as possible with even my finger scent on the Gel I found out I have to grab the net more times then before let me tell ya!
check out the plastics too ...Im gonna be ordering some more cant wait! Megastrike For the win!

From: Brian: Lake Forest, CA

Comments: great for hard baits. In the summer, keep it in your cooler. Just remember it is on your bait, otherwise it could slide out of your hands and hook into your hand, which is not cool.

From: Meatwad: Out of townski

Comments: This stuff just works. I went out one day and caught nothing. After getting my order from TW when i get home, I went out the next day and caught several fish. Does not smell all to bad and is super easy to apply. About the consistency of a&d ointment. The scent stays on the lure too. I went to put on more scent after a fish and a bunch of casts, I could still smell it! Highly recommend to anybody who uses any soft plastic, jigs, and spinnerbaits.

From: Andrew: Algonac, MI