Megastrike Shake2 Pro Model Shakey Head - $5.49
The MegaStrike Shake2 Pro Model Shaky Head delivers the same consistent performance as the original, but now features a convenient screw-lock bait keeper for easier rigging. Designed to land upright on every cast, it's unique counter-balanced head keeps the head stabilized on the bottom with the bait's tail up in the ideal position. Perfect for attracting finicky and inactive fish to feed, the MegaStrike Shake2 Pro Model Shaky Head is available in multiple colors to help you hone in your presentation.
4 per pack
Comments: best shakey head hands down have fished them all none of them stand up all the time!!!!!! like this one amazing. tubes , swimbaits robo worms crawfish, you name it no need for any other jig perfect for working points humps deep weed edges . have caught some big bass along with some big pike 45" class up in canada . great hooks. try it and find out.

From: Jim: Lake Tomahawk, WI

Comments: I fish a lot of shakys and this is by far the best balanced, it just refuses to fall any other way than straight down. Just picked some some of the 1/2 oz ones, I struggled to make them sit flat so they'd fit in my tackle box. Tried it for the first time on a nasty afternoon in december with the Xcite maximus big 10" floating worm...fishing it slow around some brush landed a 5lber. I fish really weedy lakes and this one hangs up the least out of all the shakys I've tried. Planning on getting some of the lighter ones for finessing it soon. Definitely buy these they are worth it.

From: Petey: DC

Comments: This Shaky head makes your bait stand up effortlessly. I paired a 1/2 oz green pumpkin with a F6.5 Hag's Tornado and caught a 5 pounder and won big fish on our Tourney on 8/13/11.

From: FIGJAM: Nashville, TN

***Note: If you have questions about this product or need assistance with an order please email your questions to info@tacklewarehouse.com
View Large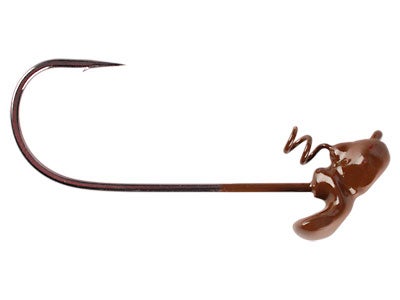 3 Available Colors
More Megastrike Shakey Heads