Missile Baits Shockwave - $3.99
Highly versatile and incredibly effective, the Missile Baits Shockwave delivers a devastating swimming action that works with a wide-array of techniques. Whether it's fished weightless, on a jig head, chatterbait, Carolina-rig, or A-rig, the Missile Baits Shockwave features a thin paddle tail that kicks and flickers with the slightest movement.

Built with a deep hook pocket, the Missile Baits Shockwave makes for easy weedless rigging, but still maintains enough body to be threaded onto a jig head. Incredibly soft and offered in a number of proven colors, the Missile Baits Shockwave delivers all-in-one performance and a powerful swimming action that will really shake things up in your local waters.
Check out additional footage of the Missile Baits Shockwave in action.
| | |
| --- | --- |
| Length | Quantity |
| 4.25" | 5 |
Comments: This is a good bait to fish behind a chatter bait... it really is. But, if you want a swim bait that's going to move water buy the keitech swing impact fat or evolve darkstar swimmers...they will wobble, roll, and put off a lot more vibration. Again- this is a great bait on a jughead or behind chatter baits, but if you are fishing keel weighted hooks or behind a swim jig.. use evolve or keitechs.
From: Jim: NY 4/12/14
Comments: Awesome Swimbait. Very durable and very versatile. The Bombshell color picture does not do it justice. What an awesome color. Will be buying more
From: Joe: USA 4/8/14
Comments: Awesome Swimbait! I love to use it as a trailer for my swimjigs and chatterbaits. Very durable just like all of Missile Baits products. Will last several fish.
From: Unknown: TX 3/9/14
Comments: I just bought a pack of these in the Fishalicious! What an awesome color--you can barely see the blue flakes in the color on TW, but they are definitely more visible in person. It's not an overkill on the blue flakes either--they are very small; just perfect. The bait also has a slit in the bottom making your hook only having to penetrate through a small portion of plastic, increasing hook ups. It is also very slim on the sides, making it a perfect bait for adding it to the back of swim jigs, spinnerbaits, chatter baits, and just a plain swim bait. You guys need to get these in your hands to really appreciate them.
From: BigSCruz33: Greensborro, NC
***Note: If you have questions about this product or need assistance with an order please email your questions to info@tacklewarehouse.com
Color:
Army Green Flash
View Large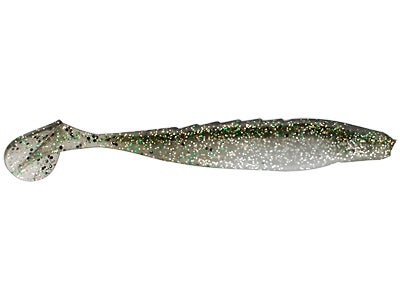 8 Available Colors
More Missile Soft Baits