Mustad Feathered Treble Hook Red Hook 2pk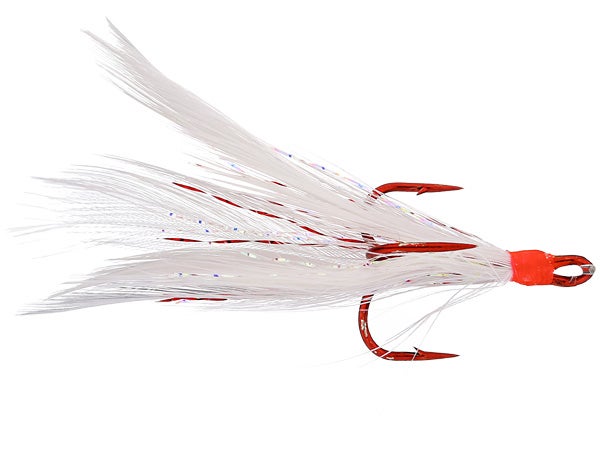 The Mustad Ultra Point represents the culmination of over a century of hook making experience by one of the world's oldest hook manufacturers. The Ultra Point incorporates the three-stage Opti-Angle™ sharpening technology which creates a true needle point that is stronger and resists bending better than conventional points while still providing a sticky-sharp hook. Mustad uses premium high-carbon steel that has been specially Nor-Tempered™ to increase strength as much as 30% over conventional tempering methods while still avoiding brittleness. The red nickel finish resists corrosion and helps keep your hook needle sharp, fish after fish and that extra flash of red can often mean the difference between getting bit and getting skunked!.
Feathered hooks are great for using as trailers on various hard baits for extra attraction and movement when you stop the bait. These round bend treble hooks offer the serious angler the right combination of wire diameter for strength and light weight to keep your hard baits running true. The deep, round bend will hook hard and hold securely to ensure your catch will get in the livewell.
Place Your Order
More From Mustad Treble Hooks
Customer Reviews
Comments: These have worked very well for me on topwater plugs over the last year. Had been using Owners & still use both, but these have longer & more full & symetrical feathers. Decent splash of 'flash-a-boo' in the middle too... Haven't had any issues with feathers pulling free like guy mentioned with the Mustad triple grip feathered trebles... Will try those too & return if I have his bad luck with them...

From: Midwest Bass Guy: Kansas