NetBait Paca Chunk - $2.19
When a company goes to the trouble of putting a patent on the claws of a trailer you know the action and appearance must be something special. NetBait did exactly that with their Paca Chunk trailers. The patented design gives the claws of the Paca Chunk an action never before seen in a trailer. The Paca Chunk works great as a jig trailer or it can be fished on a round ball jig head. NetBait also incorporated a solid body on the Paca Chunk so this trailer will stay secure anyway it is fished.
| | |
| --- | --- |
| Length | Quantity |
| 2" Tiny | 7 |
| 3" Standard | 6 |
| 3.25" Sr. | 5 |
Comments: I tried these for the first time last season and they are a winner! Before these i was strictly using zoom chunks but i am definitely going to use netbait more this season. The action is great, the durability is great and the price just blows away the competition. I have caught so many bass with these as trailers that at the end of the day not only did i have bass thumb but my arm was sore from setting the hook all day on these lures. Great product i would recommend these to anyone!

Comments: If I had to chose one trailer to use it would be NET baits. I can't find another trailer with action like these have. For the price these cannot be beaten.

From: Jake: WI

Comments: Love these trailers, absolutely can not beat them! Claws have great action, these have great scent GREAT color collection and best of all, very cheap! love em, love em, love em!!!

From: Jake: Cocoa, FL

Comments: This is the absolute best trailer I have ever used. The claws have a crazy flapping action and the texture is very nice. It has good scent and a huge color selection. The only possible con is that the claws can break of after a few fish, but at $2.19 a pack, that's not a problem. Amazing craw; best there is!

From: Micah: Honeoye Falls, NY

Comments: patent hahaha waste of time, you can buy a mold just as good if not better off bass takle,plus to get around a patent you could just make the claws a little longer have or put 3 eyes on it, bass cant tell

From: Matt: St. George, Utah

Comments: Very good trailer. A buddy left a jig with one on it in my boat. During my tournament yesterday I used that jig to catch one deep and cull that fish out later swimming the same jig swimming around shallow cover. We ended up winning with almost ten pounds. Very versital trailer.

From: Jonathon: TN

Comments: great craws but i wish tw had the cinnamon purple

Comments: Great lure for trailers and if your willing to work with it you can fit an 1/0 hook on and work it very slow on spinning tackle.

From: JP: St. Peters, MO

Comments: I use them on an olive aero jig to catch rainbow and lake trout through the ice. the tiny paca chunk is a sick bait for trout.

From: Jay: Boulder, CO

Comments: Love these things. Just claws break off kind od easy. but who cares! their cheap and are arguably the best trailer

Comments: The only jig trailer I will use. Great action and good color selection.

From: Kenny: Shepherdsville, KY

Comments: best jig trailor i have ever used!!!!! i love using a summer craw chunk on a booya boo jig in green pump colr. do yourself a favor and GET SOME!!!!!

Comments: the best trailer i have ever used i flip/pitch fish it on spinerbaits and buzzbaits and fish it alone on small jigs! the only problem i find little bluegill and small bass take the claws right off but i have had tremendous luck on one clawed paca chunks

From: Nick: Canada
Comments: Great trailer, and smallmouth candy fished alone on a 3/16-1/4 oz football head or a small gopher head. Yeah the claws come off too easy but nothin rings the dinner bell for bass than a craw w/ only one claw. Easy Meal

From: Jee: New Jersey, USA
Comments:Best trailer on the market. fish a lot of used water / back of boat they have helped my catch ratio tremendously. They also do a great job as a spinnerbait or buzzbait trailer. Especially on a buzzbait with the skirt cut down to almost nothing
From:Kelly: Logan, WV
Comments:Best trailer I have ever used. The bass can't leave them alone.
From:Keith: West Plains, MO
Comments:Good chunks for river smallies on 1/4 oz football heads. Only problem with them is the smaller fish tend to pull the claws off. For the price, quantity, and quality, it's worth the money.
From:Jeff: Indianapolis, IN
***Note: If you have questions about this product or need assistance with an order please email your questions to info@tacklewarehouse.com
Color:
Abura Kayoubi
View Large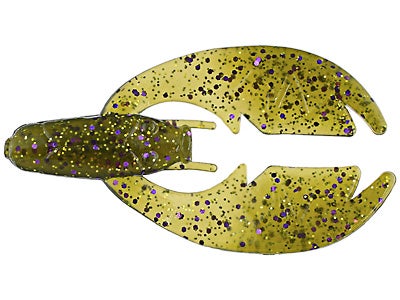 45 Available Colors
More Net Bait Chunks