New Pro Products V-T2 Livewell Ventilation System - $44.99

In a sport that is as competitive as bass fishing, a tenth-of-an-ounce can mean the difference between cashing a check and going home empty handed. That is why New Pro Products has developed the V-T2 Livewell Ventilation System – a unique, low-cost livewell modification that will help you avoid costly dead-fish penalties.
The New Pro Products V-T2 Livewell Ventilation System allows continuous oxygen to flow inside of your livewell and provides a release for heat and other metabolic gasses, which can be harmful to fish. Incredibly easy to install, the New Pro Products V-T2 Livewell Ventilation System mounts flush to your livewell lid and only requires a drill, hole saw bit, drill bit, screwdriver and a few short minutes.

In addition, the New Pro Products V-T2 Livewell Ventillation System needs no electricity, so it won't tax your already-overloaded batteries. Universally adaptable to any livewell, the New Pro Products V-T2 Livewell Ventilation System is an easy and cost-effective way to ensure that your fish make it the scales in optimum condition.
-All Hardware Included
View Large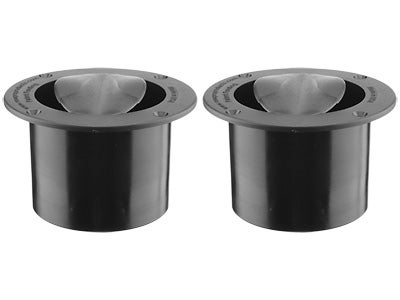 Place Your Order
More V-T2 Livewell Ventalation System
Comments: The V-T2 has been an absolute life saver when keeping fish alive. I believe this product excels in hotter climates. While I was living in south Texas I had several tournaments where I carried coolers of ice or frozen water bottles to help with keeping fish alive. Once I overcame my fear of cutting a hole in my live-well lids and installed the V-T2 it was no longer necessary. My livewell a remained cooler and the fish had no problem remaining healthy. Loosing a tournament because of a dead fish is a fear I no longer have. This is something that I think every tournament angler and conservationist should have. This product is the standard in fish care!
From: Brian: Sanford, NC 4/15/14
Comments: These should be required on every tournament bass boat. I had fish care issues for a while, decided to give these a try. Lets just say that these are so effective that I rarely even need to run the aerators, even on the hottest days of the summer. Installation is super easy.
From: John: VA 3/2/14
***Note: If you have questions about this product or need assistance with an order please email your questions to info@tacklewarehouse.com