Nichols Pulsator Metal Flake Double Willow Spinnerbaits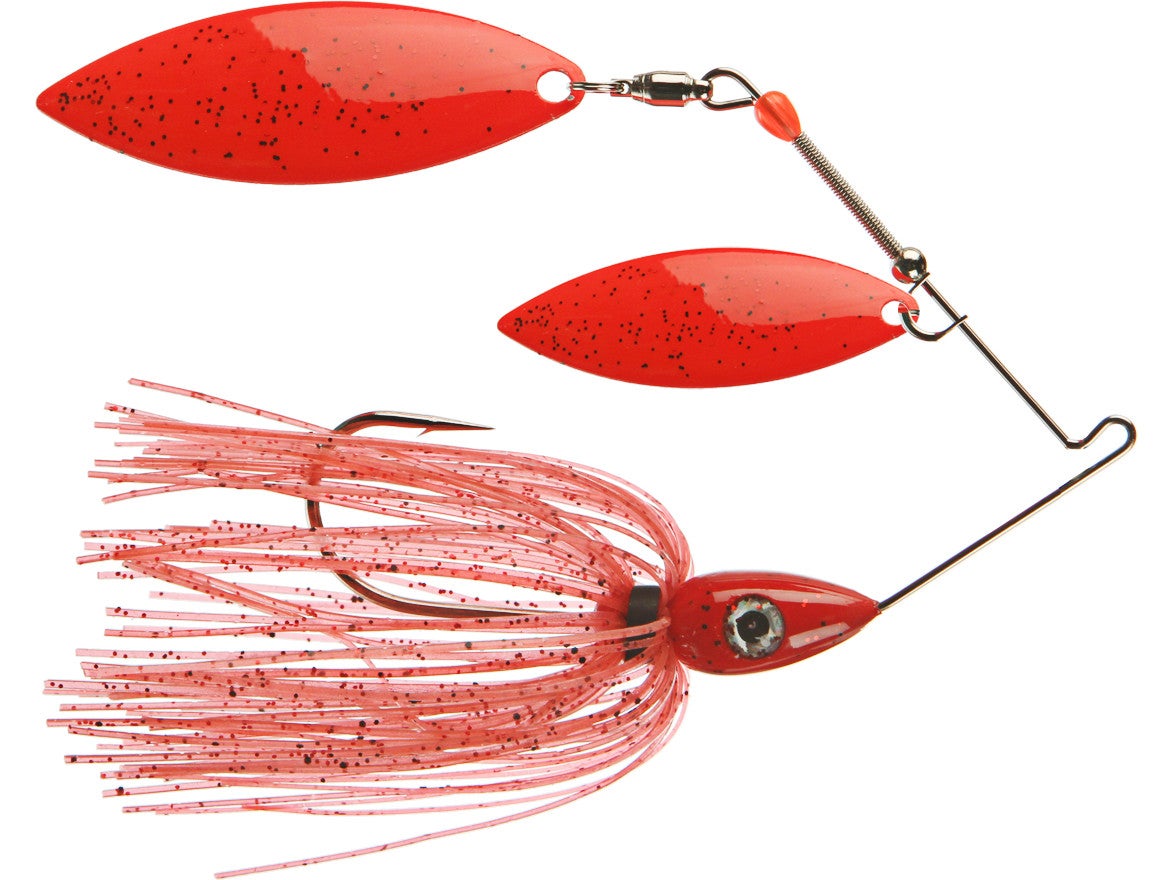 Blasting through the water with a flash and vibration that fish won't be ready for, the Nichols Pulsator Metal Flake Double Willow Spinnerbait demands attention with its 3-D coloring and patented, metal flaked, tapered blades. The Nichols Pulsator Metal Flake Double Willow Spinnerbait also delivers a wide, well balanced, swinging motion that's free of rolling. Hand crafted with an intense attention to detail and comprised of the highest quality components, the Nichols Pulsator Metal Flake Double Willow Spinnerbait gets the job done - and then some.
25 Colors
More From Nichols Spinnerbaits
Customer Reviews
Comments: This is the toughest spinnerbait I have ever thrown. I have been using the same one all year bangin it in and out of tules, off of timber, thumping rocks & not to mention had it stuck in the mouthe of a few 7+ lbers it keeps on working I'm very impressed
From: Ryan: Orangevale, CA 9/12/16

Comments: These Spinnerbaits are the Best! I love the dark color choices & that they are compact & durable, anyone who fishes Florida and throws Spinnerbaits will have great success with these. The metal fleck blades are awesome, catching big Bruisers down here on these. Nichols & JT Kenney knocked it out of the park with these color combos!
From: Scott: Lakeland, FL 12/31/15

Comments: Amazing! I love the color options. Pick any of JT's colors and you are good to go. Top quality & they do what they are supposed to do, catch bass!
From: Adam: Mount Dora, FL 10/8/15

Comments: so far this the smoothest spinning spinnerbait I've used. Caught alot of bass with it, even had bluegills hammer that thing. It's awesome. My favorite is all white. Just ordered two more white and an all chartreuse color.
From: Nathaniel: Arbuckle, CA 3/18/15

Comments: I got a couple of these last week to try out. WOW, I love the blade colors. I went out to Lake Okeechobee and caught several the first time I used it. The next time was up at Lake Ida and I caught 15-20. The bait holds up well. Every now and then I had to bend the arm back to re tweak it but overall It is well made and worth the money. I'm gonna buy several now.

From: James: Ft Lauderdale FL

Comments: Best spinnerbait on the market IMO. It has a short arm on it so it almost eliminates short strikes, and I don't feel the need to use a trailer hook because they eat the whole bait at once. I recommend either chart/white or blue shad nickel blue (found on Nichols website).