NorthStar Compact Series Triple Wil Spinnerbait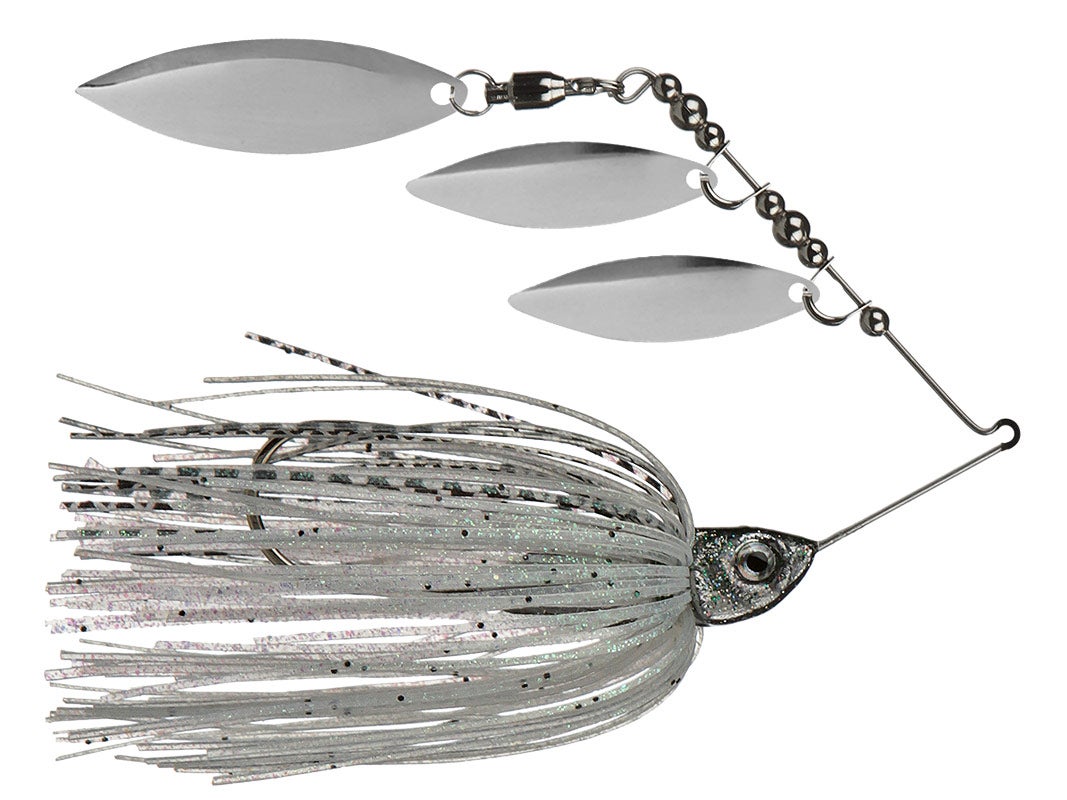 Featuring a unique, triple willow blade configuration, the NorthStar Compact Series Triple Willow Spinnerbaits offer a smaller, finesse profile thanks in part to their hidden weight heads. The heads weigh in at 3/8 of an ounce, but only present the profile of a 3/16oz bait by hiding a portion of the weight under the skirt. This offers a downsized bait fish profile, while still providing enough heft to allow you to cast them on a baitcaster. Built on an undersized, thin, super stainless steel wire, they also come equipped with super sharp Mustad Long Shank Ultra Point Hooks. The lifelike silicone skirts are all hand tied with wire, and the powder coated heads feature an extra coat of epoxy for additional durability. Available in a range of colors, the NorthStar Compact Series Triple Willow Spinnerbaits are perfect for tough conditions when downsizing your offering is critical.
8 Colors
More From NorthStar Spinnerbaits
Customer Reviews
Comments: Many great features which make this bait a producer. Most of the weight it hidden behind the head, allowing the spinnerbait to have a small profile & also helps with casting -- no helicoptering with this lure! Also, the blades are very high quality & when you pause the bait, they rotate in a very flashy manner. I have great success using a pull-pause technique.
From: Evan: PA 2/27/16

Comments: This spinnerbait is the bomb. It's hard to judge by the picture but this spinnerbait is extremely compact. It's the perfect size spinnerbait you can get if you also target smallmouth. The 3 blades adds great presence that rivals big counterparts. Just get it, seriously!
From: Toshiya: IL 10/22/15
Comments: It doesn't get much better than these blades...When you kill the bad, the blades counter-rotate and creates and action I have never seen before. This action alone has caught more fish for me than any other blade I have used.

From: Todd: MS

Comments: i had never heard of northstar before but i liked the look of the head design and ordered one in common shiner to try out. hit the lake a few days ago and threw the compact triple willow all morning. it really is compact and casts very well with not a hint of helicoptering in the air like some of the other bigger-profile spinnerbaits do occasionally. the three blades are on the small side so there's not as much water resistance as a double willow with larger blades so it was very easy to fish and not at all tiring. it throws off a good amount of flash but not a lot of vibration. unless you retrieve it very fast, the two inner blades don't rotate all the way around the shaft but just wobble back and forth. the finish looks very good and stood up well even after my casting it three times hard into rocks...i was very surprised it didn't chip. i landed 4 bass on it but all were on the trailer hook i put on so i'd definitely recommend a trailer hook. the spinnerbait bite definitely was not on that day and it was a slow day overall, even for my partners fishing plastics so the northstar acquitted itself very well indeed. the wire is thin and the top wire got bent out quite a bit on the last fish so i'm a little worried about wire fatigue if that's going to happen often but that's the only negative i can think of. i'm definitely going to order more.

From: Norm: Sacramento, CA

Comments: This spinnerbait is amazing. Fits the profile of what my fish here like to hit, while being heavy enough to cast well over a mile!! The added weight also makes this thing stay down, so it's very versatile in the water. You can speed up, while staying low, or just raise the rod and burn it at the surface. When you kill it it falls fast too. It's very , very well made as well. The placement of the added weight makes it vibrate a little less than the average spinnerbait, but the trade off for versatility is there.

From: Craig: Sunrise, FL