O-Wacky Tool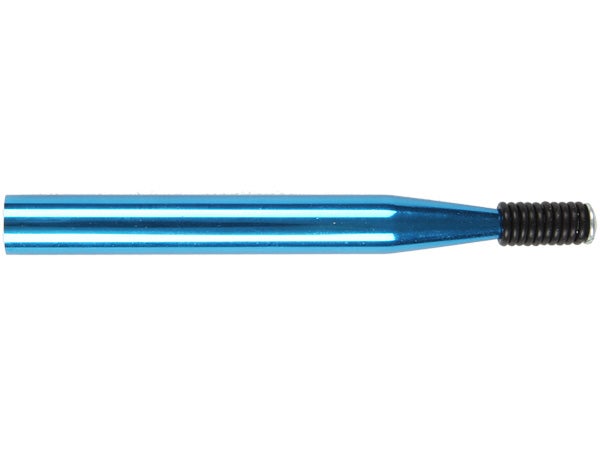 This O-Wacky Rigging Tool will quickly and easily rig plastic worms "wacky style". With this method, you' will prevent hooks from tearing out due to snags, casting, aggressive bites or over working the bait. The O-Wacky Rigging Tool a is ideal for 5" stick baits and comes with 10 O-Rings.
When you want to apply an O-ring, first slide the O-ring up on to the larger diameter part of the O-Wacky Tool. Insert the plastic worm to desired ring position, then slip the O-ring onto the plastic bait. Insert wacky rig hook under the O-ring.
More From O-Wacky Tool Accessories
Customer Reviews
Comments: I don't hesitate to set the hook even when I'm not sure if it was a hit or not since all the force is on the ring & not on the Senko which gets damaged easily on hard hook sets when the worm is hooked directly without a ring. The worm also stays perfectly in position when its not a hit, so you don't have to reel in to check the worm. A Senko can last for days using a ring & this tool is a must to put them on. Another big advantage is that the ring & the worm usually slide up the line when fighting a Bass, and it can't use the bait as leverage to shake the hook. As for hooks, Owner Wacky hooks are good to use, but I prefer the Owner 2/0 fresh & salt water circle hook.
From: Paul: FL 5/16/16

Comments: Excellent tool! Saves a lot of baits, since they don't get torn in half on every fish. Running the hook under just the band exposes more hook than running it through the baits, so hook-up rate is improved, too. Highly recommended, just buy two and a couple packs of extra bands.
From: Eric: Duluth, MN 9/7/14

Comments: HUGE money saver. I have found that even in clear water, fish dont seem to mind the black band. Slip your Senko up in there, slide your O ring down, thread your hook thru, cast, and stick em. The only downside...this thing is easy to lose!

From: Meatwad: Out of townski