Owner Hyper Wire Split Rings - $3.99

The Owner Hyper Wire Split Ring absolutely cannot be straightened out. Originally designed for saltwater applications, these super split rings are finding more and more uses for freshwater anglers who put a lot of stress on their equipment. Use the Owner Hyper Wire Split Rings on big swimbaits for bass or for northerns, muskies, or macks. Instead of tying directly to the eye of any bait, more natural movement is allowed with the use of a split ring. Try these Owner Hyper Wire Split Rings whenever you are catching oversized fish.
| | | | | |
| --- | --- | --- | --- | --- |
| Size | inside dia. (mm) | inside dia. (in) | outside dia. (mm) | outside dia. (in) |
| #2 | 4 | 0.157 | 5 | 0.197 |
| #3 | 4.5 | 0.177 | 6 | 0.236 |
| #4 | 5 | 0.197 | 7 | 0.276 |
| #5 | 5.5 | 0.217 | 7.5 | 0.295 |
| #6 | 6 | 0.236 | 8 | 0.315 |
| #7 | 7 | 0.276 | 9 | 0.354 |
| #8 | 8 | 0.315 | 11 | 0.433 |
Comments: Got the #2 size to replace the trash that came on RC STX baits. Weigh the same as those, 1.2 grains, but definitely stronger and kind of sexy. Much better option for tuning the RC STX than the eagle claw ones tacklewarehouse also sells, those ones in the same size weigh 1.4 grains and limit you more on hook options for that perfect suspension. And another note, this work great for that oversized split ring for the line tie on that bait. The original weighed 1.9 grains and was too large for my liking, this really helped when heavier hooks were used in comparison to the tiny hooks (Mustad KVD Elite Round Bend #6 and/or Owner ST-36BC #6).
From: B: NE 3/30/14
Comments: Nice helpful feedback guy below. And yeah, the smaller rings are black; size #5 and above are as pictured. AWESOME rings!

From: AC: CA

Comments: I'm going to attempt to help those of you who might be looking to upgrade the split rings on your crankbaits, but are unsure of what size to buy. I was in the same situation recently and was forced to do some rough measurements, then guess on which sizes to purchase. For small crankbaits(i.e. KVD 1.0, Norman Litlle N, Spro Fat Papa 55, etc.), as well as most jerkbaits, the #2's are comparable to what comes stock on those baits. And as for your medium to large size crankbaits(i.e. KVD 1.5, KVD 2.5, SK 5XD, SK 6XD, Norman DD22, SPRO Little John DD, Jackall Aska SR 60, etc.) I would go with the #3 size. The #3's are very comparable to the rings which come stock on most medium to large size crankbaits. You could even go with the #4's on the larger crankbaits. I, however, do not see it as being necessary. I would stick with 2's on small cranks & 3's on medium to large cranks. But that's just my opinion...And look no further than these Owner Hyper Wire split rings. In my opinion, the best! Now, the rings I received from tackle warehouse had the black chrome finish. They are not what's pictured on the website, but I was pleasantly surprised. I really like the look of split rings with that black finish. Sexy!

Comments: Best split rings you can buy period.

From: Lance: Livingston, TX

Comments: Very strong. I use these to replace the split rings on all of my big swimbaits.

From: Jon: WY

Comments: These are the best split rings you can buy !! They stand up to powerful saltwater species with no problem.

From: John: Plant City, FL

***Note: If you have questions about this product or need assistance with an order please email your questions to info@tacklewarehouse.com
View Large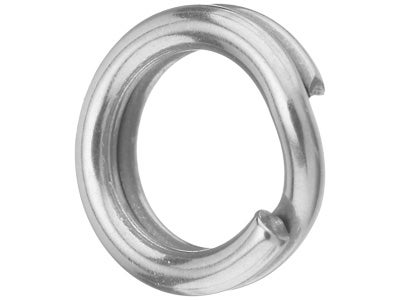 Place Your Order
More Owner Terminal Tackle