Owner Weedless Wacky Hook 4pk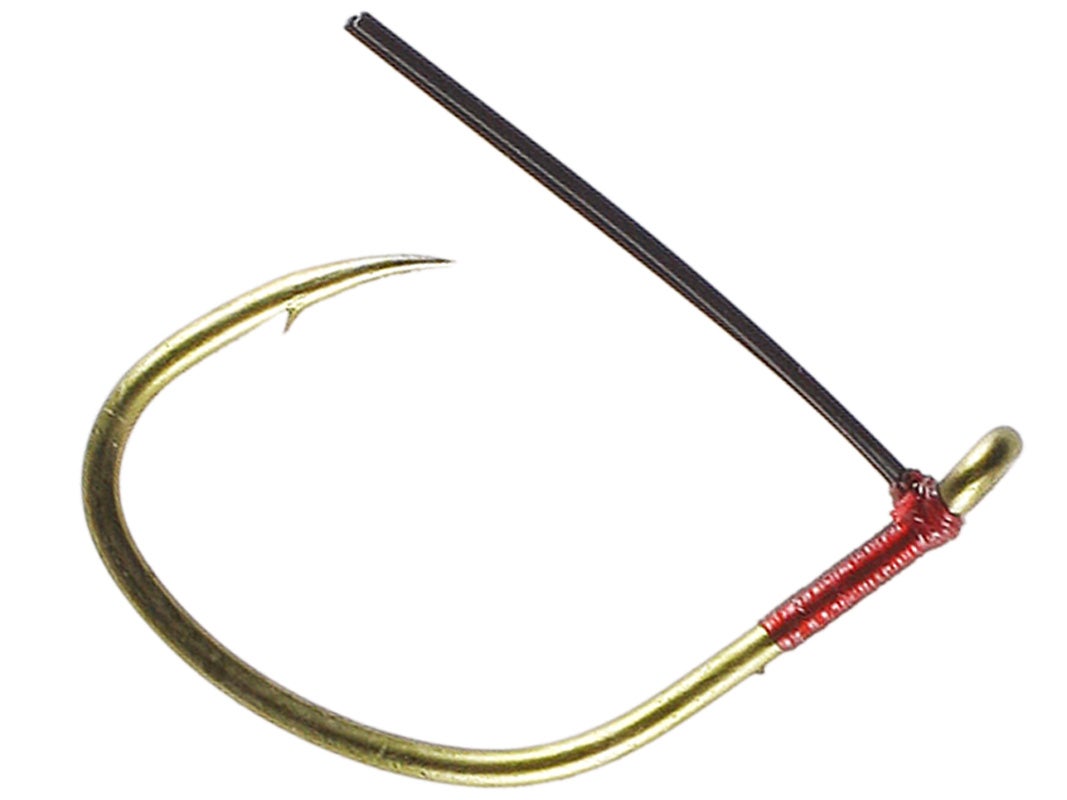 Featuring a Flex Nylon "Weedless" guard, this is a great hook for drop shotting or wacky rigging soft plastics. This is a great hook for fishing in and around heavy cover. Features include a Super Needle Point and Camo Green finish.
Place Your Order
More From Owner Miscellaneous Hooks
Customer Reviews
Comments: Just caught a nice 4 pounder on the California delta with the 2/0 on my trought set up. 5'10" ugly stick with 8 lb mono. These hooks get em and hold em.

From: Bad: CA

Comments: So am I ! Is that that tough to make a wacky rig hook that works. I've been using the gamakatsu hook and the guard is worthless!

From: David: TX

Comments: This is an AWESOME hook!!! I caught an 8lb. and a 6 1/2 on it this weekend!! It came through cover great. The weed guard could be a little stiffer for heavy cover.

From: Anthony: Talladega, AL

Comments: This is the best wacky hook out there. The bend works really well. I tried the gama wide gap hook and is not as good as this one. Just wish they aren't so expensive. But worth the money.

From: Tadyman: SoCal

Comments: These are great wacky rig hooks. It seems to me the weed guards on it are a perfect compromise being both good at deflecting light to medium cover and allowing for better hook ups than the wire ones. I've caught numerous fish with these from tiny fish to 6 pounders.

From: Pat: San Jose

Comments: I recently switched from the very good Gamakatsu wacky hooks to the even better Owner wacky hooks. Its in-line design facilitates more positive hook sets, and the shape of the curve at the tip helps keeps fish on. Typical of Owner hooks, they are extremely sharp and hold their point through wood and over rocks. Although their monofilament weed guards offer minimal protection from heavy cover, I prefer them to heavier, wire guards that come through cover better, since the mono guards are less likely to interfere with the hook set. I use the 1/0 size with a wacky style o-ring on a weightless 5 inch Senko.

From: Vince: Arizona

Comments: I tried them for the first time in late summer and really like them. I didn't get hung up near as much when going Wacky rig. I liked them so much I bought a few packs just because alot of my local places don't have them in stock as they are always sold out.

From: Brian: Harrisburg, PA
Comments: The weedguard is very flimsy and easily gets pushed out of the way by brush. For over a $1 per hook, I expected a much better product. If you use these for senkos around docks or wood you will get hung up and lose baits. During my last trip I went back to 1/0 Eagle Claw weedless hooks. I am still looking for a better hook for this type of fishing.

From: Paul: Tinley Park, IL