Owner Weighted Twistlock CPS Hook 3pk - $4.99
This Weighted Twistlock hook employs the same hook as the 5132 Twistlock, but also features a non-movable weight attached to the shank. The hooks added weight helps to sink or swim the bait into the strike zone. With its Twistlock Centering-Pin-Spring (CPS is patent pending), the bait can be permanently secured by inserting the pin in the center of a soft plastic, which can then be screwed on the Twistlock coil spring to rig perfectly everytime! Ideal for weedless style fishing without having to add a separate weight. Great for skipping or pitching into deep cover. Open gap allows for more positive hook sets. Features include a 30-degree eye-bend, XXX-strong forged shank, Super Needle Point, and black chrome finish.
Comments: Lures like Swim Senkos and Swimmin Super Flukes swim true with the weighted shank. The Twistlock holds the lure tip securely in place strike after strike.

From: Vince: Tucson, AZ

***Note: If you have questions about this product or need assistance with an order please email your questions to info@tacklewarehouse.com
View Large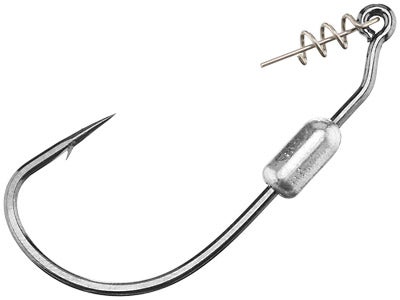 Place Your Order
More Owner Worm Hooks