T-H Marine G-Juice Freshwater Live Well Treatment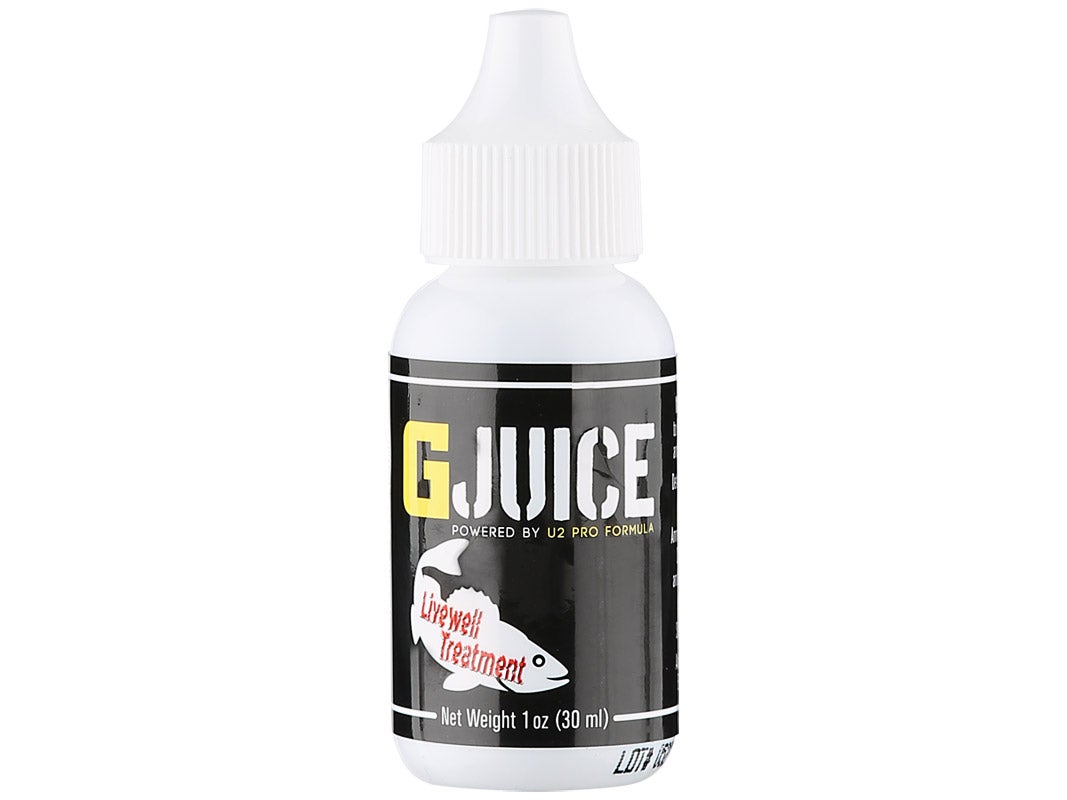 The T-H Marine G-Juice Freshwater Live Well Treatment keeps fish healthy and anglers from incurring costly penalties at weigh-ins. By adding essential electrolytes to live well water and removing harmful nitrates, ammonia, chlorine and heavy metals, the T-H Marine G-Juice Freshwater Live Well Treatment ensures your fish make it to the dock at their optimum weight. The G-Juice formula was developed from over 15 years of research and is proven to replace skin slime and stop fish from bleeding. A fish under duress can experience weight loss or regurgitate what it has recently eaten, causing you to lose precious ounces. Protect yourself against penalties and fish against injury with the T-H Marine G-Juice Freshwater Live Well Treatment. T-H Marine G-Juice Freshwater Live Well Treatment is the trusted choice of BASS Elite Series pro, Gerald Swindle.
- Approved for use with THE OXYGENATOR
- NON-TOXIC to Humans, Pets and Aquatic Life
- Removes Nitrites, Ammonia, Chlorine, Chloramines, and Heavy Metals
- Adds Essential Electrolytes
- 1 oz Treats 60 Gallons
-For Use in Freshwater

4 Colors
More From T-H Marine Livewell Accessories
Customer Reviews
Comments: Works well. On a recent night trip hooked an 8.7lbs in the gills. Bled all over my boat. Dropped it in the live well with G-Juice before releasing to make sure it was ok. Bleeding stopped quickly and I released the fish in the morning very alive.
From: Mike B: Unknown 11/14/16
Comments: Don't know what Travis was using but the G-Juice I used worked great, I even hooked a fish deep & it was bleeding bad, it lived all day, weighed in & let it go! It's works, don't fish without it in your boat!
From: Gary: Crossett, AR 10/15/15

Comments: If you'd like a product that keeps fish alive, and never lets you down, then don't buy this. You're better off throwing boiling water in your livewell. Bought some beginning of this summer to try out, first tournament all my fish died, figured it was a fluke, gave it another shot, all fish dead again. Not worth the risk.
From: Travis: AL 7/29/15

Comments: this stuff rocks! I have pulled through fish that I for sure thought would not make it. It seems to stop bleeding and really calms the fish. until you get to the weigh in then they are everywhere and jumping like when they were caught. best one on the market
From: Lourens: South Africa 6/2/15

Comments: I have been using this product for 2 years now, even before I got my Oxygenators. It work extremely well, and never clumps up like the granulated live well treatments.
From: Daniel: Knoxville, TN 4/22/14
Comments: This is by far the best Oxygen supplement I have ever used in my wells. Not only does it keep the fish alive and calm, but it doesn't leave that nasty residue like the crystal stuff. It won't clog your Oxygenator either! Plus, its cheaper.

From: Hunter: Bono, AR