P-Line HALO Fluorocarbon Co-Fluoride Mist Green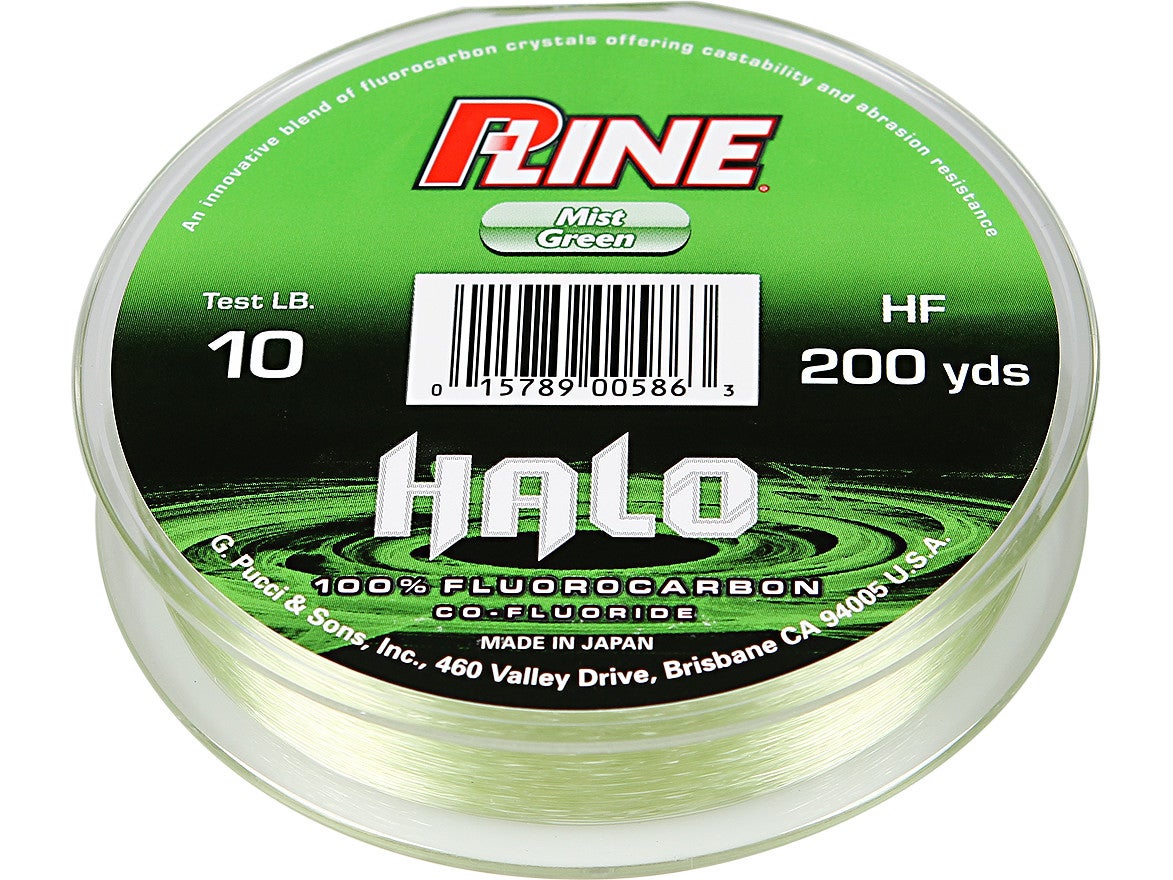 P-Line's HALO fluorocarbon fishing line is pushing the limits of the ever evolving manufacturing processes of fluorocarbon lines. HALO is a Co-Fluoride which blends various pure fluorocarbon crystals. Different fluorocarbon crystals have different characteristics. The blending process has allowed P-Line to create an unbelievable all purpose line. HALO gives anglers a combination of strength, sensitivity, castability and invisibility under water.
The low refractive index of HALO makes it invisible under water. HALO has a higher specific gravity, giving the line a fast sink rate. The translucent mist green color of HALO gives it low visibility making it an optimal line for lakes, rivers and inshore saltwater applications.
| | | | | | | | |
| --- | --- | --- | --- | --- | --- | --- | --- |
| Line Diameter | 6lb | 8lb | 10lb | 12lb | 15lb | 17lb | 20lb |
| Inches | .008 | .010 | .011 | .012 | .014 | .015 | .016 |
| Millimeter | .21 | .25 | .28 | .29 | .35 | .39 | .41 |
Place Your Order
More From P-Line Fishing Line
Customer Reviews
Comments: The Best Fluorocarbon for big bass! I recommend it for baitcasting reels only. Go with the 15-20lb test.. It will not disappoint in the following conditions: rock, wood, big bass and any heavy cover. I've used it all! Yes, better then Seaguar in 15-20lb test. Strong, dependable, low Vis. and sensitive, but lots of memory.
From: Damian: AR 1/15/15

Comments: one of the best flouro that I've tried. I use it only for my leader for steelhead in the river. I use it in any light and water condition and consistently catch fish. I have had no issues with knots. I use only the ten lb. test. You could use lighter and risk breaking off more often. I don't have much room in my vest so it's the only line I bring.
From: Andrew: MI 9/1/14

Comments: I use the 10lb for Texas rigged plastics and it's the best line I've ever used. It's soft, even if I backlash a little it comes right out. Very strong line I can set the hook fast and hard with no problems of breaking. I snagged a carp and it pulled my drag and the boat around until finally it ripped the scales out. The line and lure we're in one piece. I will continue to use this and probably on more rods as we'll.
From: Zetti: OH 6/24/14

Comments: This line is stiff (a lot of memory), but very strong (i.e. knots and abrasion resistant). I use 12# for pitching and hard baits with no issues (landing bass up to 8 lbs). I like the green color for stained water like the Calif Delta.

From: Keith: Sacramento, CA

Comments: Worst fishing line I've ever used. I put it on a spinning reel and used it for about a week, fishing everyday. It's hard to spool initially (too stiff and it never relaxes); every other cast had a twist in it; I wouldn't use this line if it was free.

From: Mark: Athens, AL USA

Comments: Seaguar invizx is better. This line is stiff unlike the seaguar which is soft and no memory what so ever and also very strong. For a better line use Seaguar you wont be disaponted with it.

From: Kristian: La Mirada, CA

Comments: Best flourocarbon next to seaguar carbon pro which was the first and the best. i have used 12 and 15lb test very good line, color fades but i dont think the fish care about things like that. Line.. rods... reels... baits... they are tools and if you view them as such you will spend more time achieving the goal which is to catch 5 bass larger than 99 other guys!

From: Derek: OH

Comments: I've been using this string for about 2 years now in salt and freshwater for bass, specs, and redfish. It real abrasion resistant, I've pulled multiple heavy bass out of heavy sticky cover and haven't had many break offs. Another thing I like is that I don't use any kind of leader when trout fishing since its tough enough on its own. I usually retie every 15-20 fish though, just incase. All in all good string, definitely my favorite flouro so far. I use the 15# test

Comments: used this line when it first came out to date (perfect line) just bought 2 spools 12# test worst line i ever used--- what happened--- no more halo for me .

From: Mitch: Mtn Home, AR

Comments: It's a stiffer flourocarbon, but really abrasion resistant. Handled fairly well w/out conditioner, it would break easily if the knot wasn't lubricated, but otherwise good line

From: Dave: Elburn, IL

Comments: Awesome line very sensitive and super strong has memory but if you use line conditioner it minimiZes it love it use for jigs crankbaits and spinnerbaits one more thing when you spool it on your baitcasting reel spray line conditioner on a rag and hold rag on line in front of reel and start spooling your reel You should be good to go with minimal prolems

From: Joe: IL

Comments: Tie the right knot and this lime won't break. Best fluoro Ive ever used.

From: Trey: Athens, AL

Comments: This is very tough line just recently was fishing the Ca delta and hooked a 20.2 carp that ran me ragged would have been nice if it had been a bass but needless to say it was a fun fight on 15 lb Halo.

From: Steve: Fairfield, CA

Comments: I once again have fallen to the temptation to try yet another Floro, Halo. I tried 2 different sizes, 8 pound for my spinning outfit and 12 on my finesse crankin stick. 8 pound is very stiff and doesn't cast very well. I broke off a 3 pound smallie for no apparent reason. 12 pound I broke off twice on the cast after about 20 yards came off the spool. I'm going back to P-Line 100%, no troubles after 2 years of using it.

From: Andy: Angola, IN

Comments: this line is very stiff but is low stretch and very tough. it holds knots well and is abrasive resistant. i have actually gone 2 years without respooling it on one of my reels. it is one of the better fluorocarbons i have used. oh, i have been using the 15#.

From: bassNredfish: Louisiana
Comments: This stuff has yet to let me down. Very impressive line. This stuff does sometimes weaken if you snap it like a bowstring when trying to get a lure unstuck though, so be careful about that.

From: James: Illinois, USA
Comments: Tough line, and very visible. The light green stands out very well for me, especially in low light conditions. I use it as a flippin' line for jigs, and its excellent durability, great visibility, and stiffness makes it ideal for that application.

From: Chris: Santa Cruz, CA
Comments: I keep looking for a better Fluorcarbon line but keep coming back to Halo. This stuff does not cast as well as some of the others I have tried but it is as tough as nails. I have not broke a fish off with this line and is for sure what I will be using come tournament time. GRADE: A PRICE : B-
From: Paul: Alabama, USA
Comments: Best line i have ever used, i have it on all my rods.

From: Matt: Loganville, GA