P-Line Ultimate Fluorocarbon Line - $18.99 to $229.99
We waited a long time for the premier line manufacturer, P-Line to bring out their fluorocarbon offering and it turned out as well as we had hoped. Fluorocarbon is known for being nearly invisible in water and this 100% fluorocarbon exceeds all expectations in that category. This is not a limp line, no fluorocarbon really is, but it is extremely tough and will hold up well when in contact with rocks, sticks, and other underwater obstructions and the breaking strength is better than other popular brands on the market. The knot strength is also excellent and it will hold well with all the popular knots. That is exactly what we expected from this manufacturer and we got it. If you like fluorocarbon line you'll love this 100% fluorocarbon line, and the price is quite reasonable.
| | | | | | | | | |
| --- | --- | --- | --- | --- | --- | --- | --- | --- |
| Line Dia. | 4lb | 6lb | 8lb | 10lb | 12lb | 15lb | 17lb | 20lb |
| Inches | .007 | .008 | .010 | .011 | .011 | .014 | .015 | .016 |
| Millimeters | .18 | .21 | .25 | .28 | .29 | .35 | .39 | .41 |
Comments: I use only this line and have never broke off or had a knot break. very low memory and cast excellent. I use 6# and 8# on drop shot and shaky head and use 10# and up on everything else spinning and casting. I have tried other lines and lines that are much more expensive and always return to p-line. This line is dependable and will not let you down.
From: Casey: VA 4/19/14
Comments: This is good affordable fluorocarbon. Not a whole lot of memory and it has good knot and general strength. Jumps off a spinning reel if you aren't careful but that's just the way fluoro is. It's great for deep cranking and jerkbaits.
From: Tyler: Grand Junction, CO 3/18/14
Comments: Bought the 17 LB Test and it works like a charm pulled up 13 bass in 2 days and put the line through some torture and its still going strong. The only thing that had me worried was it's stiffness. So I conditioned the line in a 5 gallon bucket full of water and a little dawn soap over night.

From: Mark: Fresno, CA

Comments: I ended up getting the 15lb for cranking and some jig work and i was very worried to throw this due to some previous reviews. I started with my 2.5 Kvd square bill and my reel maxed out with brakes and cast control maxed out. I worked my way thru the day down to 3/8ths and my controls backed down. It worked just fine. I have been using bait casters for only a year, and its not brain surgery. I will mention i was using a steez 100hsl so i had a great reel and a steez 7' flexlite. I don't plan on trying less than 3/8ths as that would be asking for it IMO. This line handles better than i thought it would for the size. I have 6lb for drop shot, and a new package of 20 for jigs that i have yet to try. KVD line conditioner was used so maybe that was the trick.

From: John: Groton ct

Comments: this is a great flurocarbon. handles like a dream, sensative, yet strong. Again it comes down to your knot. San Diego Jam is a must. My go to fluorocarbon. I mainly use this in 10# or 12# test for football jigs, open water swimbaits (Sebiles/Lucky Craft Smasher/hollow Bellys) If used in the right situtation this stuff is the best!

From: Nick: Prosperity, SC

Comments: Anybody that Knocks this line has no idea what their doing it does exactly what it's built for. Obviously you don't throw anything over 10 for deep cranking and no more than 12 for acerage square bills and similar baits. I've tested all the Fluoros and most all suck.and yes shooter and sniper are better but I use them for leader line in certain situations and would rather spend 20-25 on two reels rather than 35 on one , more money to spend on other stuff and this stuff performs great. And for the Palomar guy you should note that the Palomar is not the best knot for fluorocarbon , lots of friction, it cuts itself when tied that way, do some homework bro. And as far as casting, 15 + pound fluorocarbon isn't built to cast anything much smaller than a 3/4 ounce football jig or any jig style bait , or plug or swimbait smaller than 3/4 to 1 ounce. Drop shooting 6-8 is incredible Also. !!

From: Matt: lagrange ga USA

Comments: This is great line. It casts very nicely in 10lb so does Sufix Invisiline and also Sunline Super. I have found over the years that the thicker you go with this stuff "flourocarbon" the cast ability suffers drastically. Flourocarbon is stiffer and retains more memory as the diameter increases as with any line basically. I don't go over 10lb often and if so I only step up to 12lb for bass regardless of the cover. I've never had more than the usual line breakage which has occurred with any line to include braid in 30 and 40lb test. I'll go out on a limb here and say this...I find that most of the reviews here on line are basically people who rate the line on castability and then whine about the knot strength and various other things. I don't have solid info on this but I'd bet my left nut that the same people whining are trying to cast 15, 16, 17 and above test which to be honest won't cast worth a sh*t on any rod or reel. You stand a better chance being struck by lightning than "needing" anything above 12lb line for bass. I catch 20lb catfish, and snag the occasional 4 or 5 foot gator and never break off. I have no idea what some are thinking to even try to cast the thick hard plastic 17lb line and expect it to cast "Great" Its very amusing to read some of this sh*t posted here at times.

From: CJ: Harvey, La. U.S.

Comments: I recently bought 17lb and put in on my flipping rod, all I can say is I'm disappointed, it has sooo much memory and stretch. If you are looking for line don't get this crap.

From: Max: menifee, ca

Comments: Very disappointed in this line. I tried this for throwing jerkbaits on a really cold morning and the stuff started to peel back like an onion. Never broke one off because I put it down and went back to my sniper

From: David: Moore, SC

Comments: I've been fishing this line for about 3 years in that time i would switch from this and sunline. But this weekend i caught and 8lb striper from the london bridge at havasu. This fish was rubbing agaist the concrete i didnt think i was going to land him. But i did on 6lb. this stuff is badass.

From: Jaypeezy: Phx, AZ

Comments: Great fishing line. I have the 17lb and works great. A bit on the stiff side but either then that I'm loving it. My go to line for everything.

From: Sai: Fresno, CA

Comments: I use this line for my crankbait rod and I like it. However when it comes to fishing heavy cover I'll stick with braid. I've yet to observe any real convincing evidence that bass get spooked by the line. Perhaps others have had a different experience.

From: Parker: Toronto

Comments: The best flurocarbon i have ever used i bought the 8 lb test and i was fishing for bass and i caught a 15 lb largemouth and it never broke the best line ever!

From: Moey: Florida, USA

Comments: Low stretch with good sensitivity. Like the post before, ALMOST as good as the upper echelon fluoros like Shooter and Superhard Upgrade. But $22 for 250 yards, it's a way better deal than $38 for 162 yards. A little stiff but some line and lure conditioner tames the beast. Good value when you don't want to pay for the top notch fluoros.

From: Pete: MN

Comments: best fluorocarbon line bar none

From: Chad
Comments: This line is very sensitive but the knot stength sucks! i have lost many high priced jerkbaits on fish due to its knot strength. I use palomar knots only and i fish a whole lot. Switched to viscous elite and it outperforms this line by far.

From: Germ: CA

Comments: line is a bit fussy after a little use .....but....one of the absolute strongest and most sensitive flouros on the market

Comments: best fluorocarbon on the market!

From: Blake: Hartselle, AL

Comments: By far one of the best flurocarbon lines out on the market. Fairly castable with remarkable sensitivity. 8lb test line on a spinning rod pulling a 10 foot jon boat upstream...thats some serious strength.

From: Adam: WI

Comments: I've tried a lot a lot a lot of fluorocarbon lines.....this is by far the most sensitive along with Sunline Shooter, yes it is not as soft and castable as seaguar but man, you can feel this line's weight and you can feel it sinking, which in turns mean it's sensitive, awesome line if you're looking for sensitivity, everyone should understand that different line has qualities, stop complaining

From: TX & CA

Comments: I use this line as a leader for my braided line. It doesn't degrade as badly some other brands do. In fact, if your lazy sometimes like me, you can usually get away with the leader lasting a very long time provided no abrasions from rocks etc. It's never broken on me with a fish on. Great stuff.

From: Pat: San Jose, CA

Comments: It is a great line. I use it on all my rods. And Mike from WI, no offense but it's probably your knot tying not the line. I have tried a lot of knots and the line is fine, I'm a good knot tier.

From: Jack: NH

Comments: Junk line for casting. its strong if you like fishing 20 feet from the boat. going back to seagear

From: King: OH

Comments: update on this line! I recently accidentally hooked a gator, which was about 8 feet long. I was able to fight the gator and get it right up to the boat, then cut the line. The line never snapped, even when the gator was fighting and swimming away from me. If this line can withstand an angry gator, imagine how good it is against a bass. I have caught alot of big bass, stripers, and mudfish and this line performs awesome. Very sensitive, low memory, casts well, very abrasion resistant. Try it and you won't be disappointed!

From: Tom: North Charleston, SC

Comments: When I first spooled this line i thought it was awesome. Then i went fishing, but my first cast however i got a backlash. Then i noticed I set my Magnetic breaking system like i was a 2 year old! Now it works fine. I use the 12lb for cranking, 17 lb test for spinner baiting in cover, and 20 for flipping jigs into heavy vegetation! Great Line!

From: Colorado

Comments: Have been using this line for about 3 years now and I really like it. I havent had any trouble with breaking. Like 8# for cranking shallow divers and the price point changes fron the 10#. Also used 10# and 17# Was going to try a cheaper brand but figured it just wasnt worth it.

From: Andy: Houma, LA

Comments: I was hoping to find a good fluorocarbon line for a less expensive price. This line was truly a disappointment. I'm a fan of PLine's fluoroclear line, and thought their fluorocarbon lines would be the same. During the first tournament of the season, I lost five 4-7LB bass due to break offs. I checked my line after every cast and there were no knicks in the line at all, and every break off occured at the knot. I wet each knot by dunking it in the lake, and they always seemed to tighten well. I use the 17LB test, and was disappointed. I'm afraid I'm going to have to go to seaguar for their fluorocarbon, even if it is a little more pricey.

From: Mike: Waukesha, WI

Comments: Great line that has strong knot strength. I use the Palomar Knot, Berkley Braid Knot, and the Improved Clinch without problems. If the line is jumping off of your spinning reel, you simply over spooled your reel. Easy fix - let the line jump and cut it where it stops. I fish the 8lb test on my drop shot rod and the 15lb test on my jig rod.

From: Daniel: Spokane, WA

Comments: I have tried a lot of fluorocarbon lines and this is the best for lack of memory. I have been using it for a few years now. I just wish they made it in 25 & 30 lb test for those monster Lake Trout on Lake Nipigon.

From: Jerry: Rushford, MN

Comments: it seems when i use this line it just flows off the reel and gets in massive knots and creates loops every few casts. for trout fishing 2 to 4lb test has been awful may be different with heavier lines.

Comments: Awesome line. It cast really well and has good knot strength. Also its 250 yards not 200 like most. More bang for the buck.

From: Aaron: Somerset, Ky
Comments: Awesome line!! I've tried just about every Fluorocarbon line there is and I must say, this is by far the best, especially for the price. Vicious line was my favorite before I tried P-line. Vicious is good too but it tends to be a little stiff and has alot of memory. P-Line is softer, has less memory, but is still extremely strong. Recently, I hooked a monster bass and it wrapped me around several tree branches. The line never snapped, even when the bass tried going deep. I was able to grab the 7.0 pounder and then had to cut the line to free it. I'm now a believer!

From: Tom: North Charleston, SC
Comments: YUP, just like everyone else said. This line is awesome.

From: Evan: Bradford, NY
Comments: I thought I would try this instead of the Flouroclear I have been using and not looking back at the decision. On a recent trip 10 fishing trip only needed to respool one out of 4 reels. Excellent line.

From: Paul: Sherman Oaks, CA
Comments: Best fluorocarbon out there super though and invisible under water the 6lb is tougher then most 10lb lines out there

From: Jesse: Phoenix, AZ
Comments: This is simply the BEST fluorocarbon line out there. Love it, my only complaint is when I want to break myself off structure, but I can't with this line bc its too damn TOUGH! Always makes me have to take my pocket knife out.

From: Brant: San Diego, CA
Comments:I don't go to the lake with out it. I fish as a coangler and cant afford to miss bites, thats why I fish P-Line!
From:Josh: Wimberley, TX
Comments:Best fluorocarbon on the market - period.
From:Matt: Kansas City, MO
***Note: If you have questions about this product or need assistance with an order please email your questions to info@tacklewarehouse.com
View Large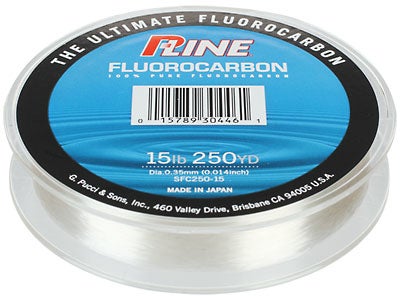 More P-Line Fishing Line