Picasso School E Rig Bait Ball - $15.99
Please Note: Baits and Jigheads not included.
The Picasso School-E-Rig + "Bling" = the Picasso School E Rig Bait Ball. Designed with the collaboration of Elite Series Pro, Fred Roumbanis, and FLW Tour Pro, Brent Ehrler. the Picasso School E Rig Bait Ball incorporates 6" piano-grade wires along with #4 willow blades plated in 24K Gold or Nickel for additional flash and vibration. Designed to resemble a school of baitfish, it can be cast and retrieved at a steady pace or allowed to fall through suspended schools of fish. Very versatile as well, it can be rigged with a wide variety of lures, including soft plastic swimbaits, grubs, and jig heads. Featuring only American-made premium components, including an impact resistant plastic head and nose swivel to prevent line twist and assure it runs true, use the Picasso School E Rig Bait Ball with the Picasso Smart Mouth Gamakatsu Jig Heads, Picasso Smart Mouth Mustad Jig Heads and Picasso Dummy Heads for the ultimate in umbrella rig performance.
Hand Crafted in the USA
Comments: 20.99 on the Picasso baits website and TW has it for 15.99, gotta love those guys out west..always thinking about their customers! That's why they're so loyal! I never step foot in a bass pro, gander mt, or an academy anymore unless it's an absolute emergency.

From: Mitch: GA

Comments: I saw this bait first hand this weekend. I can describe it in one word. SICK!!!! You need to see this rig in person.

From: Joe: NJ

***Note: If you have questions about this product or need assistance with an order please email your questions to info@tacklewarehouse.com
Color:
Big Sexy
View Large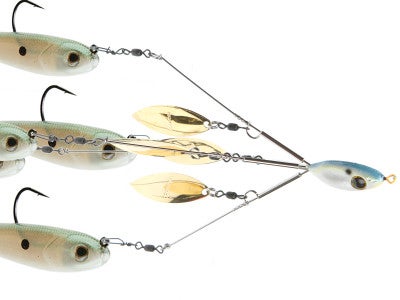 2 Available Colors
More Picasso Terminal Tackle