Rapala Pro Guide Digital Scale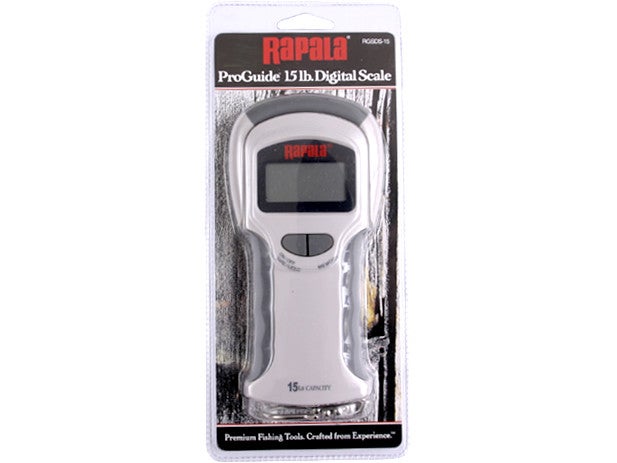 Rapala's best scale yet, the Rapala Pro Guide Digital Scale is perfect for anglers, from the weekend warrior to the touring pro. Built with a large digital display, the Rapala Pro Guide Digital Scale accurately weighs fish up-to 15-pounds and shows easily in your catch-and-release photos. Additionally, a back light makes it easy to read the display at night. Powered by a single 9V battery, the Rapala Pro Guide Scale offers up-to 500 hours of use and features a convenient battery life indicator on the display.To help preserve battery life there is an automatic 4 minute shutoff when the scale is not in use.

Engineered with a tare feature as well, the Rapala Pro Guide Digital Scale allows anglers to weigh fish in a bag without including the weight of the container in the reading. With enough memory to keep track of 10-fish, the Rapala Pro Guide Digital Scale allows you to keep a running total of your bag, whether its a 5, 6, or 10 fish limit. Built with a compact, water-resistant case, the Rapala Pro Guide Digital Scale delivers everything anglers need in a competition-grade scale.
Place Your Order
More From Rapala Scales
Customer Reviews
Comments: Scale was good for 2 years, it now will not switch from KG to LB when you hit the on button during start up
From: Dan: MA 7/20/16

Comments: sed the 50lb pair for several years now to weigh fish & coyotes. It has always been accurate & dependable. Have never had to change the battery.
From: Danny: KY 7/3/15

Comments: Seems to be fairly accurate but eats batteries like crazy!Even when it is turned OFF, go figure! The only way I can continue to use it over a period of time is to take the batteries out of the scale after each fishing trip! What a hassel! Would not buy again.

From: Dennis: Boise, ID

Comments: I've used this scale for years and it is still accurate per state of CA certified scale. The batteries last forever too. Wish they made the same model in a 25lb max weight.

From: Chris: San Diego

Comments: Great scale until it stopped giving the correct weight after a year of use. Buddy caught a 6lber and the scale read 2.14. Wow these things just dont last. Bummer!

From: Keepin It Reel: Socal West Coast

Comments: This is a really good scale. I weighed a five pound weight and it said 5.01 pounds. I would recommend it for any angler.. you don't need a 200 dollar scale. thats just a waste of money!