Rapala Pro Guide Digital Scale - $34.99

Stuff just keeps getting better and this is easily the best scale from Rapala yet. All kinds of handy features make the ProGuide Scale perfect for casual anglers and serious tournament pros alike. The ProGuide Scale accurately weighs your catch up to 15 pounds in pounds and ounces and the large digital display is easy to read and shows up well in your catch-and-release photos. The display also features a back light for easy reading at night. This unit is powered by a single 9v battery that offers up to 500 hours of life and there is a battery life indicator right on the digital display. To help preserve battery life there is an automatic 4 minute shutoff when the scale is not in use. If you weigh your fish in a weigh bag the ProGuide Scale offers you a tare weight feature that automatically compensates for the weight of the container. The ProGuide has enough memory to contain the weights of 10 fish so you can keep a running total of your bag whether it's 5, 7, or even 10 bass. The compact case is tough and water resistant and all external metal hardware is stainless steel for long, dependable service. The unit features a retractable handle on top to hang the scale as well as soft rubber finger grips along the side so you can retain a grip when your hands are wet and cold. Altogether this easy to use scale will answer most of the needs of any angler who needs accurate weights.
Comments: Seems to be fairly accurate but eats batteries like crazy!Even when it is turned OFF, go figure! The only way I can continue to use it over a period of time is to take the batteries out of the scale after each fishing trip! What a hassel! Would not buy again.

From: Dennis: Boise, ID

Comments: I've used this scale for years and it is still accurate per state of CA certified scale. The batteries last forever too. Wish they made the same model in a 25lb max weight.

From: Chris: San Diego

Comments: Great scale until it stopped giving the correct weight after a year of use. Buddy caught a 6lber and the scale read 2.14. Wow these things just dont last. Bummer!

From: Keepin It Reel: Socal West Coast

Comments: This is a really good scale. I weighed a five pound weight and it said 5.01 pounds. I would recommend it for any angler.. you don't need a 200 dollar scale. thats just a waste of money!


***Note: If you have questions about this product or need assistance with an order please email your questions to info@tacklewarehouse.com
View Large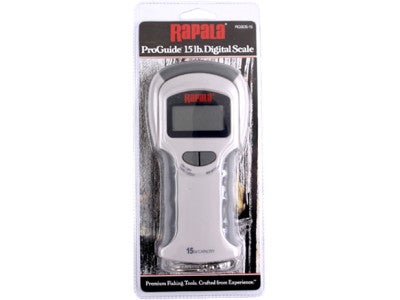 More Rapala Accessories