Rebel Frog R Topwater Walking Bait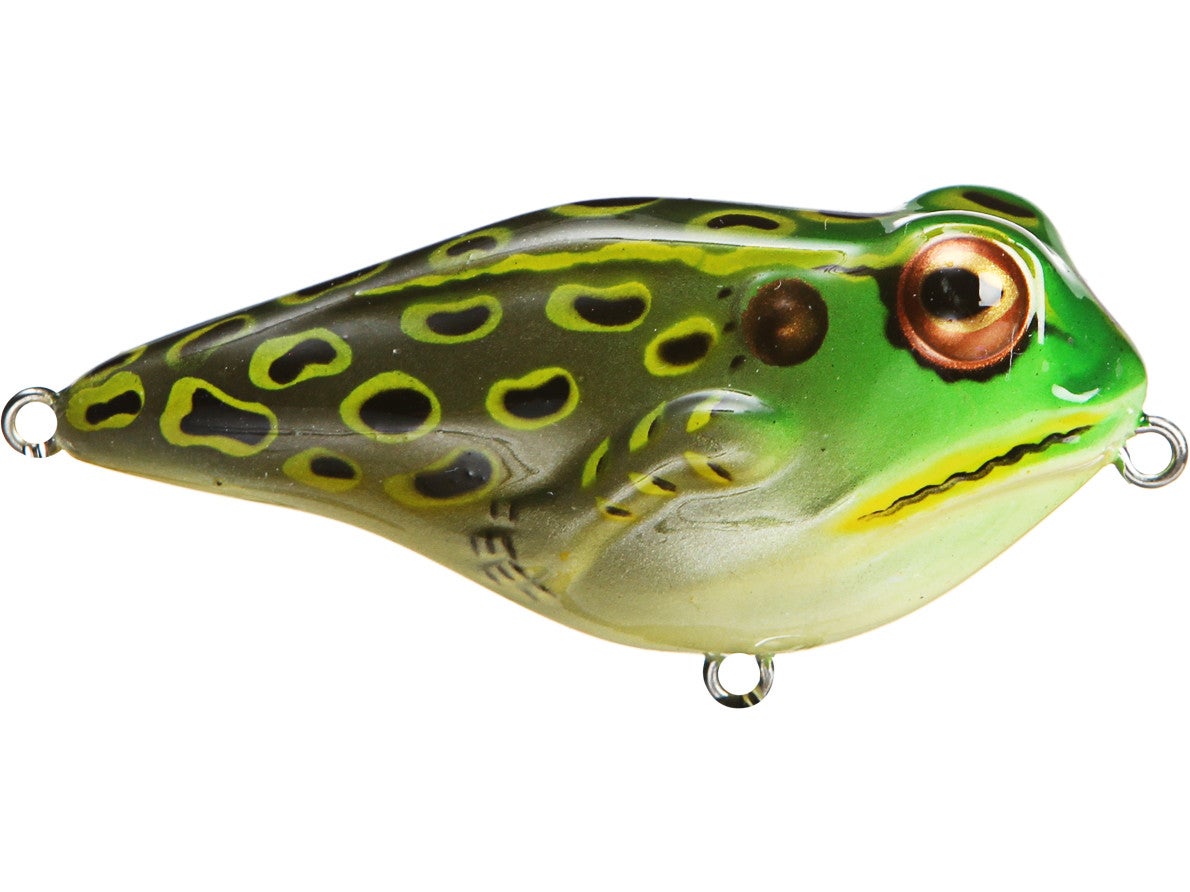 Kiss this frog and it turns into a big bag of bass! The Rebel Frog-R delivers tremendous topwater performance and a super realistic appearance. Work your rod tip in a twitch-twitch-twitch rhythm and the Frog-R walks across the surface in a classic Spook walk-the-dog motion. Available in a variety of lifelike color combinations, the Rebel Frog-R is a bite-size morsel that big bass can't resist.
| | | | |
| --- | --- | --- | --- |
| Rebel | Length | Weight | Class |
| Frog-R | 2" | 3/8oz | Topwater |
4 Colors
More From Rebel Topwater Baits
Customer Reviews
Comments: I fish a lot of smaller waters, where a 4 1/2"+ Spook often doesn't produce anything except a few half-hearted swipes. Smaller spooks tend to be too light to have walk well & don't push enough water to draw strikes. This little lure has neither of those problems. Thanks to it's compact shape, it casts like a bullet, walks easily & makes plenty of noise as it splashes back & forth. I tried it out at a pond near my house & caught my first fish before I had twitched it 5 times. I managed to catch 2 more in the next 3 casts & several more before darkness & mosquitoes forced me inside.
From: Mark: MO 10/17/15
Comments: Great lure, caught two 20+ inch pike. walks very easily (even for novices like myself)
From: Travis: MI 7/24/15

Comments: Great bait great price. A bit harder to fish in bigger lakes but the action is amazing great walk the dog action. I work it with a two pop stop usually works. change out the hooks to Gamakatsu Trebles better hook ups!
From: Chad: Rancho Cucamonga, CA 9/17/14

Comments: Great bait for the money. Caught some big bass with the bullfrog color. Hardest part for me is keeping the chain pickerel for gobbling it up and breaking the line. Then again at $4.00 per I don't feel so bad when it does happen. I do recommend upgrading the stock hooks but besides that its a great lure.
From: Anthony: Montville, NJ 5/19/14

Comments: This thing works, I've had them hit it walking and just sitting in the water while I was putting bait on my kids hook. Don't let the price fool you, this thing works.

From: Mark: Oviedo, FL
Comments: Awesome lure. Smallmouth hit it so hard they blew it out of the water..today november 17 was the first time i used it. . it was a blast to watch!!

From: Phil: Cumberland, Maryland potomac river

Comments: Great bait! On my first cast with the bullfrog color, a bass slammed it! Moreau's products look horrible! These Rebel Frog-R's are very durable, sexy looking, and are the best hard body frog there is! I just bought the cricket and the swamp frogs today. You gotta get one of these in your tackle box, if you don't you're missing out! Rebel is amazing. Pradco is amazing! TW is super amazing! I've got rebel crayfish, frog-r's, pop-r's, hellgrammites, jerkbaits, crickhoppers, and more!

From: MD
Comments: awesome bait have caught all kinds of baits on this frog i have three in the cricket frog

From: Dalton: KY

Comments: People are saying that this bait lacks action but this bait is made to be an action-less bait meaning the angler has to put the action in (like all baits like it including Moreau) so the ones saying it's not a Moreau are just more partial to the to the design and probably since it cost a lot. so you know it has to be good. you can feel the sarcasm in the air on that one. Moreau baits are great and have terrific detail but for the cost this bait can put just as many fish in the boat if not more. I also believe people need to check out the new popper version which should be coming soon to tackle warehouse.

From: Keaton: Wichita Falls, TX

Comments: i like the bait works really well in early summer it dosent really walk the dog like a Zara Spook but it will if move side to side about 4 in. its not a Moreau thats for sure

From: Caleb: NC

Comments: NOT a Moreau! Doesn't have the quality, the size; or the action. Moreaus are HAND MADE. They come in bigger sizes and they catch big fish. They're also very durable. I'm not a fan of this bait at all. Now the Pop R, that's a good one.

From: Joseph: Boston, MASS

Comments: its not the price that makes a good topwater bait its the action.Great bait,it has the action bass love.

From: Justin: NC

Comments: you get what you pay for with hard baits. Rebel baits in general suck they are either out of tune or they break, chip or dont have the proper action. Not always but 75% of the time they suck

From: Nick: MA

Comments: I am a novice with walk-the-dog baits, so it took me a while to learn to walk the dog with this. Once I did I was catching fish almost every cast, however none of them was bigger than 14". I assume it would work well for larger bass, but the little ones were creaming it before the big ones could get to it.

From: Jake: CO

Comments: The Frog is what I call a short stroke bait, meaning it only walks 6-8 inches from side to side. It cast like a bullet, and walks well with a steady cadence. Don't get frustrated take your time and learn to work the bait and it will work wonders when a smaller bait is called for.

From: Clayton: Tulsa, OK

Comments: bass love em! Was kinda tricky walking the dog the first couple of casts, but once you find that happy twitch be ready for your rod to be bent the rest of your time on the water.

From: Travis: Ephrata

Comments: The best hard body frod if u leave some slack in your line and short twitches with your rod walks the frog and did I say u an cast it a country mile BEST HARD BODY FROG EVER

From: Justin: Winter Haven, FL

Comments: i used this frog all i will say is im digging this thing out of there throats

From: Alan: VA

Comments: I was just wondering if anyone was actually going to leave a review on this Product, I dont really care who they copied or didnt copy. I just want to know if they work. It doesnt really matter now I just bought 3 of them so I will have to find out myself. But then I will write a review requarding this product.

From: Phoenix, AZ

Comments: just watched the latest bill dance video featuring this bait. it was apparent the 5 to 8 lb. bass did not care how much it cost. they ate it like free taco's at a bull fight! dance can edit only so much of his video's so i am sure this was the real deal. it will only cost me $20 bucks to find out. rebel lures never cost much and they have won many events and loaded many, many live wells, mine included---

From: Wes: Salinas, CA

Comments: u cant compair this to a moreau,thats like saying a volkswagon is a bmw.....it aint.this bait is cheap plastic,moreau uses nearly bomb proof composite just like all the $80 swimbaits use.and its hand painted with goobs of sealer and clearcoat,this thing is prolly mass painted on plastic (will wear off and come off after time).yea dont get me wrong its a good deal for a frog bait that looks nice.moreau baits are worth the money,they are like crack to bass for some reason,they slam all of my moreau baits,the topwater mouse being the king.anyways yea i picked a few of these up for me for the summer heat fishing and some night time topwater action,i painted a few of them flat black though cause bass seem to love and kill anything black topwater.but yea they are worth the price id buy more.....but this thing is far from my moreau trust me.

From: Steveo: U S of A

Comments: ordered it not quite what i expected very narrow profile shaped more like a spook/sammy than anything but still think it will be a good topwater

From: Zach: PA

Comments: Just got a couple of these from the Pradco web site,Already caught a couple fish on them.They are cool little baits.When a regular spook type bait is to big,throw this thing it work's,a lot smaller profile,awesome little bait,and cheaper then the Moreau bait!

From: John: Virginia Beach, VA