Reelsnot Reel & Line Lubricant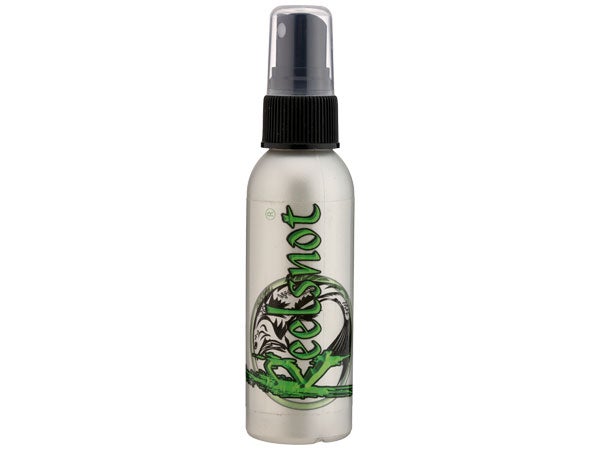 Developed using state-of-the-art technology, the Reelsnot Reel & Line Lubricant has been formulated specifically to be the best reel and line lubricant on the market, period. Engineered to lengthen casting distance, lessen reel noise, and improve the overall performance, the Reelsnot Reel & Line Lubricant can be applied with a few quick squirts and works with fluorocarbon, monofilament, and braid.

Made to reduce backlashes and line memory as well, the Reelsnot Reel & Line Lubricant is ecofriendly, non-flammable, non-aerosol, odorless, and will not cause any wear-and-tear on your line like other products. It also will help in the colder weather conditions to keep your line moving freely through your reel and allows knots to cinch much easier. Easy to stash in boat compartments and stowaways, the Reelsnot Reel & Line Lubricant steps-up to the plate and delivers.
More From Reelsnot Accessories
Customer Reviews
Comments: Started using Reelsnot after Icast 2016 and it does work. No wind knots, just smooth long cast and it's not heavy on the line like some other conditioners. Definitely a repeat customer !!!!!
From: Matt: Tennesse 11/14/16
Comments: This is the best line conditioner I have used yet! I get longer life out of my line and when sprayed on older line that has dried out, it drastically improves your casting distance.
From: Grae: Harleysville 11/10/16
Comments: I feel confident in saying that this stuff eliminates wind knots in braided line & gives you at lease a 10% if not more improvement in casting distance. When i first started using it i kept casting farther than i wanted to because of how smooth it makes the line. I do not go fishing without treating my lines first with reel snot. Wish it came in a bigger bottle.
From: Chuck: USA 5/13/16

Comments: Reelsnot is the absolute best line conditioner I have ever used. No need to keep applying throughout the day, one and done!I guide on Lake Anna in Va and this product helps my clients cast further, my line lasts longer because they are not backlash in constantly and it helps keeps my reels lubricated. I keep a bottle right next to my trolling motor pedal. Highly recommended!

From: Chris: Lake Anna, VA 3/11/16

Comments: Bought this product to help out a couple old reels cast farther & for line memory & I am here to say it didn't disappoint. Compared to other line conditioners this is hands down the best Ive ever used. For me the bet part is my hands didn't feel like I dipped them in a grease bucket after I used it.
From: Bo Coke: Tuttle, OK 3/11/16

Comments: best line conditioner I've ever used. Keeps memory to a minimum and also works as a de-icer
From: Wayman: Greenwood, SC 1/20/16

Comments: This stuff is absolutely the best! The extra casting distance you get with this product is like night & day, crazy.
From: Tyler: Timonium, MD 12/3/15

Comments: I use Reelsnot on my line and it is a great product! My buddies use it too. It helps smooth out kinks in my line as well as increasing my casting distance. Happy that TW is now selling Reelsnot.
From: James: Ocean City, MD 12/3/15

Comments: This stuff is the real deal. It out performs any other line lubricant on the market. Reel snot has added life to my line and distance to my casts. It has also given me more control of my cast in cold weather. Just a few squirts & I'm good for 2 days. Well worth the $. I have turned on a few fellow anglers and they have also seen the difference this product produces. I highly recommend buying Reelsnot, you won't be disappointed!
From: Warren: GA 12/2/15