Riot Baits Fuzzy Beaver - $4.59

The Riot Baits Fuzzy Beaver is the quintessential punching and flipping bait. Made from a soft, yet buoyant plastic, the Riot Baits Fuzzy Beaver features a combination of rounded appendages and textured claws that lay flat against the body as it enters vegetation, and then flare out once it's below the surface.

Built with a patent-pending Alternate Ridge Design (A.R.D.), the Riot Baits Fuzzy Beaver features chevron-shaped ribbing that traps air and releases bubbles as it moves through the water for even more attraction. Offered in a number of proven colors, the Riot Baits Fuzzy Beaver is sure to put your flipping and punching gear to the test.
Comments: Fished these in a couple tournaments and heres my review. Great profile overall. The plastic is super soft which I prefer. They fit a 4/0 OWG hook perfect. The tails don't flap as much as advertised but that's not all bad either. Comes through grass well and flips well. Good bait 4/5.
From: MS: IA 9/17/14

Comments: Been fishing the D Bomb and RI's Sweet Beaver, and while I thought those 2 were great and they are, the Fuzzy Beaver is just hands down the best beaver/craw out there. They are incredibly durable but soft, the colors are outstanding, and the bouyancy of the claws makes this bait a fish catching machine. A star is born.
From: Jason: Dandridge, TN 9/13/14

Comments: Love throwing the Fuzzy Beaver! This plastic is like cat nip to bass! Definitely pick up a pack and you will be back for more
From: Richie: Rockaway, NJ 6/29/14

***Note: If you have questions about this product or need assistance with an order please email your questions to info@tacklewarehouse.com
Color:
Blue Steel
View Large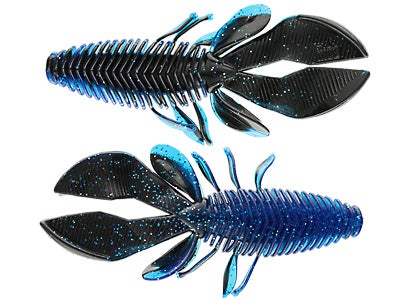 More Riot Baits Softbaits