Riot Baits Fuzzy Beaver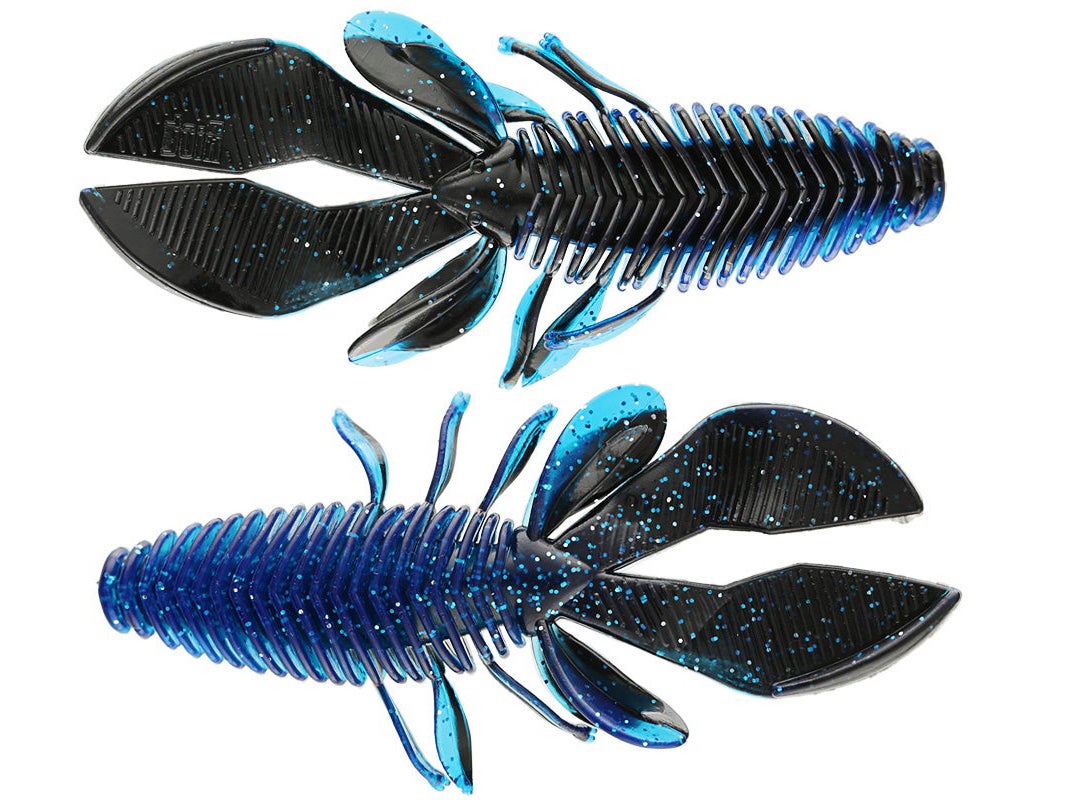 The Riot Baits Fuzzy Beaver is the quintessential punching and flipping bait. Made from a soft, yet buoyant plastic, the Riot Baits Fuzzy Beaver features a combination of rounded appendages and textured claws that lay flat against the body as it enters vegetation, and then flare out once it's below the surface.

Built with a patent-pending Alternate Ridge Design (A.R.D.), the Riot Baits Fuzzy Beaver features chevron-shaped ribbing that traps air and releases bubbles as it moves through the water for even more attraction. Offered in a number of proven colors, the Riot Baits Fuzzy Beaver is sure to put your flipping and punching gear to the test.
10 Colors
More From Riot Baits Softbaits
Customer Reviews
Comments: These things are great but they are NOT that durable. I could only get two uses out of one. As soon a hook rips through the bait, it's done for & have to try an super glue it back together. Great claw action and awesome profile. Just wish they were as durable as Zman's Elaztech.
From: Jeter: Temple, GA 9/21/16
Comments: I use this lure for multiple different things. Flipping, Pitching, Jig Trailer, it works for all. Great movement and great colors. Riots bait, are very very strong as well. They dont fall about after one use.
From: Chris: Hurst, TX 3/7/16

Comments: I like. Has the legs of the RI Kinky Beaver & the body of the D-Bomb. My color choices are Slayer, and Smashing Pumpkin when I find cleaner water. Kush will come in the mix after the spawn....
From: Tim: Delta, CA 4/4/15

Comments: The Fuzzy beaver is a great bait to pitch, flip, use as a jig trailer or on a shakey head. Great action as you can swim it, hop it off the bottom. Moves a lot of water and is truly a bass catching bait.
From: Eric: Owenton, KY 1/26/15

Comments: This is my go to flippin and pitchin bait, this thing flat out catches fish!! I've been using these a lil less than a year and its the only beaver style bait ill use. great for football jigs, weedless jigs, and punching rigs. For me the balance between durability and buoyancy of all the Riot Baits are really hard to beat! My favorite colors for Lake Chickamauga are Kewl Kiwi and Tidal Blue.
From: RL Tinker: Chattanooga, TN 1/19/15

Comments: Fished these in a couple tournaments & here's my review. Great profile overall. The plastic is super soft which I prefer. They fit a 4/0 EWG hook perfect. The tails don't flap as much as advertised but that's not all bad either. Comes through grass well and flips well. Good bait 4/5.
From: MS: IA 9/17/14

Comments: Been fishing the D Bomb and RI's Sweet Beaver, and while I thought those 2 were great and they are, the Fuzzy Beaver is just hands down the best beaver/craw out there. They are incredibly durable but soft, the colors are outstanding, and the bouyancy of the claws makes this bait a fish catching machine. A star is born.
From: Jason: Dandridge, TN 9/13/14

Comments: Love throwing the Fuzzy Beaver! This plastic is like cat nip to bass! Definitely pick up a pack and you will be back for more
From: Richie: Rockaway, NJ 6/29/14