River2Sea Whopper Plopper - $12.99 to $16.99
Designed by legendary angler and TV personality, Larry Dahlberg, the River2Sea Whopper Plopper 130 is a downsized version of the original. Dahlberg and the folks at River2Sea were catching so many big bass - both largemouth and smallmouth - on the musky-sized original Whopper Plopper, they just had to make one the right size for bass.
Whether you crawl it super slow, so you can't even hear the tail, just the tiny glass beads sizzling inside its body, or you speed it up so it throws water like a swamp buggy with the same deep, hollow whopper-plopping-fish-catching sound as the original, the Whopper Plopper 130 gets bit. It still casts a mile, and its ability to work at the widest possible range of speeds, makes it a great tool for honing in on the most productive speeds and rhythms for that particular day. Available in a variety of colors, the River2Sea Whopper Plopper 130's tail is also perfectly tuned right out of the box - so it stays flexible and working properly forever.
| | | | |
| --- | --- | --- | --- |
| River2Sea | Length | Weight | Class |
| Whopper Plopper 90 | 3.5" | 3/8oz | Topwater |
| Whopper Plopper 130 | 5" | 1-3/8oz | Topwater |
Color:
Delta Craw
View Large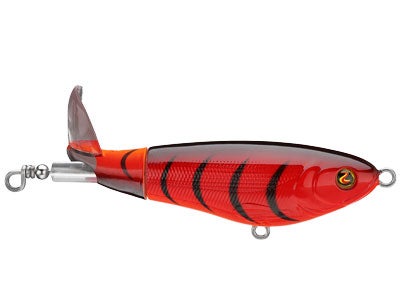 More River2Sea Top Water
Comments: got two 130 and a 90 haven't thrown the 90 yet but I throw the 130 morning day and night & they get smacked, love the ploppers who ever gave this bait a bad review is on drugs..
From: Jeff: Taylor, CA 4/30/15

Comments: River2Sea needs to make a 110 size. 3/4 oz. They are failing on size on an awesome bait. The 90 is ok, 130 is to big.
From: Jason: CT 12/23/14

Comments: I like the 90. You can fish it like a popper and it makes a very unique hollow Rico-like sound, but it's heavier than a popper so it casts easier. I like this bait, so do the fish.
From: Brian: Los Gatos, CA 12/15/14

Comments: Bought a 90 and a 130. First time out with each I caught fish. The 90 gets more bites and basically takes the place of an open water buzzbait pattern. Used a short jerk a time or two as soon as it lands close to cover, then buzz it back to the boat. The 130 is EXTREMELY loud on the steady retrieve. Fish catchin baits!
From: Dave: Charlotte, NC 10/21/14

Comments: Today I took a friend from Atlanta Ga out to California delta for his first fishing trip in delta. He landed two good sized striped bass on bone colored Whopper Plopper (WP), lost 2 strippers during his retrieve and missed 4 hook ups (too excited) after having never seen one let alone used one before. Needless to say he is now looking to buy his own WP to use back home. They work to pull stripped bass and large mouth to the surface. Forget naysayer comments.
From: Percy: Elk Grove, CA 10/14/14

Comments: I got 4 130's last week. I don't know why people put this bait down. Less than 1 week of throwing this bait every evening at my home lake I caught my best fish of the year 5lb. 7oz. and coming from delaware that is a big deal. I just ordered 3 of the 90's cant wait to get them in a couple days. This should let the 1-2 lbers in on the action. This is by far the best topwater bait I have used next to a Ramba. Do not miss the boat. I have fished 37 years and he been in a club for 25 years. Your loss if you don't tie one on ( I was not paid or compensated to write this post)
From: Dion: Wilm, DE 10/8/14

Comments: Well I have 4 and all float. Both sizes and I have no issues with them. Even hit one on a rock casting and it didn't crack. If they sank why didn't you return them? For those who want a real review these have their place. Just got 2 of the 90's and the first fish on it was a nice 4lber. Great bait if you are looking to show them something different.
From: William: Long Beach, CA 9/29/14

Comments: Capt. Andy I own 2 of the 130's and 4 of my fishing partners own 2 each. Both of mine still float like a bobber after 2 years of fishing with them. There is a whopper plopper tied on at all times. I have never had a problem with either one. River2sea knocked it out of the park with this one
From: Dan: NH 9/24/14

Comments: I bought 2 whopper ploppers before I took a trip to Lake Champlain. A lake I grew up fishing and know well. I couldn't get a single bite on this bait. Not from a largemouth, smallmouth or pike. Both of them sank like a rock, took 20 feet of reeling to rise to the surface and never got even a swirl, morning noon or after dark. The bass on lake Champlain are pretty topwater friendly, especially after dark. While buzzbaits, spooks and frogs all got eaten the whopper ploppers never got a sniff. I'd be willing to bet all those reviews are fabricated. I called and e-mailed river2sea and never got a response. Only because these are advertised as floating baits. As you can imagine, its tough to get a bait that weighs 1 3/8oz that sinks to perform as a topwater.
From: Capt. Andy Putetti: Islamorada, FL 8/16/14

Comments: This bait us the best I throw it in Tilley pockets and I get rocked by large mouth. I love this bait thanks R2S.
From: Shad: Concord, CA 3/13/14
Comments: This bait is one of the best topwater baits out on the market. I am from IL and let me tell you, size doesn't matter. This lure is large but it catches fish. I have caught large bass with this lure. Excellent dusk/dawn lure. Loon color is the top producer.
From: Nathan: Moline, IL
Comments: This is a great idea it just needs to be scaled down a little more. I would like to know what kinda of set up people are thowing this with. Thanks

From: Adam:Foristell,MO
Comments: It casts too far and is too noisy and splashes too much water. Scares all the small fish away! Don't buy it. :))

From: D: MN

Comments: This lure is the best topwater lure I have ever used, and I've used just about all of them. I catch the biggest smallies on this, and an occasional musky. I did have a musky rip off one of the hooks from a treble but luckily he had the other two buried in his mouth as well! I have yet to take this on a largemouth lake and test it because I live near a world class smallmouth lake and have a hard time leaving it when I get as much topwater action as I do throughout the year with this bait, thanks river2sea!

From: Justin: Northern WI

Comments: First off I love this lure! It catches large mouth bass pretty good,Thumbs up for just a great design!! But its just to big for small mouth bass fishing, As I miss 90% of my bites. As they just cant get a good hold on it. I really wish it was smaller say 3 1/2" to 4" would make it one of the best top water baits ever.So i'm putting this one on on the top of my wish list!!

From: Robert: Russell Springs KY

Comments: I don't always write reviews unless I feel that my review is going to help others. First off, I was very skeptical about this bait since it work almost as buzz bait but boy was I wrong. This bait does a lot that a buzz bait can not do. It can float which is very useful when you want to stop-go method. When you stop this bait, it would sit upright which works very good when setting the hook. You can walk the dog with this bait and still splashing tons of water to get notice. I bought this bait on a local bass shop because they got the color that i feel more comfortable throwing with. Works very good early in the morning when the water is calm. I love this bait. You gotta have it in your boat.

From: Brian: CA

Comments: I fish the Susquehanna river in PA for smallmouth and musky and I have a few of the big ones that work and one nite I caught a 5 pound smallie on the big one so I got acouple of the small ones and I throw them rite before dark and kill smallies on them id rock some wire though cause the small one gets attention of muskies too...great plug you can bend the tail and it goes rite back to place....practice catch and release the fish will thank you so will the anglers.

From: Tyler: susquehanna river,PA

Comments: Tried this lure last summer at night. I had a lot of hits with only 1 bass staying on. I had changed the hooks to larger mustad hooks. Any suggestions on types of hooks or hook sizes to use?

Comments: Just caught my first 7lbs 24 inches large mouth bass with the whopper plopper 130. It made my day

From: Zack: Stockton, CA

Comments: Just like my fellow windy city boys have said it, This lure rocks.

From: Ryan: Chitown, IL

Comments: I tried this lure for the first time today and caught a nice shoal bass in the river. I hit a bunch of rocks with it, and have not caused any damage to it so far. It casts a mile. I am going to catch a lot of fish with this lure.

From: Adam: Atlanta, GA

Comments: great lure cought muskie,pike,bass,pickerel,and be leave it or not but even a wallie

Comments: Guess what boys? The little version catches muskies too. I have got to stop buying lures for my pops. I gave him one of these in munky butt and he goes and catches a 53 inch muskie with it. From now on he's only getting golf equipment for Christmas.

From: Big J: Houston, TX

Comments: I've been bass fishing for a long long time and I'll tell you what this is hands down the best top water bait I have ever thrown. This bait will put you on the hot seat. I have never heard such a gurgle come from a bait and you can work it at all speeds and stands straight up on pause. I will have a couple of each in this bait in case I break off because the fish do explode like no other on this bait. River 2 sea you nailed it. The only one thing I would do to this bait is change the hooks to a 2x strong because they will bend out with the violent strikes this bait gets.

From: Troy: Auburn, CA

Comments: I brought the chubby color up to the Wolf River in WI and got 11 pike and a 5lb Lg Mouth on the first afternoon fishing it. This is a "must have" bait.

From: Brandon: Antioch, IL

Comments: Finally got this bait in the loon color, it was on back order forever but glad it arrived. cant wait to throw this once it warms up. have this bait in bone color also and it has great action and its gonna be a killer topwater bait for sure.

From: Matt: IL

Comments: I threw this Monday and was anticipating an explosion on every cast. Great noise, fishing it fast or slow, simply awesome.......Plop Plop Plop.....Boom!

From: Nate: Edmond, OK

Comments: I bought this recently and it is amazing. It makes incredible noise and it works at high and low speeds. If you like buzz baits, this will surely impress you. Buy with confidence.

From: Thomas: Columbia, SC

Comments: This bait looks like its gonna be killer. that loon color looks amazing and cant wait till it gets shipped out when there back in stock!

From: Matt
Comments: I would love to get these in the big size too!

From: Big j: Houston, TX

Comments: yes!!! I have been waiting for these since icast,I have this lure made by joe bucher (a musky size lure) and bass still clobber this thing and love to tear it up on the surfacee.now that somebody makes one specific for bass,I am way excited to get n use these for so awesome topwater fun.and to see it in loon is even better,cause the musky lure I have is in loon also and knowing what bass do to these type of lures already in that color,its going to be great.get yourself some of these lures they r one of a kind and make a sound no other lure/topwater bait makes,its loud and calls up the big ladies of the lake....ploop,ploop,ploop.

From: Steveo: windycity

***Note: If you have questions about this product or need assistance with an order please email your questions to info@tacklewarehouse.com