Scum Frog 5/16oz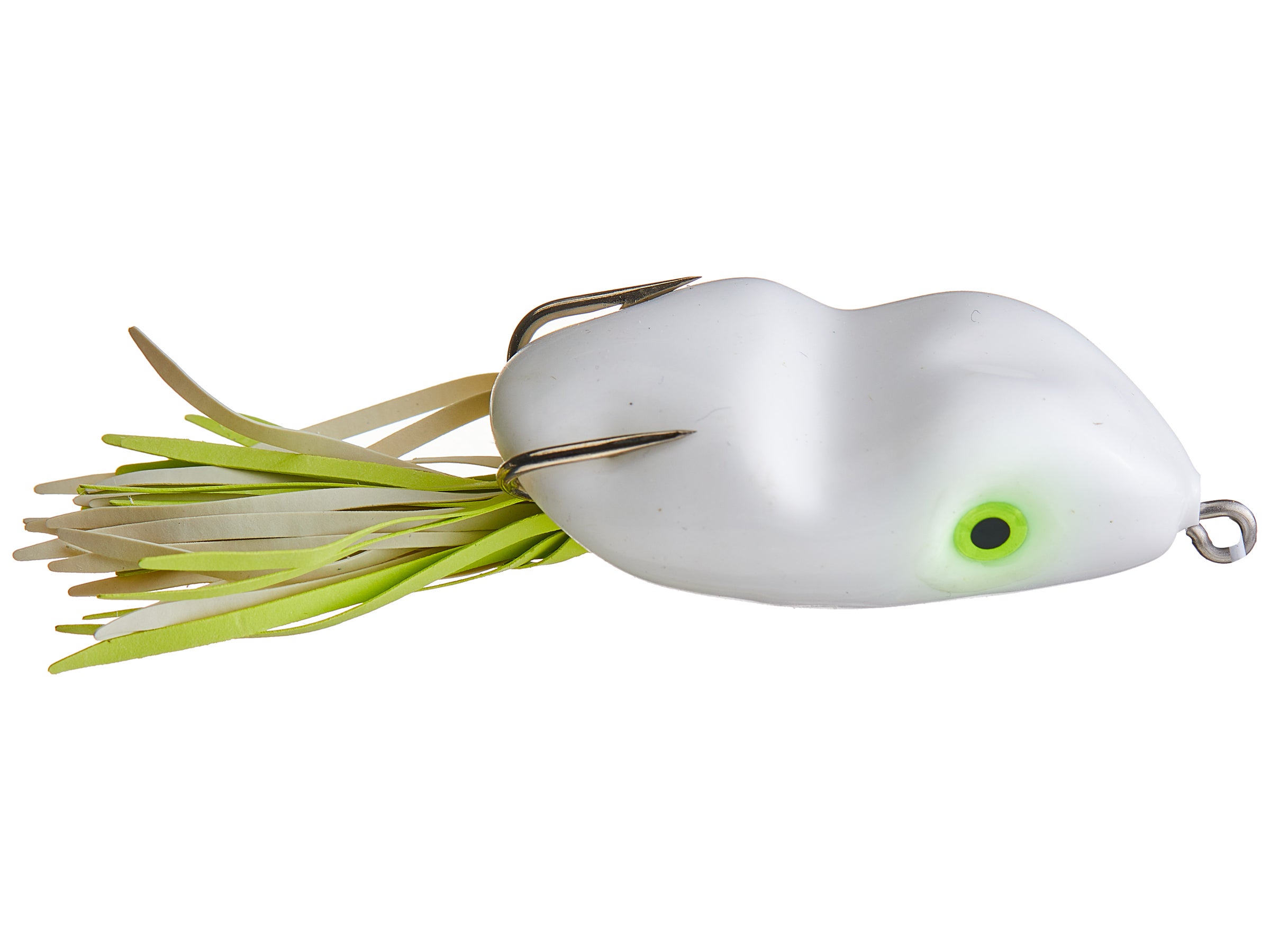 The completely weedless design of The Southern Lure Company Scum Frog allows it to slide effortlessly over and around weedbeds, lilypads, limbs, and stumps. The Scum Frog allows easy fishing in places other lures can't go without hanging or picking up moss. Although the Scum Frog is weedless, its super soft body gives plenty of catching power. Discover the exciting top water action of Scum Frog fishing!
13 Colors
More From Scum Frog Topwater
Customer Reviews
Comments: Ugly and cheap-looking, but they do catch fish. I wouldn't choose one of these head-to-head against a spro bronze eye or similar, but I do appreciate a good, budget-conscious lure that catches fish. Favorite colors are green, white, and black. Those three cover pretty much all conditions for the cost of one "quality" (pricey) frog.
From: Scott: Virginia 12/19/16
Comments: Been using these frogs for years. Scum frogs are the best. Many frogs are bulky and hard and the the hooksets are just terrible. Scumfrogs are soft and improves hook sets tremendously. What counts is hook up % and snagproof provides this quality. I've met the owners and their very passionate to provide quality baits for us fisherman.Keep up the great work making these baits that you can count on to improve your catch.
From: Andy: Lake Station, IN 11/25/14

Comments: Great lure for Snakehead

From: Lai: Sarawak, Malaysia

Comments: Amazing frogs. They are very inexpensive and are produce great results. I even catch spotted bass. I caught my biggest ever spotted bass on this thing! Works for all types of fish.

From: Zach: Columbus, Ohio, United States

Comments: This frog is epic for getting me numbers. I go to pond and slay some 1 and 2 lbers. Go to a lake and catch a couple in almost every location. Pop it, skip it, or reel it fish can't resist. Fish see it, and they want it. It reminds me alot of a weedless hula popper except you have a lot more control on how much noise it makes which is very necessary if the fish decide to be finicky and turn down your larger frogs. Bottom line: it would be a mistake not to carry these in your armory of topwater.

From: Michael: NC

Comments: awesome frog work great put them on a bait caster fishi them around lily pads weed and dont jerk them just keep a steady reel pace and they have a nice action to them

From: Rick: Orange, CA

Comments: great for all frogging applications. it is very versatile,because you can skip it,walk it,bob it, and even chug it. there are many colors, so you can use it for any condition. durable,dependable,and performs well where other frogs can't go. advice- use a frog rod with a fast tip to make it skip and walk better. once you master this lure,you'll pull more and bigger bass out of the heaviest cover.

From: Alex: Port Barre, LA

Comments: Caught a lot of nice bass with this frog

From: Matthew: Port Barre, LA

Comments: Was the first topwater Frog I ever bought, I eventually lost my favorite one (Chartreuse) into the intestines of a Bass. Don't let the simple design fool you. One of the most effective frogs out there. Period. These things are mad tough, too, caught plenty of fish with no damage to the frogs. Unfortunately my local Sports shop doesn't carry them anymore.

From: Rusty: Central Arkansas

Comments: Have caught many fish on these lures and sometimes it is a great change up lure from the same old same old hollow body frogs.

From: Brian: Quincy, MA
Comments: I have fished scum frogs for 30 years in various version. Wonderful bait for fishing over mats. I have caught BIG bass on these things. My biggest to date is 8 lbs in MN and I lost an 11 lb er (shocked up previously by DNR). This was in central IL. Fish them slowly. Hop them. Extremely high hooking percentage, plus, if a bass blows up on one and missed, you can just leave it in place and often get the fish to come back.

From: Dean: Apple Valley, MN