Seaguar InvizX Fluorocarbon Line -
$12.74 to $277.49
MSRP $22.00 - 329.99
Soft, supple and castable - Seaguar InvizX is 100% Fluorocarbon fishing line with superior sensitivity and strength. Specially designed to dominate freshwater, InvisX is virtually invisible to fish. Also delivering advanced hook setting power and exceptional abrasion-resistance, Seaguar IvizX Fluorocarbon Fishing Line - they'll never know what hit them.
| | | | | | | | | |
| --- | --- | --- | --- | --- | --- | --- | --- | --- |
| Line Diameter | 6lb | 8lb | 10lb | 12lb | 15lb | 17lb | 20lb | 25lb |
| Inches | .008 | .009 | .010 | .011 | .013 | .015 | .016 | .017 |
| Millimeters | .20 | .23 | .26 | .28 | .33 | .37 | .40 | .43 |
*3000yd Spools are not level-wound
Comments: This is the best Floro on the market bar non. Some say Gama is better and maybe it is but for my money I would rather get 200 yards for about 20 bucks than 100 yards for 20 bucks with Gama. The InvizX is soft and casts like a charm. I put it on a spinner and have no issues. I have used Bass Pro on a spinner and it is way to springy and twists like crazy. If you never tried it on a spinner before give it a try. You will be happy.

From: Bruce: Sparta, NJ 10/26/24

Comments: Read a couple reviews and decided to try this line. Some people complain about having bad boxes. I never have had any problems with it. I tie another Eugene Bend knot after I catch a bunch of fish or the first 10 inches feel frayed. Never had any break-offs. I recommend this line!
From: Brian: NY 8/6/14

Comments: this line is great. I use the 15 lb on my jig rod and have 0 problems in the last year since I switched to invis x. Great sensitivity. To those who break off all the time and breakin fish off that's 2.5 to 3lbs it's not the lines problem. You have to check your line while your fishing it will fray around rocks, all of it will unless your using braid. Tie a polamar knot, make sure to wet the line while tightening and check for frays every now and then. And if you still have 2.5 lb bass break or fray your line maybe you should go to a steel leader.
From: Brandon: KY 7/3/14

Comments: Tried a lot of other brands and based on the other they do not compare to Seaguar. This line is super smooth, cast a freakin mile and will not snap. Not cheap, but will last if you take care of it. Def worth the money.
From: Jamie: Irmo, SC 6/9/14

Comments: Been using the 15lb on all my worm/jig/carolina rig rods for 3 years and probably only had 5 breakoffs during that time. I bought a 1000yd spool during the Days of Christmas sale and I have broken off at least 10 times in my last two trips. Bad lot? I don't know. Gonna give it another try.
From: Brannon: Collierville, TN 5/18/14

Comments: I really like this line, diameter, strength and value. It casts really well and has lasted well. Never had a bad spool and never experienced unexplained breaks. I have a few favorite flouros and this is definitely one. I enthusiastically recommend.
From: Gumwad: USA 4/27/14
Comments: Bought this before going on a fishing trip and didn't have time to order different line. It has substantial memory and is difficult to manage when compared to Red Label. Stretching it or spraying conditioner on it should help but that shouldn't need to be done in the first place. First chance I get I'm swapping for tatsu or sunline.
From: Kyle: WV 4/8/14
Comments: good stuff, i have this line in 8lb on my spinning combo nrx/sustain and boy did this line deliver. i was drop shotting for bass and hooked up onto a muskie. long story short, the fight lasted a good 5mins and the muskie got away but didnt break the line, the hook just came loose. the line performedn greatly.

From: T: Green Bay WI

Comments: new 12lb on crankbait rod after few cast broke 20 yards up the spool fishing weeds anyone else have this problem

From: Tim: MI

Comments: Have tried several different fluorocarbon line over the past year and this is about as good as your going to find!

From: Michael: NW Florida

Comments: It keeps breaking - I have three pounds of drag set on my casting reel with ten pound InvizX and just lost a very nice bass when the line broke on a straight pull. I've had it with this crap!

From: Steve: Sacramento, CA

Comments: This line seems to have a lot of memory after putting on to my reel. Can anyone tell me if im doing something wrong or anything to prevent memory?

From: Cole: Nebraska

Comments: I was starting to hate flurocarbon until I started using this line it's really amazing stuff. I tried Berkeley 100% and Vicicous and that stuff doesn't even compare. I like this line because its super manageable, low stretch, smooth as silk. I would compare this line to sunline sniper both are great lines. Good luck

From: CJ: PA

Comments: awesome for spinning gear, not very abrasion resistant but very strong and supple. Aslong as you re-tie after the line gets frayed from fish or rocks you wont break off.

Comments: I for one did not have the same sucess as the others with this line, I found it really lacked abrasion resistance and one little rock interaction and you better retie

From: David: Moore, SC

Comments: I love this line. I have only used this line as a leader at the end of my Power Pro braid. I've been very impressed with its strength, durability in heavy cover, and its ability to help me catch practically all my fish. It's pricey, but it's given me no reason not to use it, and every reason to keep using it.

From: Adam: Orange County, CA

Comments: Fantastic line. For all the negative reviews you might have gotten a bad spool. It happened to me. But give it another try i promise it wont be bad twice in a row. And dont tie palomar nots with floro line it heats the line up to much and weakends it bad. Good luck!

From: Kyle: Ohio

Comments: Great line. Gets bit well and you`ll get more strikes fishing jigs, plastics, crankbaits compared to momo. Just impossible to fish topwaters becuase all the line between your rod tip and topwater sinks below surfuce and kills your Zara Spook,Sammy,Pop R`s action. Other than this, an awesome product.

From: Seiko Tuna Can: Hemet, CA

Comments: I love this line. I use either the palomar or San Diego Jam knot and I have no issues with knot strength or line breakage. I use the 10lb for plastics in general and the 12 or 15lb on jigs. This stuff is unbelievably strong and it is so soft. I'd recommend to anyone!

From: Steve: Sylmar, CA

Comments: Great line! Previously the only fluro that i had used was viscous whick had alot of memory. Seaguar casts so easily! I was flipping with 12lb (crazy right?) and had no problems with abrasion or knots coming undone

From: Adam: Nassau County, NY

Comments: this line is crap it has way to much stretch. It isnt stiff and it is easy to handle, but it stretches more than berkley big game mono. Will not buy again.

From: Micah: Dawsonville, GA

Comments: Worth noting that 12lb Invizx has the same diameter as 8lb Trilene 100% fluoro. You'll get more bites with the same lb test Invizx, or you can get away with fishing two lb tests higher. Either way a big advantage.

From: Chris: WY

Comments: There may be better line out there but if thats the case I haven't used it yet. I got hung up and couldn't get it out. Couldn't break it until I wrapped it around my reel and pulled extremely hard. Ridiculously strong line.

From: G: VA

Comments: Bottom line, Never will I use another brand of fluorocarbon. This stuff is the best. Diameter, strength, sensitivity..everything!

From: Michael: GA

Comments: Awesome line, don't even need to spray it. Has the perfect stretch for hard hitting fish on crankbaits and casts a mile with almost no memory. Overall great line.

From: Ian: CO

Comments: Best Fluoro I have used. I used 10 pound this spring at Erie and handled 20 to 30 3,4,and 5 pound smallies. Tie a good knot and check your line after you get snagged and you will never use anything else again

From: Bryson: WV

Comments: Ive used this line in 10lb. for a month now in weed choked ponds... Tie a palomar or a uni knot and this line will surprise you with its strength. You can not see this line in tha water at all. Its super sensitive and yes it stretches some.. But i will buy again due to tha strength this line has showed me.

From: Bassdale: NJ

Comments: I love how I see so many reviews about it being weak and its far from it. Been throwing this for 2 years now and have yet to have a fish break off. You people just need to watch for line wear and learn to tie right knots. And I only throw the 10lb myself.

From: Cole: AZ

Comments: Fishing 8lbtest for lmb...well...you get for you ask for...going back to berkley trilene....give me a break....turn in the BMW for the ford escape...about the same.

From: David: TX

Comments: Best flouro I've found. From throwing jerkbaits on 10 to flipping with 20 I've never once had a problem. I tie numerous knots for different baits and have never had a problem snapping. Great abrasion resistance fishing around rocks and laydowns.

From: Sean: IL

Comments: Seagaur is the best in the business, hands down. real sensitive, hardly no stretch, and its well worth the money your spending.

From: Peter: LA

Comments: This line is amazing! I couldn't believe the strength and abrasion resistance. I had the 15 lb and even when I screwed the drag down hard and tried to break it, it wouldnt' budge. Low visibility, good knot strength

From: Dave: Elburn, FL

Comments: Before trying InvizX I had bad experiences with Berkley Vanish and 100% fluoro, but this line is AWESOME! I use 8lb on a spinning set up and love it! It's cast great, super low memory, and very durable. I will be ordering more, that's for sure!

From: Keegan: Iowa

Comments: This line is absolute garbage!!! The only thing I can say about it that's good, is that it casts great, and handles well. But other than that it's very weak, and if your fishing for anything bigger than a smelt, I'd recommend you go with another brand.

From: Mrbond007: East Lansing, MI

Comments: This has been my go to line for over a year now and i have to say I will not use any other line out there. Its great for everything from cranking to jig fishing. Simply the best

From: Walker: Maryville, TN

Comments: Best line on the market bar none. If you are breaking your line on cast and hooksets I think you need to rethink your knot tying abilities. No excuse for breaking line on a cast maybe on a hookset but check your line. I wont 2 tournaments back to back with over 20 lbs each tourny and never broke my line 1 time .

From: Rod: USA

Comments: Greatest line ever only floro I will useI havecaught many 7s and 8s on the 12pound and my family who lives in Texas ionly uses seaguar.

From: Ryan, USA

Comments: Best fluro on market, love 8lb for cranking and jerkbaits. 10 lb and 12 lb great for deep cranking also. Several buddies were sceptical when I was using this line but started taking notice who was getting bit more. Great line for clear water keep line conditioner on it and it will last longer.

From: Jeff: Lagrange, KY

Comments: I spooled one of my spinning rigs w/ 8lb Trilene Pro Grade for finesse fishing. I caught fish, but the Seaguar InvizX I bought two years ago is much softer. I pulled all of the Trilene Fluorocarbon off the finesse rig, and I will re-spool w/ InvizX.

From: John: Lexington, KY

Comments: If you want flourocarbon line this is the best line on the marked for its prise. It super strong and smooth.BEST LINE EVER

From: Nico: South Africa

Comments: I bought this line based on several good reviews on here. I have had nothing but problems with this line. It has decent sensitivity but is very weak... I have had multiple line breaks using 8lb test, a couple of them occurring while trying to land a 3 1/2 or 4 pound largemouth. this line will begin to fray near the hook just from bass biting it. I would not recommend this line to anyone who wants to catch anything over 2 lbs. I've had much better results from Suffix and even Berkley fluorocarbons.

From: Kyle: MI

Comments: This is the Only floro I buy now! Tried a Bunch and I am convinced this is one of the best(if not the best) you can pay more but not sure it's worth it. Defiantly better than Vanish!

From: ksibigbass
Comments: great line got a 4lber out of grass and wanted to test the line so i boat flipped em with all kinds of grass on it and it held up i love it!

From: Robbie: Pensacola, FL

Comments: INCREDIBLY STRONG! I was fishing the delta but didn't realize the tide had dropped when I got to my spot. Ended up flipping and punching in some really thick stuff with the 20lb spooled up, a couple of flips into some thick hydrilla and I stuck a massive 6lber and was able to muscle the fish out with TONS of salad on top. This stuff is TOUGH!!

From: Phil: CA Delta

Comments: this is some really good line. i used to only use p-line but it wasnt sensitive enough and not strong enough so i started using seaguar.ive had no problems with this line, its super tough, and ties knots easy. im spooling up all my reels with this because its just that great!

From: Matt: PA

***Note: If you have questions about this product or need assistance with an order please email your questions to info@tacklewarehouse.com
View Large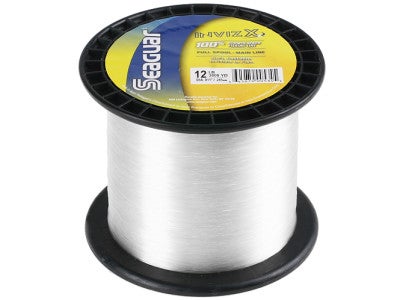 More Seaguar Fishing Line