Seaguar InvizX Fluorocarbon Line - $16.99 to $329.99
MSRP $22.00 - 329.99
Soft, supple and castable - Seaguar InvizX is 100% Fluorocarbon fishing line with superior sensitivity and strength. Specially designed to dominate freshwater, InvisX is virtually invisible to fish. Also delivering advanced hook setting power and exceptional abrasion-resistance, Seaguar IvizX Fluorocarbon Fishing Line - they'll never know what hit them.
| | | | | | | | | |
| --- | --- | --- | --- | --- | --- | --- | --- | --- |
| Line Diameter | 6lb | 8lb | 10lb | 12lb | 15lb | 17lb | 20lb | 25lb |
| Inches | .008 | .009 | .010 | .011 | .013 | .015 | .016 | .017 |
| Millimeters | .20 | .23 | .26 | .28 | .33 | .37 | .40 | .43 |
*3000yd Spools are not level-wound
Comments: This is the best Floro on the market bar non. Some say Gama is better and maybe it is but for my money I would rather get 200 yards for about 20 bucks than 100 yards for 20 bucks with Gama. The InvizX is soft and casts like a charm. I put it on a spinner and have no issues. I have used Bass Pro on a spinner and it is way to springy and twists like crazy. If you never tried it on a spinner before give it a try. You will be happy.

From: Bruce: Sparta, NJ 10/26/24

Comments: Read a couple reviews and decided to try this line. Some people complain about having bad boxes. I never have had any problems with it. I tie another Eugene Bend knot after I catch a bunch of fish or the first 10 inches feel frayed. Never had any break-offs. I recommend this line!
From: Brian: NY 8/6/14

Comments: this line is great. I use the 15 lb on my jig rod and have 0 problems in the last year since I switched to invis x. Great sensitivity. To those who break off all the time and breakin fish off that's 2.5 to 3lbs it's not the lines problem. You have to check your line while your fishing it will fray around rocks, all of it will unless your using braid. Tie a polamar knot, make sure to wet the line while tightening and check for frays every now and then. And if you still have 2.5 lb bass break or fray your line maybe you should go to a steel leader.
From: Brandon: KY 7/3/14

Comments: Tried a lot of other brands and based on the other they do not compare to Seaguar. This line is super smooth, cast a freakin mile and will not snap. Not cheap, but will last if you take care of it. Def worth the money.
From: Jamie: Irmo, SC 6/9/14

Comments: Been using the 15lb on all my worm/jig/carolina rig rods for 3 years and probably only had 5 breakoffs during that time. I bought a 1000yd spool during the Days of Christmas sale and I have broken off at least 10 times in my last two trips. Bad lot? I don't know. Gonna give it another try.
From: Brannon: Collierville, TN 5/18/14

Comments: I really like this line, diameter, strength and value. It casts really well and has lasted well. Never had a bad spool and never experienced unexplained breaks. I have a few favorite flouros and this is definitely one. I enthusiastically recommend.
From: Gumwad: USA 4/27/14
Comments: Bought this before going on a fishing trip and didn't have time to order different line. It has substantial memory and is difficult to manage when compared to Red Label. Stretching it or spraying conditioner on it should help but that shouldn't need to be done in the first place. First chance I get I'm swapping for tatsu or sunline.
From: Kyle: WV 4/8/14
Comments: I have used this line for years now and it is the best Floro I have used, very strong and very good all around. But Beware if it breaks all the sudden you best un-spool it and reload with new. I have had it go bad just out of the blue. I have gotten old spools that was already junk. When you have a up to date spool you have the strongest and best line out there, but don't give up if you get a bad box. I love it and fish it 4 to 5 days a week, Tournaments every weekend.
From: Kevin: KY 3/21/14
Comments: I use florocarbon 10 lb for cranking. Was using viscous and was not completely happy with performance. Read reviews and decided to give this stuff a try. I had break issues during casting. Not one break was at the knot and no abrasion visible a break point. This line was softer & more manageable but broke often costing time and frustration. Guess I will go back to viscious until I find something better.
From: Unknown: USA 3/9/14
Comments: I had been looking for my go to line. I like pline 12lb., but 15lb is too stiff. Yozuri hybrid is nice, but little too much memory. Stumbled across this stuff and bingo! 12lb and 15lb are my go to now. Kvd line conditioner folks... Gotta have it with flouro or you're a squid! Flouro can cut itself if u use the wrong knots too. Once you figure flouro out its a dream. Smooth, low-viz, and strong. Not mono...not braid. Converted a couple buddies with this stuff too. They swore by braid. Still use braid for frogs tho.
From: Rob: Cape Cod
Comments: I USE SEAGUAR 6,8,10 AND 20 LBS TEST AS LEADERS TIED WITH A UNITY KNOT TO POWER PRO FROM 5 TO 30 LBS TEST THE. I FISH FOR CRAPPIE WITH 5LBS POWER PRO AND 6LBS SEAGUAR... TRY IT

From: James: GARYSBURG,NC

Comments: good stuff, i have this line in 8lb on my spinning combo nrx/sustain and boy did this line deliver. i was drop shotting for bass and hooked up onto a muskie. long story short, the fight lasted a good 5mins and the muskie got away but didnt break the line, the hook just came loose. the line performedn greatly.

From: T: Green Bay WI

Comments: the best fluorocarbon hands down on spinning or bait caster. Really good line for cranking and other reaction baits due to the slight stretchiness. Good sensitivity and abrasion resistance...excellent strength, castability, and handling. Gotta give it a good stretch before fishing just like any flourocarbon line

From: Ryan: Sd. Cali

Comments: I tried Seaguar Invizx 12lb on my worm rods this past season. On several fish as I would set the hook, line would break! Not at the knot but between the rod tip and where it entered the water. After checking rod guides and having the same thing happen on 3 different outfits I changed to another brand of florocarbon in 12lb without any more issues, thrashed what was left of a 1000yd spool.

From: Rick: Haw River, NC

Comments: On my spinning rod (3/8 oz football shakey head), I went from a 10lb trilene to 8lb Seaguar InvizX and now my reel casts twice as far and the line is stronger. I'm not sure if that says a lot about trilene or seaguar but I have it on all the poles I used floro on now and haven't had any problems.

From: Daniel: Columbiana, AL USA

Comments: This line is great. I use it on both my baitcast and spinning reels and it performs perfect on both platforms. I have used other flouros and have chosen this as my go to. I also use AbraizX when around cover.

From: Mike: Blair, NE U.S.A.

Comments: new 12lb on crankbait rod after few cast broke 20 yards up the spool fishing weeds anyone else have this problem

From: Tim: MI

Comments: Not sure what my issue is but this stuff compared to Sunline Ill take the sunline any day. I bought this stuff because of the reviews and I do not think It is good at all

From: Kyle: Clintonville WI

Comments: Have tried several different fluorocarbon line over the past year and this is about as good as your going to find!

From: Michael: NW Florida

Comments: I'm new to fishing straight flurocarbon and just about had it until I picked up a box of this. Im using 12lb on my baitcaster and it works just fine. The memoary isnt bad at all and there is hardly any stretchI I haven't had any abrasion problems either and its second nature for me to check every 10 casts or less. l pulled a 3lb bass through a lot of brush and trees and up on the bank with this line. This is my go to line now. I'd recommend to anyone!

From: Mitch: Baton Rouge, LA

Comments: I have been using Seaguar fluorocarbon for years now as leaders for tuna fishing and have never had any problems with the line breaking. I recently used 6lb InvizX on my Shimano Sedona 1000 spinning reel on a recent fishing trip. The lake I was fishing has quite a few rockpiles and other line fraying structure. I used this line all day and probably caught over 15 largemouth bass (including a 5.14lb and 6.05lb largemouth) with no breakoffs. I also noticed that the line was frayed by the rocks when I landed some of the fish. I just retied and went about fishing.

From: Kevin: San Diego, CA

Comments: It keeps breaking - I have three pounds of drag set on my casting reel with ten pound InvizX and just lost a very nice bass when the line broke on a straight pull. I've had it with this crap!

From: Steve: Sacramento, CA

Comments: Ive been Using this line for 2 years and At first it was excellent. But it seems the last 7 spools I have used have not been of the same quality. I fish 5 to 6 days a week, with 1 or 2 TX's in there per week. Just dont think it is normal. Memory has gotten worse. Seems overnight I have Slinky on my shimano Symetre Spinning reels. I recommend not buying for awhile till they get there quality straight. For now IM going on the search for new line.(Abrasion Resistance is still good though, Knot Strength not the same either)

From: Hagen: Anderson,TN

Comments: This line seems to have a lot of memory after putting on to my reel. Can anyone tell me if im doing something wrong or anything to prevent memory?

From: Cole: Nebraska

Comments: I was starting to hate flurocarbon until I started using this line it's really amazing stuff. I tried Berkeley 100% and Vicicous and that stuff doesn't even compare. I like this line because its super manageable, low stretch, smooth as silk. I would compare this line to sunline sniper both are great lines. Good luck

From: CJ: PA

Comments: I was a little worried about using fluorocarbon after some previous bad experiences, but I was pleasantly surprised by InvizX. I used the 12 lb on my jig setup throwing a 1/2 ounce jig in deep water. This line cast like mono and I had no problems with it breaking. I caught a nice 4 lb spot that tested it well and it performed to expectations. I do recommend re-tying your knot several times throughout the day after catching a few. I will be buying this line again!

From: Brent: Upstate SC

Comments: awesome for spinning gear, not very abrasion resistant but very strong and supple. Aslong as you re-tie after the line gets frayed from fish or rocks you wont break off.

Comments: I for one did not have the same sucess as the others with this line, I found it really lacked abrasion resistance and one little rock interaction and you better retie

From: David: Moore, SC

Comments: Tried a few fluoros from the big Berkley machine and was not impressed by the extreme stiffness. Thought it might be a brand thing and tried the Invisx...sure am glad I did. Had a 4.5 lb'er wrap herself up in the bulrushes..no problem, not even a nick in the line, steady pressure and she came right out. The low stretch is just awesome: fished mono on my buddy's rig to try his new fast action stick and setting the hook felt like yanking a slinky compared to the Invisx I was then used to. The sink rate on the 12lb line is perfect for allowing an unweighted senko to fall horizontally, seriously increasing my strike ratio. I use this stuff for every presentation with the exception of topwater. You won't be dissapointed with this line.

From: Ian: MN

Comments: I love this line. I have only used this line as a leader at the end of my Power Pro braid. I've been very impressed with its strength, durability in heavy cover, and its ability to help me catch practically all my fish. It's pricey, but it's given me no reason not to use it, and every reason to keep using it.

From: Adam: Orange County, CA

Comments: I for 1 have always hated Fluorocarbon Line ,it always burrs up or breaks easy when kinked or was always to stiff, WELL thank goodness I broke down and tried Seaguar InvizX it has never given me a bad trip fishing . I used it all season last year (2012) in timber and rocks . This is The only Fluorocarbon Line for me . Between this and my P-line CXX those days of breaking fish off is now 2 years behind me . I fish about 3 to 4 days a week and tournaments on about every Saturday , starting in march - October so I can back up what my line has done .It cast like mono . I hope this helps someone get the best Fluorocarbon Line out there . I hate the price but it pays of for me at the weigh in.

From: Kevin: KY

Comments: Fantastic line. For all the negative reviews you might have gotten a bad spool. It happened to me. But give it another try i promise it wont be bad twice in a row. And dont tie palomar nots with floro line it heats the line up to much and weakends it bad. Good luck!

From: Kyle: Ohio

Comments: After hearing for years how great this line is I spooled up 8 lb on several spinning rigs for our annual smallmouth trip to Champlain. Of all the floro's that I have used, this is by far the worst. While it does cast good, I lost count of how many times it broke off on hooksets. Even my fishing partners were speechless at the number of quality fish they witnessed me losing. After the third day I threw this crap in the garbage and respooled with another brand - the breakoffs stopped. Maybe I had a "lemon" spool, but I will never fish this again.

From: Bob: Nashville, TN

Comments: Great line. Gets bit well and you`ll get more strikes fishing jigs, plastics, crankbaits compared to momo. Just impossible to fish topwaters becuase all the line between your rod tip and topwater sinks below surfuce and kills your Zara Spook,Sammy,Pop R`s action. Other than this, an awesome product.

From: Seiko Tuna Can: Hemet, CA

Comments: It stretches like a rubber band in all honesty. It does cast well, but its not as sensitive as people make it out to be.

From: Dave: USA

Comments: I love this line. I use either the palomar or San Diego Jam knot and I have no issues with knot strength or line breakage. I use the 10lb for plastics in general and the 12 or 15lb on jigs. This stuff is unbelievably strong and it is so soft. I'd recommend to anyone!

From: Steve: Sylmar, CA

Comments: Best line I have ever used! Seriously! Buy it

From: Tyler: Timonium, MD

Comments: my favorite fluoro! i have had some 20 pound on my spinnerbait rod for three years now and have not re-spooled! i have pulled a lot of 5 to 6 pound fish through the timber and pads on toledo bend and other lakes without ever having a problem. in my experience invizx is more abrasion resistant than abrazx. anyway, 20# invizx will be my spinnerbait line for life! the 12 pound and i have had some problems with knots so our relationship is in limbo. i think it was my fault and i will give it another chance. the trust just isn't there anymore.

From: Hawg Lord: LA

Comments: Great line! Previously the only fluro that i had used was viscous whick had alot of memory. Seaguar casts so easily! I was flipping with 12lb (crazy right?) and had no problems with abrasion or knots coming undone

From: Adam: Nassau County, NY

Comments: this line is crap it has way to much stretch. It isnt stiff and it is easy to handle, but it stretches more than berkley big game mono. Will not buy again.

From: Micah: Dawsonville, GA

Comments: Worth noting that 12lb Invizx has the same diameter as 8lb Trilene 100% fluoro. You'll get more bites with the same lb test Invizx, or you can get away with fishing two lb tests higher. Either way a big advantage.

From: Chris: WY

Comments: There may be better line out there but if thats the case I haven't used it yet. I got hung up and couldn't get it out. Couldn't break it until I wrapped it around my reel and pulled extremely hard. Ridiculously strong line.

From: G: VA

Comments: Bottom line, Never will I use another brand of fluorocarbon. This stuff is the best. Diameter, strength, sensitivity..everything!

From: Michael: GA

Comments: Tried Invizx on my worm rod and tried several trips to get it to function as it should. I didn't have any break off problems nor tying problems. My problem was trying to cast it for distance without a minor backlash. I blamed my reel to begin with but after several trips I decided it wasn't the reel. I took the advice of a fellow fisherman, put braid on it and what a difference it made. I tied the hook directly to the braid, threw it much, much longer than I could the Invizx and caught more bass than I ever did with the "invisible" fluorocarbon. The braid worked great. If I ever fish crystal clear water I'll use a fluorocarbon leader. I'm not bad mouthing Invizx but it's not for me when I can get better overall results from Power Pro braid.

From: Rod
Comments: Awesome line, don't even need to spray it. Has the perfect stretch for hard hitting fish on crankbaits and casts a mile with almost no memory. Overall great line.

From: Ian: CO

Comments: Best Fluoro I have used. I used 10 pound this spring at Erie and handled 20 to 30 3,4,and 5 pound smallies. Tie a good knot and check your line after you get snagged and you will never use anything else again

From: Bryson: WV

Comments: Ive used this line in 10lb. for a month now in weed choked ponds... Tie a palomar or a uni knot and this line will surprise you with its strength. You can not see this line in tha water at all. Its super sensitive and yes it stretches some.. But i will buy again due to tha strength this line has showed me.

From: Bassdale: NJ

Comments: I love how I see so many reviews about it being weak and its far from it. Been throwing this for 2 years now and have yet to have a fish break off. You people just need to watch for line wear and learn to tie right knots. And I only throw the 10lb myself.

From: Cole: AZ

Comments: Great line! I hated Berkley 100%....this stuff has more than adequate abrasion resistance. Its strong, and has a good diameter. As good as Sunline Pure flouro. Tie your knots carefully, check your line for frays and knicks frequently (like you ought to for any line thats not braid), and set your drag correctly. I've had no issues with this line. You can keep your Suffix and Berkley, I'll gladly fish with a premium flouro at this price.

Comments: Fishing 8lbtest for lmb...well...you get for you ask for...going back to berkley trilene....give me a break....turn in the BMW for the ford escape...about the same.

From: David: TX

Comments: Best flouro I've found. From throwing jerkbaits on 10 to flipping with 20 I've never once had a problem. I tie numerous knots for different baits and have never had a problem snapping. Great abrasion resistance fishing around rocks and laydowns.

From: Sean: IL

Comments: How can anyone say that this stuff has "hardly no stretch"? Nice Engish btw. It has the most stretch of any fluoro I have ever seen! Seriously, compare for yourself. I used 8lb test and every largemouth I caught from 0.5 to 2.5 lbs frayed this line near the hook. Pretty much anything over 2.5 lbs broke the line. I will never understand what it is that people see in this line. It was terrible for me. The only way it somewhat performed well was it's castability. Other than that... GARBAGE!! I have never had problems with fraying and line breaks from Sufix fluoro. Try it. You will be impressed and hopefully forget about this crappy line.

From: Kyle: MI

Comments: Seagaur is the best in the business, hands down. real sensitive, hardly no stretch, and its well worth the money your spending.

From: Peter: LA

Comments: This line is amazing! I couldn't believe the strength and abrasion resistance. I had the 15 lb and even when I screwed the drag down hard and tried to break it, it wouldnt' budge. Low visibility, good knot strength

From: Dave: Elburn, FL

Comments: Used this line in 8lb. on a spinning rod last year, and landed some nice bass and even a 35 inch pike accidentally. It seems super strong and it evens tough to brake off sometimes if you are snagged, which is impressive for 8lb. test. Only problem I had was I did break off a couple fish on hook sets, but im thinking its either because i needed to retie after catching fish, or got bit off by a pike.

Comments: Before trying InvizX I had bad experiences with Berkley Vanish and 100% fluoro, but this line is AWESOME! I use 8lb on a spinning set up and love it! It's cast great, super low memory, and very durable. I will be ordering more, that's for sure!

From: Keegan: Iowa

Comments: This line is absolute garbage!!! The only thing I can say about it that's good, is that it casts great, and handles well. But other than that it's very weak, and if your fishing for anything bigger than a smelt, I'd recommend you go with another brand.

From: Mrbond007: East Lansing, MI

Comments: This has been my go to line for over a year now and i have to say I will not use any other line out there. Its great for everything from cranking to jig fishing. Simply the best

From: Walker: Maryville, TN

Comments: Best line on the market bar none. If you are breaking your line on cast and hooksets I think you need to rethink your knot tying abilities. No excuse for breaking line on a cast maybe on a hookset but check your line. I wont 2 tournaments back to back with over 20 lbs each tourny and never broke my line 1 time .

From: Rod: USA

Comments: Greatest line ever only floro I will useI havecaught many 7s and 8s on the 12pound and my family who lives in Texas ionly uses seaguar.

From: Ryan, USA

Comments: Do not listen to the positive reviews... this line has snapped on me multiple times on hooksets and while casting swimbaits... the 20lbs test snapped on me while throwing a bighammer on a 3/4oz jighead... absolute garbage and unacceptable. Yes this line is very soft and casts well for a flurocarbon which is probably where the good reviews come from, but it also has stretch which fluro should NOT have, which reduces sensitivity. I will never use again.

From: Dave: Socal

Comments: Best fluro on market, love 8lb for cranking and jerkbaits. 10 lb and 12 lb great for deep cranking also. Several buddies were sceptical when I was using this line but started taking notice who was getting bit more. Great line for clear water keep line conditioner on it and it will last longer.

From: Jeff: Lagrange, KY

Comments: I spooled one of my spinning rigs w/ 8lb Trilene Pro Grade for finesse fishing. I caught fish, but the Seaguar InvizX I bought two years ago is much softer. I pulled all of the Trilene Fluorocarbon off the finesse rig, and I will re-spool w/ InvizX.

From: John: Lexington, KY

Comments: If you want flourocarbon line this is the best line on the marked for its prise. It super strong and smooth.BEST LINE EVER

From: Nico: South Africa

Comments: great line, tough, sensitive, casts great, not as stiff as trilene flouro.

From: JC: IN

Comments: My favorite line! I love it for T-Rigging and other finesse techniques.

From: Kieran: Howell, MI

Comments: Best line hands down.....no line compares for the price.

From: Bee: Milwaukee, WI

Comments: I bought this line based on several good reviews on here. I have had nothing but problems with this line. It has decent sensitivity but is very weak... I have had multiple line breaks using 8lb test, a couple of them occurring while trying to land a 3 1/2 or 4 pound largemouth. this line will begin to fray near the hook just from bass biting it. I would not recommend this line to anyone who wants to catch anything over 2 lbs. I've had much better results from Suffix and even Berkley fluorocarbons.

From: Kyle: MI

Comments: This is the Only floro I buy now! Tried a Bunch and I am convinced this is one of the best(if not the best) you can pay more but not sure it's worth it. Defiantly better than Vanish!

From: ksibigbass
Comments: great line got a 4lber out of grass and wanted to test the line so i boat flipped em with all kinds of grass on it and it held up i love it!

From: Robbie: Pensacola, FL

Comments: INCREDIBLY STRONG! I was fishing the delta but didn't realize the tide had dropped when I got to my spot. Ended up flipping and punching in some really thick stuff with the 20lb spooled up, a couple of flips into some thick hydrilla and I stuck a massive 6lber and was able to muscle the fish out with TONS of salad on top. This stuff is TOUGH!!

From: Phil: CA Delta

Comments: this is some really good line. i used to only use p-line but it wasnt sensitive enough and not strong enough so i started using seaguar.ive had no problems with this line, its super tough, and ties knots easy. im spooling up all my reels with this because its just that great!

From: Matt: PA

Comments: The best flouro I have used. One of my buddies let me spool up with some of his. Very soft, strong, casts great, low memory. It is even better with line conditioner.

From: Jim: Woodstock, GA

Comments: One of my favorite fluorocarbon lines on the market. I've used berkley and PLine, and was with PLine for awhile, and I kept hearing how good seaguar was, and figured, why not. I'm absolutely blown away by this line. I use 15LB test for pitching and flipping, and 10LB for soft plastics. I've yet to have a break off, unlike PLine where if the knot is just the slightest bit dry, snaps like a twig. Only issue I have is that it seems to have more stretch than others, but heck, if it catches and puts fish in the boat, who can complain.

From: Mike: Waukesha, WI

Comments: This line is absolutely the BEST! I pay hundreds of dollars in tournaments and I turn to Seaguar every time. This Line is virtually unbreakable provided you are using it correctly. Always remember to check for knicks in your line! Happy Fishing!

From: Evan: Florala, AL

Comments: great line when FIRST spooled on brand new to the reel. casts a mile and very limp with very little memory, knot strength is incredible (on the first time spooled and fished)...2nd trip out the line snapps on the hook set (used 10 lbs)..occured three times in the on the same trip. checked line after each snap for damage and did not feel or see anything...(using a polymer knot that has never failed me with 100% triline)...at this price, this line should last at least 3-4 hard trips...back to 100% triline floro.

From: Craig: San Jose

Comments: best line ever !!

From: JR: US

Comments: This is the best fluoro on the market, barnone. You will never be disappointed with it!

Comments: This is by far the best Fluorocarbon I have used. I have caught dozens of fish over 5 pounds with this line, dragging fish literally through brush without any problems. The best story I can give about this line occured when I was fishing with my buddy in his john boat. We were fishing in the middle all kinds of stickups and trees. We did not have a trolling motor, so I said screw it I'll just tie a hook and a weight to my rod spooled with 25 lb Seagur. I would cast from tree to tree, setting the hook into the tree, pulling the boat along in the process. Now that's a poor man's trolling motor. Any way, the line did not break one time. Do yourself a favor and go get some of this line. You will not be disappointed

From: Jordan: Austin, TX
Comments: I have always been a fan of Trilene Fluoro, but fellow fisherman persuaded me to try the InvizX. It is a very consistent diameter and handles abrasion well, but I don't think the diameter is as small as it claims. The 8lb. didn't cast as well as the Trilene and it was more likely to fall off of the spool, even when I use line conditioner. InvizX is good, but not great. Back to Trilene !00%!

From: Todd: La Quinta, CA
Comments: As everyone else has said this is an amazing line. I now use this line for everything but topwater. It cast great on both spinning and casting gear. It is tough, I have only had a few break offs from a bridge piling, and a block I sunk my brush pile with. I don't know of a line that wouldn't cut under that situation. Best line on the market in my opinion, you won't be disappointed.

From: Adam: Gowdon, GA
Comments: wow! knot strength amazing, castabality.have mojo spinning rod paired with shimano 2500.

From: John: Indianapolis, IN
Comments: Best fluoro on the market. I dock fish alot here in FL on the St. johns and it never let me down. I flipped a lot of docks and never one break off will be using this line for all my rods now. thank seaguar for a great line. cant wait to try the tatsu. hear a lot of good thing about it.

From: Shawn: Jax, FL
Comments: I've been using the 15# most of this season and am very satisfied. It casts well and has plenty of feel. Tie knots CAREFULLY and always wet the line.

From: David: Raymore, MO
Comments: used 25lb test at Falcon. The line was so strong i bent the pline barrel swivel when i tried to unsnag. felt like I was pulling up china. This is stout stuff and great casting.

From: Tim: St Robert, MO
Comments: I have experimented with a few different types of fluorocarbon and after using invizx I am completely sold. It is not only the most castable fluorocarbon I have ever used, it is also exceptionally abrasion resistant. I am replacing all my old fluoro carbon lines with this.

From: Destin: Erie, PA
Comments:Seaguar InvizX is the standard by which all fluorocarbons should be measured by! This stuff is great! I have all of my bass casting/spinning reels spooled with this and have not had any issues with memory or knotting up! Superior fishing line.
From:Michael: Ripley, TN
Comments:I absolutely love this stuff, I use 8,10,and 12 lb for cranking and all round use. I use 20 lb for flippin, the 8 and 10 are the toughest light lines I have ever used. If you want that crankbait to go a little deeper, I'll use the 8 and have the confidence that I wont loose a fish because of the light line. The 10 lb is great stuff too. You want be disappointed when you purchase this line.
From:Joe: Benson, NC
Comments:If you picked up a buddies rod started casting and didn't realize you were throwing fluorocarbon you would think it was mono. Its amazing how manageable, castable and sensitive this line is. Outstanding for a main line!!!
From:Jim: Fayetteville, NC
***Note: If you have questions about this product or need assistance with an order please email your questions to info@tacklewarehouse.com
View Large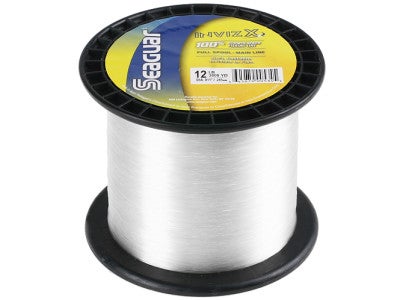 Place Your Order
More Seaguar Fishing Line