Seaguar Kanzen Braided Line Green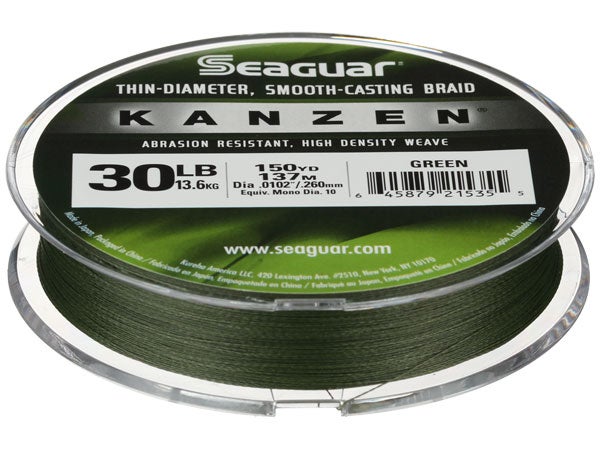 Seaguar Kanzen Braided Line is a high performance braid made from advanced ultra-thin microfiber strands in a high-density weave. Offering super thin diameters, it's designed to deliver maximum knot strength with incredible abrasion resistance, all while remaining amazingly soft and supple to ensure smooth casting and exceptional sensitivity. Designed for anglers who have made Seaguar fluorocarbon their leader material of choice, Seaguar Kanzen Premium Braided Line offers the perfect connection.
Kanzen - Japanese for "Infinity."
| | | | | | | | | | | |
| --- | --- | --- | --- | --- | --- | --- | --- | --- | --- | --- |
| Line Diameter | 8lb | 10lb | 12lb | 15lb | 20lb | 30lb | 40lb | 50lb | 60lb | 80lb |
| Inches | .005 | .005 | .006 | .007 | .007 | .010 | .011 | .015 | .016 | .019 |
| Millemeters | .128 | .138 | .148 | .165 | .185 | .260 | .285 | .370 | .405 | .470 |
| Equiv. Mono Dia. | 2lb | 3lb | 3lb | 4lb | 6lb | 10lb | 12lb | 20lb | 25lb | 30lb |
Place Your Order
More From Seaguar Fishing Line
Customer Reviews
Comments: The reviews are bad and there's a reason for that. This isn't flipping braid or frogging braid and it's only use is as a finesse braid. They should only make the lower weights and advertise it as finesse braid. I've been using the 12 lb for drop shotting and tossing tiny swimbaits on spinning rods the past two years and it's been great for that. I did break a 4 or 5 pounder off and when I looked it was the braid that actually snapped, not the leader or the not so that was disheartening but it could have been a nick in the line I didn't catch. It casts every bit as far as nanofill or gliss and while I know it's not a strong as most braids it's stronger than gliss or nanofill so it definitely serves its purpose.
From: Rob: Lewiston, PA 1/25/17
Comments: I'm not a super fan of this line. It is very thin, smooth, and cast great. But the breaking point is an issue. Straight pull even tension on 40# line consistently snapped at around 22#. Never in the knot, which is a plus. But I have some 20# on a spinning reel and love it for that. Cast super far, but I don't like the way the spool is made. When spooling spinning reels the line catches on the lip of the spool. I spooled the reel by myself, so had it lying label down and it did not come off smoothly, which made it twist. But haven't had any knots due to the twist. So if you're wanting this line for punching or flipping heavy cover, and you have extreme hook sets. Then I suggest going with at least 50-60#.
From: Jeremy: Athens, AL 5/6/15

Comments: The worst braid on earth don't waste your money on this just get power pro and be done with it, I could break 30lb braid with my hands the only good thing about it is the smooth casting other than that pure crap.
From: Tayler: TX 8/6/14

Comments: This line is thinner than any other braid on the market. Wind knots are not an issue in the slightest and also this line casts like greased lightning. color has retained in this braid better than other braids I have used.
From: Greg: Little Rock, AR 6/27/14

Comments: Really bad product . Line broke at almost ever hook set. It broke between reel and first eye of rod on one occasion. I stripped it off and replaced with another brand. Will never use again!
From: Randy: Raccon, KY 3/10/14
Comments: Unfortunately all those negative reviews were spot on. Tried it, line was good for over a month before it began snapping on almost every hookset. Was even able to snap it just by tugging on it. Felt like I was snapping 2-4lb fluoro. Will never go back to this. Why did I ever doubt you PowerPro.

From: Felix: Albany, NY

Comments: Great braid. I dnt like the 20lb for baitcasters, but the 50lb is crazy. Hoists 5 pounders in all day, pulling em out of trees and I dnt have to re-tie. Sometimes when it gets hung up and I cant reach the hook, I cannot break the line!!! Im forced to cut it. Perfect line for flippin

From: Jake: DE

Comments: This line is absolute garbage! I have lost numerous of my favorite lures on stupid, simple snags. Barely applying any pressure and the line pops! Do not waste your time or money on this. Now I have to respool my reel and spend alot more money!

From: Brandon: PGH, Pa. USA

Comments: I bought Seaguar Kanzen with the recommendation of the tackle shop owner for my spinning reel and medium rod. It broke on my first hook set. The fish spit the crankbait and I retrieved it. I expected it to be my knot failing, but the line had broken several inches above the knot. I cut off 3 feet and it broke again 10 minutes later on the next hook set . I lost the lure that time. Paid $20 for 150 yds of 20# test. Line is now in the trash can and I lost a $5 lure. I have fished Power Pro for several years without a problem. I use Gamma mono on my baitcasters and you can pull up tree limbs with their line. Just wish it worked better on spinning gear.

From: Mike: Norcross, Georgia

Comments: 20 lb Kanzen is a real ripoff.It frays easily,breaks at way less than 20 lbs.If you want to bream fish with it you'll be alright.It has a fine dia..0073 in and I believe this is the problem.

From: Paul: Athens, TN

Comments: You will be impressed at first, but give it a week and it will begin to snap. Will not be buying this again.

From: Alex: FL

Comments: Its been years since I've used braided line last. A buddy of mine uses PP and swears by it after I introduced him to it. I'm skeptical with braids because of all the issues I experienced with them. This line, however, completely turned me back onto braided fishing! First of all, the casting distance exceeds any other line I've previously used (mono, floro, and other braids). Second, little to no management required. Spool it correctly on your reel and enjoy! The only issues I experienced were my own fault. (I'm a momo guy and I forgot braid fishes differently than mono). The few knots I did have came out as smoothly as they do with Fireline Crystal. Fireline is my main pike line. I use a reverse albright to tie my leader to line and it holds wonderfully, no issues tying either. Lastly, doesn't fray even after fighting carp fishing around rocks. I use 8lb personally for trout and other pan fish. Best braid I've ever used and especially for the price, highly recommend and will continue to use. The real test though, is fishing Apache this up coming weekend.

From: Garrett: Mesa, AZ

Comments: I bought this because I love the Abrasix line and this stuff is junk started coming apart within the first hour of fishing it. I will never buy it again

From: John: MA

Comments: I have been using Seaguar line religiously for the past 3 or 4 years. The Kanzen Braid is the best braid in the industry. For the experienced and the begging anglers Kanzen is the best choice because of it's softness and great castibility. This line was designed without a coating; therefore, the line will last longer, act more supple and remain extremely abrasion resistant all at the same time!

From: Carson: Mooresville, NC

Comments: I love this braid. I have been using the 15lb test for my dropshot fishing (with 8lb Tatsu leader) and have not had any issues with it on a spinning rod. For punching/frogs, I have been using 60lb. No problems at all.

From: Tyler: Spokane, WA

Comments: Amazing Braid! Very smooth and castable! I use it most frequently on spinning reels with a Fluorocarbon(InvisX) leader and I never have leaders break on the knot(with an equal Double Uni). Kanzen doesn't break down or fray and stays smooth for very long periods of time. I only change out my Kanzen when I feel like it's been on for 6+months and a big tournament is coming up. Try some today!

From: Zak: San Jose, CA

Comments: After using the seaguar brand mono and fluoro I decided to pull the trigger on some braid. contrary to the above I was impressed with the castability and smoothness of the 50 lb braid. I have had zero problems with break off and will continue to use this product.

From: JP: IA

Comments: I've been using the 20lb test on my spinning reel for about a year now and I have yet to have a problem! Really smooth and great casting, I would argue that it's one of the better braids I've used on spinning gear!

From: Leo: LA

Comments: easy to cast and smooth...got nothing but praise for this line

From: Erick: CA

Comments: I've been using Seaguar flouro for years now and love the quality they put into all their products. I've been using the #10 Kanzen on my spinning reels with #8 flouro leader and have no problems at all. It is slick and smooth, giving increased casting distance. Looking forward to using some of the other diameters for heavy cover situations!

From: Andrew: Reno, NV

Comments: Been using the 60lb Kanzen braid for a while now,love the castability and longevity of the line,it performs flawlessly for flipping heavy matted grass.

From: Stan: Mesquite, TX

Comments: I have imported to 6 spool of kanzen to France. I have tried 8 lb to 30 lbs for saltwater and freshwater, even in a trip to Brasil never had an abnormal break ! Smoother and thinner than PP. With the Peixet knot never had a knot break (with proper fluorocarbon). Try it ! Best braid for the price ever.

From: Latour: Brest, France

Comments: I ordered 6 spool to fish in France with this braid, this is a very good braid. Dont break, no quick use as my compatriot ???? For the price this is a great product, smooth, fine... I have and use 8, 10, 12, 20 and 30 lbs and it never let me down... I use peixet knot and no problem... I think other people who have break this braid dont know how to knot a braid... This braid is in my opinion between the PP and the 8 braid daiwa. Try it and enjoy it with confidence.

From: Julien: France

Comments: Realy bad...I have imported to France two spool of it to test. At the begining everything was good (good size, strong and good feelings), but the braid quickly became "used" (only 3 or 4 2 hours fishing sessions !!) After that it brokes like glass and make some knots when throwing. Not a good product. I'm realy disapointed because it was a Seaguar Product, and I was sure it was good.

From: Chevallier: France

Comments: Purchased 15# braid used with 8# fc splintering occurred at the knot within 4 hours of use.

From: Rod: Clovis, CA

Comments: Used the 12# on a spinning rod, first of all its so thin that the 150 yard spool only fills about half a 2500 size shimano Ci4 so I had to add more backing than I usually do. At first glance the line seems nice, smooth, thin but after a day of fishing....Yes ONE day I found this is the WORST braided line I have ever used, immediately broke off a 3.5lb fish well into the braid even though I used a significantly lighter leader, I gave the line the benefit of the doubt but shortly after I noticed the line splintering and becoming almost frayed after just a few hours! I was in disbelief. A few minutes later I snagged on a small limb and once again the braid broke almost instantaneously with far under 12lbs of pressure. Never picked up the rod again, call it what it is if I had used power pro I might have landed that fish witch would have put me into the money.....Never ever touching this line EVER again.

From: CBM: OR

Comments: Agree and disagree with most of these posts. For the first couple of trips you go with this line you better have some soap cause you, your reel, your rod, and even the carpet in the boat are gonna be green. Also the line is a little harder to casts than some other braids ive tried. But unlike most of the posts I havent had any trouble with the line breaking. After you cast it prolly a couple hundred times it becomes decent line. I have loved Seaguar fluorocarbon, but I think they need to stick with fluoro. If you need some braid get you some Power Pro.

From: Will: AL

Comments: PROS: Cast smooth and gives you the distance. Very sensitive like any other braided lines.

CONS: For the price it's junk. Breaks off easily. Bleeds into your reel. Gets wind knots easily. Does not hold line breakage to what its specified for. 20lb = 8lb. Worst braided lines I've ever used. DO NOT BUY!!! Waste of money and time.

From: Peter: CA

Comments: just straight bad i had this on my new shimano baitcaster and it was bleeding all over the place i had 30 lb test and a fish broke me off i tyed a direct knot to the hook and it broke off about 7 ft from the knot wow just wow i hate this line lost so many lures because of it ill stick to my power pro

From: Ricky: Orange, CA

Comments: I have used Seaguar since the beginning of time and have never had issues. I picked up kanzen without a doubt in my mind that it would shine. Overall, I cannot believe Seaguar released this product. The 20lb breaks at 4lb. I work fishing retail, and have always pushed Seaguar. I would not sell kanzen to my worst enemies. In this price range there are many different braids that are much higher quality.

From: Columbus, OH

Comments: I love this stuff. I use the #8 on all my ultralight setups and it performs just as well as any other while being much more limber and easy to handle. I haven't had any of the color bleed issues that others are talking about. Suffix and PowerPro and prefer this over the other two. I will state that tying knots is a bit more difficult than with the other braided line I've used. I tried 4 or 5 different knots before I found one that will hold.

From: Corning, NY

Comments: Totally disappointed... line breaks at hookset. tried three different knots and still breakage on hard hooksets ( soft plastics). Took several feet of 20lb line off of reel and tried break test at home. failed and broke with sharp tug. want my money back.. :(

From: Das, AL

Comments: worst braid i have ever used not only dose the color bleed but it will not hold a knot tried 4 different knots none of them held now i am out $15 for the line and $20 worth of weights and hooks

From: Nate: Freeburg, IL

Comments: Use 20 pound on my baitcaster and on one spinning set up. Love how soft it is and how quiet. Feels quite different from other braids which may turn people off. Have not had any bleeding of the color.

From: Marshall: IL

Comments: I was a hard core seaguar fan, used all there products. last year i started having problems with there floro, i bought this thinking it would be great, nothing but crap. worst line i have ever used. I have sent 3 emails to seaguar never got a reply. I will no longer buy any seaguar products, would rather use dollar store mono then this stuff.. hope fully they will fix the many issues with it. maybe a recall or refund ?

From: Steve: Kingston, Ontario, Canada

Comments: Color line bleed very bad. Had green dye all over my reel, hand and clothes. Very disappointed in this and can not believe that Seaguar did not notice this in their testing, or if they did, that they did not fix the issue and shipped out product anyway.

From: David: Waldorf, MD

Comments: Very Dissapointed. The line made my reel green and it is not smooth at all. Better off sticking with power Power Pro!

From: Mike: Austin, TX

Comments: Got this in #20, and boy is this thing silky and smooth! Only problem was, the day I went fishing, it was windy! Needless to say, I was so frustrated with the wind knots. My other rod with Suffix Performance braid had no issues in the wind. As a long time fan of Seaguar products, I won't give up on this yet. I'll try it out when it's not windy and see how it holds up. Another thing, when you cut the line, it seems to fray more than other braid. I'm attributing that to the softness of the braid material. PS - This thing casts a mile!

From: Sebbe: LA, CA

Comments: I bought this line and was using it for flick shaking under docks. Used 10lb test with a 10lb flouro leader. I eventually took the flouro leader off and just used this braid by itself. It is so thin and the green color matches the water so well, that I didn't feel the need to use the flouro leader. Still caught lots of bass. Just skip the flick shake under a dock..let it settle..shake a few times, and set the hook. Love this line. I may even try it some this year for punching mats.

From: Shane: Thomaston, GA

Comments: Put #15 on the new Pflueger Patriarch. I was bit concerned about the slickness (silky smooth) of this line - red flag - potentially ridiculous wind knots. Turned out to be some really good line, casts further than regular power pro braid for sure. Still, though, be wary of casting this line when it's windy. I wish, however, they had them in hi-vis colors. I'm looking forward to Power Pro's aqua green super slick braid.

From: SB: Cali