Seaguar Red Label Fluorocarbon Line - $10.99 to $55.99
MSRP $14.75 - $76.00
The Seaguar Red label Fluorocarbon Line is 100% Fluorocarbon designed to be an everyday freshwater go-to line with all the knot and tensile strength--as well as the nearly invisible performance of 100% fluorocarbon--in an economical package that everyone can appreciate.
| | | | | | | |
| --- | --- | --- | --- | --- | --- | --- |
| Line Diameter | 6lb | 8lb | 10lb | 12lb | 15lb | 20lb |
| Inches | .008 | .009 | .010 | .012 | .013 | .016 |
| Millimeters | .185 | .235 | .260 | .310 | .330 | .405 |
Comments: I like sun line but it's too much money. Used 12 lb and caught many 3lb plus smallies, seems to be very strong for 12. Interested to see if there is a big difference in thickness and stiffness between this and 15
From: AL: USA 11/2/14

Comments: This is a solid, inexpensive fluorocarbon. It is much better than other cheap fluoros on the market. It is strong, sensitive, and a pleasure to cast and pitch. The only thing I have noticed is that after a few trips it turns a milky white color and I have found that break offs are more common when this occurs. Other than that, a solid fluoro that is the backbone of my line arsenal.
From: Nick: IL 8/9/14

Comments: best of the cheaper flouros for sure. and around $40 for 1000yrds isn't bad either. but because it is cheaper I would respool it often. I usually fish sniper or invisix but gave this a try based on price. only spooled up one reel with it just to try it out ,team gold, and it was great the first 3-4 times out catching 3-5lbers. I use kvd line conditioner and it still got significantly weaker after a few trips. good line for the price but imo make sure you respool often or cut 10-15 yards off after a few trips lost two traps at st. clair making that mistake myself.
From: Will: MI 7/25/14

Comments: I tourney bass fish and fun fish with 10 lb red label and love it! Great product for the money. If your having problems casting this put it on an abu Garcia or bass pro baitcaster and you will see amazing results. It's the reels not the line this stuff is awesome!
From: Donnie: Mansfield, OH 7/13/14

Comments: Ok, so I've tried and reviewed at least 10-12 different fluoro lines over the last 5 years or so and this is my take on this line. This red label is very strong, has good abrasion resistance, and has decent castability. It does tend to have some stiffness and memory, alot more than Gamma and Sunline, BUT I was actually surprised that this line was as good as it is, especially for the extremely low cost. $11.00 is very inexpensive for a good fluorocarbon line. It's not as good as Gamma, P-line, and Sunline Sniper, but for the price, it's a great line with a lot of strength. I use the 15lb. test and it's never failed me yet. Great job Seaguar!
From: Tom: N. Charleston, SC 7/9/14

Comments: On the advise of a fried I tried the 15 lb and 12 lb test. I found it hard and difficult to cast. Extremely stiff and felt heavy when casting. I can't speak for strength and durability, I didn't get that far.
From: Steve: North Charleston, SC 7/5/14

Comments: very good line! Have been fishing it this past spring and have caught several bass over 5 lbs. No break offs and heck, I haven't retied more than a few times and only when changing baits! Plus, I use a Palomar knot with it and no knot problems whatsoever!
From: J.R.: Morton, TX 6/20/14

Comments: Awesome line, regardless of price. I've now caught a 53 and 40 inch musky throwing DT's for Smallmouth with 12 lb Red Label on a Revo S. Both ripped drag like crazy. The 53 had it wrapped around his mouth the first time I got him to the boat, thought for sure it would break on his teeth. 6 charges later he was in the boat. Could not recommend more.
From: Ryan: Arbor Vitae, WI 5/15/14

Comments: I have been using the 12lb test on a Tatula for bass and striper in Central Cali all season and love it. Often when I get caught on a small log or rooted bush, I end up pulling the entire thing out of the water with literally no damage to the line itself. This is within reason of course. Pretty amazing for 12lb test, plus its cheap. As for people getting break offs, I have found that making a few short casts to "loosen" everything up and to get rid of any memory before launching my baits really helps to reduce potential birds nests. With that said, I fish free spool and have been extremely satisfied with its overall performance. Definitely recommended.
From: Kevin: CA 5/14/14

Comments: This has been my favorite fluro yet. Never had a break off and its very manageable for a Fluorocarbon line. The only negative thing i could say is i think it has just as much stretch as mono.
From: Cameron: VA 4/20/14
Comments: I use spinning gear. I always wanted to try fluoro and after seeing Seaguar advertises it as a spinning gear-friendly line and reading reviews here, I decided to buy 2 spools. At first I was quite disappointed when, after filling the spool with the 10lb, I saw the line coming off like a spring. I envisioned huge bird nests but I was surprised that every cast was problem free (I used lipless cranks). Then I tried the 6lb on my UL reel and I expected the worst but frankly, the 6lb behaved even better. I am now able to work my UL lures a bit deeper. I recommend this line to anyone who wants to use it with spinning gear.
From: Peter: CA 4/8/14
Comments: I have been using this line for the past two seasons fishing the mighty Mississippi. Let me tell you with all the zebra mussels in there this line holds up. I use #17 and #20 lb when flippin jigs and soft plastics to rocks and wood cover that are loaded with mussels and I know I will get the bass out of there without breaking off! Great line!
From: Russ: IL 3/22/14
Comments: i use the red label in 17lb on my swimbait rod and it holds up very well, chunking 3-5oz hudds, rago skt swimmers and savage line thru and hav. Caught 7 fish over 12 lbs last year biggest being 13.60 and i horsed them in, great product and has never failed me will be using this line for years to come.
From: Brad: TX
Comments: best fluorocarbon I have used especially for the price. Super smooth casting,low memory,superior knot and abrasion strength. Obviously review by unknown person has no idea how to use a baitcaster or tie knots if he is breaking this line casting and getting birds nest.
From: David: VA
Comments: I've used invisX and that Vicious CRAP. This red label is all that! Very low memory and hella knot strength. Haven't had any breaks either
From: Stone: Charlotte, NC
Comments: weakest fluoro line I have use. Snapped on me twice during casting. And no it's not my knot, the line broke a few feet before my swivel. Two bad bird nest so I just cut it all out. Get SUNLINE FC SNIPER if u wanna keep the big fish on.
From: Unknown
Comments: great line, great price and super strong, I use it for a main line and a flouro leader.

From: Chris: IL

Comments: Absoultely great for the money. Use 15# on my all purpose rod, 12# on my cranking rod, 10# on my jerkbait rod, and 20# on my jig/flipping rods. It has not failed me once, and personally when I find something good I stick with it and that's what I have done with this line.

From: Morgan: Plano, Texas
Comments: This is some amazing fluorocarbon. Cheap, strong, sensitive, easy casting... It has it all. Get this line

From: Doug: Florence, AL

Comments: This line is suits me fine. Bought a MGX reel a year ago and spooled it with 12lb Red Label and loved it. Never had the line break and caught a lot of bass in the 2lb to 6lb range. I pretty much fish 1 lake that has no structure other than milfoil and hydrilla and had no problems yanking em out of that stuff. I probably kept it on my reel too long and actually just re-spooled today.

From: David: Pflugerville, TX, USA

Comments: Worst line there is. Line broke off on me twice while casting. Line was fresh out of the box and it snapped. Two bad bird nest and lost about 30-45 min trying to fix it. Gave up and cut it all out. Idk if it was a bad batch but no more for me. I guess what they said was right, u get what u paid for. All I use now is Pline fluorocarbon and sun line fc sniper, best line there is.

From: Sai
Comments: Great Line, I have been nothing but impressed, if you put a little line conditioner on it, it will perform like a much higher end line. Good buy.

From: Logan: NJ

Comments: Overall good line. Handles well, fairly abrasion resistant (20 lb specifically), good knot strength. A little stretchy as far as fluoros go, but it still beats mono. Even when it starts to get memory in it, it handles better than others in the same diameter. I like invisx better, but for nearly half the price, red label is the winner.

From: Scott
Comments: I use to be a die hard vicious fan, because don't get me wrong that stuff is tough, but it is sooo stiff its not even funny. this stuff, is like a whole different world! its just as strong, super smooth and doesn't have that bad of memory, and casts a mile. and the s super cheap and does the same thing as the more expensive line does. great product, and seaguar has made themselves a new customer!

From: Mat: OH

Comments: The 10 lb line has cost me 3 jerk baits it isn't very abrasion resistant I also have the 8 for finesse fishing and not problems there.

From: Nick: Redding CA

Comments: Got this line in 15 lb for my crankbait rod. The price was great and the line preforms really well. I caught two smallies in the first hour with the stuff bouncing squarebills off cover. The line held up really well and I never even had to retie. I'm planning on buying another spool soon.

From: Mitch: IL

Comments: This is great Fluorocarbon line for the money. It handles pretty well and can hold up on some good fish. But I have tried the InvizX and like it more, because it doesn't have as much memory as this line does. But if you use line conditioner it does help. If you don't have/want to spend more money on the higher grade line like AbrazX or InvizX try this stuff because it really is a great line for the money. -Tight lines!

From: Matthew: KY

Comments: I must say I always find myself going back to this line is troubled situations and in times of anger, its not only just the cheapest fluro out there but it is super strong and reliable and I must say this line has 100% of my confidence.

From: Tyler: Orange county, CA
Comments: Hands down the best fluoro on the market for a great price. i have the 10lb and the 17lb and theyre both awesome

From: Tyler: Cincy, Ohio

Comments: Don't Buy this line in 6Lb. Test!! I have bought 2 spools and both were weak and felt more like 4 Lb test! I will never buy this line again! I have 30 yrs of fishing expierience and trust me this line is junk! It doesn't even compare to Sunline Fluro!

From: Oliver: Ottawa, WV

Comments: This stuff is better than Vicious fluro. I had the 20lb Vicious and 15lb Red Label, and the Red Label took a lot more effort to break. Red Label has very low memory, and good knot strength. I had this line on three of my rods, my cranking rod, my spinner bait rod, and surprisingly, my flipping rod. I felt more comfortable throwing Red Label 15lb on my flipping stick, that 20lb Vicious, and I flip A LOT. This is the best fluoro I have tried in this price range.

From: Nicholas: Austin, TX

Comments: I used the 15 pound to ledge fish on kentucky and barkley all year last year. it performed awesome. no problems what so ever

From: LA: Lyon County, KY

Comments: Just bought this stuff and man 20lb is very stiff but you can manage it if you put it on tight. I love this line I have tried almost all the mid price fluoro line this stuff so far with be what I use when I use Fluoro and not braid. dont hesitate to buy this stuff it is really good

From: Robert: Austin, TX

Comments: I am using ten pound test for a few of my baitcast setups. This line is very smooth. It casts lot better than most fluorocarbon. I am hoping that I can start using this line for all of my reaction bait fishing. So far it seems promising.

From: Nathan: Pasco, WA

Comments: This line is absolutely terrible. I have lost more baits on this line than any other. If the line touches anything that is not the inside of the guide it will fray and break on the cast. Thats right, it breaks on the cast. Seagaur should be ashamed of this line. Do not buy this line unless you want it to break on you multiple times per day

From: Jim: New England

Comments: I do not believe there are 200 yards on the spool I bought. I did not get one reel filled out of a spool.

From: Dean: IL

Comments: I thought i needed a new reel, and i was very close to buying a new one, but then i respooled it with 6 lb. Seaguar red label, and i knew it had been the line. This line is super smooth, and greatly increased my casting distance on my ultra-light panfish setup.

Comments: Good line but HIGH memory!

From: Ray: Tulsa, OK

Comments: I have had nothing but good performance from this line.

From: Phil: KY

***Note: If you have questions about this product or need assistance with an order please email your questions to info@tacklewarehouse.com
View Large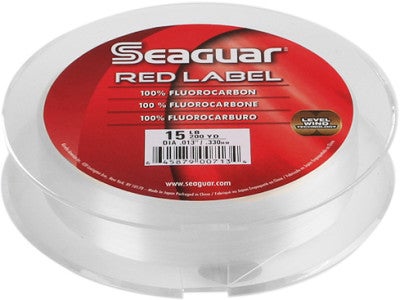 Place Your Order
More Seaguar Fishing Line