Seaguar Red Label Fluorocarbon Line - $10.99 to $55.99
MSRP $14.75 - $76.00
The Seaguar Red label Fluorocarbon Line is 100% Fluorocarbon designed to be an everyday freshwater go-to line with all the knot and tensile strength--as well as the nearly invisible performance of 100% fluorocarbon--in an economical package that everyone can appreciate.
| | | | | | | |
| --- | --- | --- | --- | --- | --- | --- |
| Line Diameter | 6lb | 8lb | 10lb | 12lb | 15lb | 20lb |
| Inches | .008 | .009 | .010 | .012 | .013 | .016 |
| Millimeters | .185 | .235 | .260 | .310 | .330 | .405 |
Comments: This is a solid, inexpensive fluorocarbon. It is much better than other cheap fluoros on the market. It is strong, sensitive, and a pleasure to cast and pitch. The only thing I have noticed is that after a few trips it turns a milky white color and I have found that break offs are more common when this occurs. Other than that, a solid fluoro that is the backbone of my line arsenal.
From: Nick: IL 8/9/14

Comments: best of the cheaper flouros for sure. and around $40 for 1000yrds isn't bad either. but because it is cheaper I would respool it often. I usually fish sniper or invisix but gave this a try based on price. only spooled up one reel with it just to try it out ,team gold, and it was great the first 3-4 times out catching 3-5lbers. I use kvd line conditioner and it still got significantly weaker after a few trips. good line for the price but imo make sure you respool often or cut 10-15 yards off after a few trips lost two traps at st. clair making that mistake myself.
From: Will: MI 7/25/14

Comments: I tourney bass fish and fun fish with 10 lb red label and love it! Great product for the money. If your having problems casting this put it on an abu Garcia or bass pro baitcaster and you will see amazing results. It's the reels not the line this stuff is awesome!
From: Donnie: Mansfield, OH 7/13/14

Comments: Ok, so I've tried and reviewed at least 10-12 different fluoro lines over the last 5 years or so and this is my take on this line. This red label is very strong, has good abrasion resistance, and has decent castability. It does tend to have some stiffness and memory, alot more than Gamma and Sunline, BUT I was actually surprised that this line was as good as it is, especially for the extremely low cost. $11.00 is very inexpensive for a good fluorocarbon line. It's not as good as Gamma, P-line, and Sunline Sniper, but for the price, it's a great line with a lot of strength. I use the 15lb. test and it's never failed me yet. Great job Seaguar!
From: Tom: N. Charleston, SC 7/9/14

Comments: On the advise of a fried I tried the 15 lb and 12 lb test. I found it hard and difficult to cast. Extremely stiff and felt heavy when casting. I can't speak for strength and durability, I didn't get that far.
From: Steve: North Charleston, SC 7/5/14

Comments: very good line! Have been fishing it this past spring and have caught several bass over 5 lbs. No break offs and heck, I haven't retied more than a few times and only when changing baits! Plus, I use a Palomar knot with it and no knot problems whatsoever!
From: J.R.: Morton, TX 6/20/14

Comments: Awesome line, regardless of price. I've now caught a 53 and 40 inch musky throwing DT's for Smallmouth with 12 lb Red Label on a Revo S. Both ripped drag like crazy. The 53 had it wrapped around his mouth the first time I got him to the boat, thought for sure it would break on his teeth. 6 charges later he was in the boat. Could not recommend more.
From: Ryan: Arbor Vitae, WI 5/15/14

Comments: I have been using the 12lb test on a Tatula for bass and striper in Central Cali all season and love it. Often when I get caught on a small log or rooted bush, I end up pulling the entire thing out of the water with literally no damage to the line itself. This is within reason of course. Pretty amazing for 12lb test, plus its cheap. As for people getting break offs, I have found that making a few short casts to "loosen" everything up and to get rid of any memory before launching my baits really helps to reduce potential birds nests. With that said, I fish free spool and have been extremely satisfied with its overall performance. Definitely recommended.
From: Kevin: CA 5/14/14

Comments: This has been my favorite fluro yet. Never had a break off and its very manageable for a Fluorocarbon line. The only negative thing i could say is i think it has just as much stretch as mono.
From: Cameron: VA 4/20/14
Comments: I use spinning gear. I always wanted to try fluoro and after seeing Seaguar advertises it as a spinning gear-friendly line and reading reviews here, I decided to buy 2 spools. At first I was quite disappointed when, after filling the spool with the 10lb, I saw the line coming off like a spring. I envisioned huge bird nests but I was surprised that every cast was problem free (I used lipless cranks). Then I tried the 6lb on my UL reel (which is a Quantum QTX so the spool on the reel in really tiny) and I expected the worst but frankly, the 6lb behaved even better. I am now able to work my UL lures a bit deeper. I recommend this line to anyone who wants to use it with spinning gear. Side note: I always use line conditioner so it probably helped a lot to tame the line for me. I don't know how it performs "unconditionally".
From: Peter: CA 4/8/14
Comments: I have been using this line for the past two seasons fishing the mighty Mississippi. Let me tell you with all the zebra mussels in there this line holds up. I use #17 and #20 lb when flippin jigs and soft plastics to rocks and wood cover that are loaded with mussels and I know I will get the bass out of there without breaking off! Great line!
From: Russ: IL 3/22/14
Comments: i use the red label in 17lb on my swimbait rod and it holds up very well, chunking 3-5oz hudds, rago skt swimmers and savage line thru and hav. Caught 7 fish over 12 lbs last year biggest being 13.60 and i horsed them in, great product and has never failed me will be using this line for years to come.
From: Brad: TX
Comments: best fluorocarbon I have used especially for the price. Super smooth casting,low memory,superior knot and abrasion strength. Obviously review by unknown person has no idea how to use a baitcaster or tie knots if he is breaking this line casting and getting birds nest.
From: David: VA
Comments: I've used invisX and that Vicious CRAP. This red label is all that! Very low memory and hella knot strength. Haven't had any breaks either
From: Stone: Charlotte, NC
Comments: weakest fluoro line I have use. Snapped on me twice during casting. And no it's not my knot, the line broke a few feet before my swivel. Two bad bird nest so I just cut it all out. Get SUNLINE FC SNIPER if u wanna keep the big fish on.
From: Unknown
Comments: great line, great price and super strong, I use it for a main line and a flouro leader.

From: Chris: IL

Comments: Absoultely great for the money. Use 15# on my all purpose rod, 12# on my cranking rod, 10# on my jerkbait rod, and 20# on my jig/flipping rods. It has not failed me once, and personally when I find something good I stick with it and that's what I have done with this line.

From: Morgan: Plano, Texas
Comments: This is some amazing fluorocarbon. Cheap, strong, sensitive, easy casting... It has it all. Get this line

From: Doug: Florence, AL

Comments: Been through a 1000 yard spool in 10# and 12# test. This is my favorite line for crankbait and jerkbait applications. It is very manageable, limp and casts great when compared to other fluoros. I think you may sacrifice a little in abrasion resistance but not to point of unjustified breakage. I look at fishing line with the same perspective as rods and reels, there is a different tool for each job. Use it when long casts are a must and re-spool often.

From: Nate: WA

Comments: This line is suits me fine. Bought a MGX reel a year ago and spooled it with 12lb Red Label and loved it. Never had the line break and caught a lot of bass in the 2lb to 6lb range. I pretty much fish 1 lake that has no structure other than milfoil and hydrilla and had no problems yanking em out of that stuff. I probably kept it on my reel too long and actually just re-spooled today.

From: David: Pflugerville, TX, USA

Comments: Worst line there is. Line broke off on me twice while casting. Line was fresh out of the box and it snapped. Two bad bird nest and lost about 30-45 min trying to fix it. Gave up and cut it all out. Idk if it was a bad batch but no more for me. I guess what they said was right, u get what u paid for. All I use now is Pline fluorocarbon and sun line fc sniper, best line there is.

From: Sai
Comments: This stuff is awesome! I can't believe it's half the price of most other fluorocarbon lines. I live in Central Florida and use Sufix Performance braid most of the time due to all the vegetation. But I've got this ready to go on 3 of my baitcasters when I get the chance to throw a spinnerbait, swim jig, or crankbait around more sparse structure. We all know fluorocarbon doesn't cast quite as well as mono or braid, but I've found that one spray of Ardent Reel Butter keeps this line casting smooth all day long.

From: Logan: Orlando, FL

Comments: 15# test and 10# test on my cranking rods....20# on a jig rod.....Absolutely the best flouro for the money! Don't take my word for...test it yourself! You will NOT have a problem with line breaking! If you get a snag while using the 15# or higher....just cut the line and move on...trust me....its much easier. I check my line at least 15 times a day and I RARELY have to re-tie. I fish lakes that are 95% (or more) rock bottom, walls and ledges so my line is badly abused and I am amazed at how well it holds up! Keep in mind....the 15# is only .001 larger than the 12# so if you usually use 12#....go for the 15# and feel the confidence...what a difference!

From: Jayson: Louisville, KY

Comments: Great Line, I have been nothing but impressed, if you put a little line conditioner on it, it will perform like a much higher end line. Good buy.

From: Logan: NJ

Comments: Overall good line. Handles well, fairly abrasion resistant (20 lb specifically), good knot strength. A little stretchy as far as fluoros go, but it still beats mono. Even when it starts to get memory in it, it handles better than others in the same diameter. I like invisx better, but for nearly half the price, red label is the winner.

From: Scott
Comments: I use to be a die hard vicious fan, because don't get me wrong that stuff is tough, but it is sooo stiff its not even funny. this stuff, is like a whole different world! its just as strong, super smooth and doesn't have that bad of memory, and casts a mile. and the s super cheap and does the same thing as the more expensive line does. great product, and seaguar has made themselves a new customer!

From: Mat: OH

Comments: The 10 lb line has cost me 3 jerk baits it isn't very abrasion resistant I also have the 8 for finesse fishing and not problems there.

From: Nick: Redding CA

Comments: Got this line in 15 lb for my crankbait rod. The price was great and the line preforms really well. I caught two smallies in the first hour with the stuff bouncing squarebills off cover. The line held up really well and I never even had to retie. I'm planning on buying another spool soon.

From: Mitch: IL

Comments: 35 pound catfish + 6 lbs red label & a 30 minute fight... nuff said. A+++++

From: Hmongbass: Madison, WI
Comments: This is great Fluorocarbon line for the money. It handles pretty well and can hold up on some good fish. But I have tried the InvizX and like it more, because it doesn't have as much memory as this line does. But if you use line conditioner it does help. If you don't have/want to spend more money on the higher grade line like AbrazX or InvizX try this stuff because it really is a great line for the money. -Tight lines!

From: Matthew: KY

Comments: I must say I always find myself going back to this line is troubled situations and in times of anger, its not only just the cheapest fluro out there but it is super strong and reliable and I must say this line has 100% of my confidence.

From: Tyler: Orange county, CA

Comments: Used Red Label last year on Kentucky Lake and I will admit it took some time to get it worked in. Once I did though it was great for solid hooksets when I was throwing spinnerbaits around tree stumps and rock ledges. This year I bought some line conditioner, used it while spooling the line and then after the line was fully on the reel. I use 12lb for cranking on a KVD crankbait rod, 15lb for my spinnerbaits rod, and 12lb for throwing jigs. I can throw a 3/8oz crankbait a freaking country mile. Smooth and almost no memory. Will keep using for the tournament season.
First Name: Kirk

From: Roscoe, IL

Comments: Hands down the best fluoro on the market for a great price. i have the 10lb and the 17lb and theyre both awesome

From: Tyler: Cincy, Ohio

Comments: Don't Buy this line in 6Lb. Test!! I have bought 2 spools and both were weak and felt more like 4 Lb test! I will never buy this line again! I have 30 yrs of fishing expierience and trust me this line is junk! It doesn't even compare to Sunline Fluro!

From: Oliver: Ottawa, WV

Comments: This stuff is better than Vicious fluro. I had the 20lb Vicious and 15lb Red Label, and the Red Label took a lot more effort to break. Red Label has very low memory, and good knot strength. I had this line on three of my rods, my cranking rod, my spinner bait rod, and surprisingly, my flipping rod. I felt more comfortable throwing Red Label 15lb on my flipping stick, that 20lb Vicious, and I flip A LOT. This is the best fluoro I have tried in this price range.

From: Nicholas: Austin, TX

Comments: I used the 15 pound to ledge fish on kentucky and barkley all year last year. it performed awesome. no problems what so ever

From: LA: Lyon County, KY

Comments: I've had the same 20 lb spool on my Revo S for 3 seasons now, with no plans of changing out this year either as it's still perfectly useable. Have it on a glass rod for trapping in heavy weeds and pads, or cranking dams with big sharp boulders...no complaints. Use 8 lb in the river for smallie fishing, smooth as can be on my President spinning reel, and use 15 lb for all other plastics/jigs....Brought up a Christmas tree by a dock at Lake of The Ozarks with the 15 lb... Cheap, and realiable...will continue to use.

From: Gleb: IN

Comments: Just bought this stuff and man 20lb is very stiff but you can manage it if you put it on tight. I love this line I have tried almost all the mid price fluoro line this stuff so far with be what I use when I use Fluoro and not braid. dont hesitate to buy this stuff it is really good

From: Robert: Austin, TX

Comments: I have read reviews for the past few months laughing at them. I have used Red Label exclusively for the past year and a half. Ive caught very large bass before and ended up hooked a flathead catfish in a tree top on accident and drug it out of the tree. If you are breaking this line you have to be tying a bad knot or spooling it wrong. If you dont mind spending the extra money for invisx then go for it, but Ill stick with Red Label.. My only gripe is the 20lb Red Label is very stiff and nearly unmanageable, but far as 15 and under its the real deal!

From: Steve: Bama

Comments: I use the 10lb test on my jigging rod for smallies. It works Fabulous! I have pulled up logs with this stuff, and If you are going to use on a spinning rod...You need to know how to put on line. All Flourocarbon line has memory issues. This line handled 12-13 smallies in one morning, with a few fish pushing 5-6lbs. At lunch I cut off 6 ft, and re-tied for my normal liking. I will buy this line again!

From: Dave: Chicago, IL

Comments: I love this line blows the other fluorocarbons I have used away. I do not use it as mainline, just as leader material paired with Power Pro braid, and I have never had it fail. It has much more shock and knot strength than Berkley Vanish. It is much less visable, less expensive, alot more sensitive,and more abbrasion resistant than Berkley Trilene 100% fluorocarbon. I can't wait for the 17lb test that came out this year at ICast, and I wish they would make it in 25lb test.

From: Basswipe: Meatwads Pond

Comments: I am using ten pound test for a few of my baitcast setups. This line is very smooth. It casts lot better than most fluorocarbon. I am hoping that I can start using this line for all of my reaction bait fishing. So far it seems promising.

From: Nathan: Pasco, WA

Comments: This line is absolutely terrible. I have lost more baits on this line than any other. If the line touches anything that is not the inside of the guide it will fray and break on the cast. Thats right, it breaks on the cast. Seagaur should be ashamed of this line. Do not buy this line unless you want it to break on you multiple times per day

From: Jim: New England

Comments: I do not believe there are 200 yards on the spool I bought. I did not get one reel filled out of a spool.

From: Dean: IL

Comments: I thought i needed a new reel, and i was very close to buying a new one, but then i respooled it with 6 lb. Seaguar red label, and i knew it had been the line. This line is super smooth, and greatly increased my casting distance on my ultra-light panfish setup.

Comments: Good line but HIGH memory!

From: Ray: Tulsa, OK

Comments: I have had nothing but good performance from this line.

From: Phil: KY

Comments: I use red label on all of my rods, from 10 lb. for my spinning rig to 20 lb for light flipping and everything in between. For the price, its the best fluoro you can buy. Very strong, fairly abrasion resistant and very sensitive. Its been a little stiff on the spinning rod, but thats not a huge complaint. Some people have to be getting bad spools or tying crappy knots because it is actually pretty good stuff.

From: Scott: Dallas, TX

Comments: I'm impressed with this line, and I have used many, many flourocarbons. Definitely the best flourocarbon for the price. Invizx is good too, but it stretches so much. This stuff is more transparent underwater than Trilene 100% and seems to shred less, also it's half the price. I've only used the 20# for pulling football jigs over rocks and boulders, but so far so good. When my finesse set-up needs some new line, I'll try this. I think it will be good for that too.

From: Gail: Indianapolis

Comments: I had my doubts about this line just because of the price. I use Invizx and love it, but I change very often, so I was looking for a more affordable option. I have only used one spool, 15lb test for lipless cranking. I'm very impressed. This line is right there with Invizx on quality. I have no complaints and will buy more.

From: Andrew: Texas

Comments: This is the 3rd name brand of floro that I have used and by far the best!! I mainly use 8-15lbs test and have had no issues with line. You do need to treat it differently when placeing on spool as with all floro.but as far as reiiablty you wont find any better. I can honest say that I can almost pull my Ranger around to un stck an tube on 8lbs test.Thanks. you wont be sorry with this line (red label)

From: Chris: USA

Comments: This is the only line I use, with the exception of braid. Seaguar Red Label is incredibly strong, smooth casting and best of all it is INEXPENSIVE!! I have used this stuff to flip laydowns mixed with brush and pads and pulled 4 lbers out of there with a flipping rod------no problem. Excellent for any time you would use flourocarbon, especially bottom-dragging baits and deep crankbaits like the Strike King XD Series. Best line in price and reliability I have used.

From: Aeolian: Kalamazoo, MI

Comments: I understand the bad reviews of this line and I have seen people get the occasional bad spool, however, I have had very good success with this line so far. It isn't very stiff when spooled correctly on spinning reels, which I use 6# and 8# red label for drop shot and other finesse presentations, and is very strong for it's diameter. For instance at a tournament at 1000 Islands I hooked and landed a 30" Northern Pike on 6# Red Label fishing a drop shot for smallies. The 15# is my go to line for my jig rod which I have yet to have a problem using as long as I check my knots and line occasionally around heavy cover. The only issue I have had and one many people seem to have as well is it doesn't last very long. To remedy this(and this is something I have done for a while and do for all my line not just Red Label) I change my line very frequently at least 1-2 times monthly, always before a tournament, and every time before I hit the water if I haven't respooled I make sure to strip a couple rod lengths of line off so I'm using fresh line. Hope this review helps Tight Lines!

From: Pat: Blacksburg, VA

Comments: Tied 8lb test line on right before i pre-fished a tournament. Good thing it wasnt tournament day because after one backlash i pulled out numerous broken peices of line that almost any other line would have taken no problem.

From: Casey: Dover, OH

Comments: For the people that don't like this line. They must not know how to treat line properly or just simply don't know how to tie a knot!! I've been using this line since it has been out for purchase. Just a couple weeks ago I was fishing a deep diver with the 12 lb and ended up catching a 40 inch muskie and the line never broke!! That pretty much told me right there that I had some pretty darn good line. I always use KVD line spray the night before I go fishing everytime so casting is not a problem with me anyways. All of my fishing is done flipping around reeds docks, heavy cover such as stump fields, log jams, and big tree laydowns and I always use the 12 for cranks, 15 and 20 for all my spinner baits, jigs, and plastics and it has never failed me yet. Actually my spinner bait rod has had 15 lb on it for almost a year and that includes fishing my power plant lake in the winter through snow and ice in temps as low as 10 degrees. The only time I have broke the line was my fault because I was fishing docks after I had already caught 20-25 fish on one knot and I knew it needs to be re-tied but i didn't take the time to do it so I can't blame the line for that. If ya ask me it's an excellent line.

From: Brian: IL

Comments: I have heard a lot of good things about this line, but after using it for 3 months I have found out that this is the worst line I have ever used! Stick too trilene 100% flourocarbon line, there is nothig better especially not this junk!

From: Kyle: St Louis, MO

Comments: this line is the worst line i ever ever used! cast like crap,abrasion is terriable!dont waste your money.bought p-line floracarbon awsome line!!!!!!!!!!!!!!!!

From: Alan: Richmond, VA
Comments: CFirst time using Floro and i was very very very disappointed!!!! I don't know if i got a bad spool or if this stuff just sucks that bad! I bought the ten pound test and used it on a baitcaster. If i got even the smallest backlash and reeled over it the line would just break i went through the whole spool within two fishing trips. I would cast a nice lure and out it went along with the line that snapped off somehow. If this was just a bad spool than its just my luck, but if this is really how bad it is than its sad. 0 out of 10

From: Robbie: So Cal
Comments: this line is incredible you can feel better and it is affordable i go with 15 or 20 when pitching heavy willows watch your line and hold on its good stuff!!very thin but still very strong, and to the guy who is dissapointed for it after 2 months of concrete bait drifting, YOU JUST MADE MY DAY!!!LOL......... buy this line i rate it 9/10*'s

From: Colby: USA
Comments: I have used this line for 2 months now. It already is pretty beat up. I fish the California aqueduct, so probably the concrete bait drifting has taken its toll on the line. Haven't had problems with line twist or memory, but the line isn't as abrasive resistant as it says. Honestly, it didn't feel any different than mono. Thin the line was, cast beautifully, other then its durability, line is okay. I already need to replace it though, line snapped on me twice today, due to the knicks in the line. I will probably try a different brand next time out and see how those fluorocarbons stack up against this one.

From: Alex: Palmdale, CA
Comments:I tried the 15lb test Red Label and was blown away. The line cast very well and has very little memory. It has the castability of Invisix, but the abrasion resistance is not the best but it is still better than mono. I didn't face any problems with breakoffs while fighting 4lb. Ozark bass. I would rate this line a 4 out of 5. Defiantly recommend
From:Jacob: Council Bluffs, IA
***Note: If you have questions about this product or need assistance with an order please email your questions to info@tacklewarehouse.com
View Large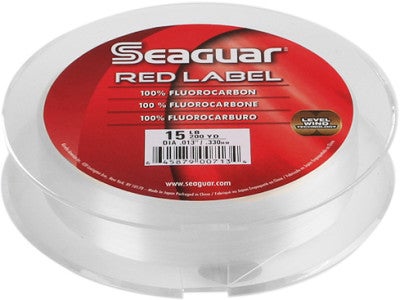 Place Your Order
More Seaguar Fishing Line