Shimano Curado 200 I Casting Reel - $179.99
Only a small portion of our initial order arrived. Shimano expects small shipments to continue to arrive over the coming weeks.
The legacy continues with the new Shimano Curado 200 I Casting Reel.

Tougher and more powerful than ever before, Shimano placed a major emphasis on durability with this next generation reel. Featuring the latest in Shimano reel technology, it also boasts improved casting performance, a whole new level of versatility, and smoother functioning.
Shimano's new X-Ship technology greatly improves the Curado I's gear durability by providing more precise gear alignment between the pinion and main gear, especially under heavy loads. This translates into vastly improved power and gear efficiency, and it also reduces friction between the spool shaft and main gear for enhanced casting performance with lighter lures.
The new SVS Infinity Brake System picks up from there, providing infinitely adjustable, consistent spool control and brake force. Its externally adjustable dial features six settings (1-6) that furnish a level of precision previously impossible with traditional cast controls. Shimano's new S3D Stable Spool Design also improves casting capabilities even further by greatly reducing spool vibration.
No matter what application you prefer - saltwater or fresh - there is a new Shimano Curado 200 I Casting Reel ready for the task. Available in three gear ratio and tougher than ever before, the new Curado I leaves no doubt why the Curado has earned a reputation as one of the best reels in the business.
Tougher, stronger and more powerful than ever before, the new Shimano Curado 200 I Casting Reel lives up to the Curado's reputation of baitcasting excellence and reliability.
-X-Ship
-SVS Infinity Brake System (Infinite Cast Control)
-Shimano Stable Spool Design (S3D)
-Super Free Spool
-Escape Hatch
-SuperStopper
-Cross Carbon Drag
-Offset Handle Design
-Center Clutch Design
Comments: Bought one because of all the big hype around it. Well its pretty much what I heard and read. Imo it doesn't come close to my chronarch and curado 200e7's. I been fishing with shimano reels since 96 when was only 13 years old. And after many shimano baitcasters. I feel that chronarch 100d and chronarch, curado 200e7 best reels shimano ever made. The core another nice reel too. But after using this curado 200I, I wasn't all that impressed. Its a nice reel don't get me wrong. But when you have great products like the ones I mentioned, why mess with them. Abu garcia still makes its classic round reel the ambassador. If its perfect, just let it be.... Idk that's just what I feel.
From: Gus: USA 4/17/14
Comments: curado200 these are junk. Mine lasted all of. 15 minutes before the spool stopped engaging. You had to push the handle in to make the gears line up to work. I should have bought one of the new 13s
From: Alex: Bella Vista, AR 4/16/14
Comments: Welcome back to the bass world curado. Because the g series blows. These new I series are super dope. I was hoping japan made. But wherever this thing is made, it works flawlessly. Got all 3 now. Straight up champs!
From: Beto: TX 4/14/14
Comments: Awesome Reel. Palms much easier than the Tatula and casts much smoother as well. I like this reel much more than the Chronarch E. This reel will impress you out of the box now I'm just waiting to see how it holds up long term.
From: Unknown: MN 4/14/14
Comments: Can't believe I bought this then found out it was made in Malaysia... Not smooth at all. Grinding gears out of the box. Shimano isn't what it used to be.
From: Unknown: So Cal 4/10/14
Comments: Nice reel, but I prefer my Chronarch E, Lews Tournament Speed Spool Pro, or Tatula (Tatula out performs them all). Totally over hyped in my opinion and I don't like the side plate release. Much prefer the previous lift and twist release. I had to buy it from a different store. I can't believe that Tackle Warehouse can't get these in stock.
From: Marc: Raleigh, NC 4/10/14
Comments: My bad. Went on shimanos website. :-( I assumed x ship and mmg always went together. I did not open up the curado and look at the gearing but I got another chronarch e anyway and I'm very happy. Might get a curado I next year if all seems well with it after a year. did not mean to put out misinformation I was just mistaken.
From: William: MI 4/8/14
Comments: I would never think this was made in Malaysia. I was pissed at first. But after testing it out at a local pond. Im impressed how smooth shimano made this reel. Ive used other reels but this smooth. Hook a 3 pounder on a frog using 50lb braid. It reel it in with no problem. Cant wait to hook on a lunker. Get reel for the price, but think we should get a discount since it not made in japan.
From: TY: USA 4/6/14
Comments: Super thrilled with my new curado I. It has all the bells and whistles. 100% improvement from the g. Only con is not made in japan.
From: Steve: TX 4/5/14
Comments: This reel doesn't have MMG for a start, plus I think it's a very we'll made reel for the money.
From: Ray: Rylstone 4/4/14
Comments: Disappointed!!! Made In Malaysia not Japan, still suspect about the Micro mod gearing being able to handle season after season of wrenching the big mamas in even with the 2 bearing supported pinion(x ship), the MMG is a very new technology in the most critical part of the reel (the main gear), not as smooth as others in its price point, Spool design is nice and casts far but it just did not feel really solid like a chronarch E even for a 7.4oz reel. Going to return it and get another chronarch E.
From: William: MI 4/4/14
Comments: Was torn between buying another lews tp or curado went with this reel really like it so far only had it out once for the price good buy really like my lews but would not hesitate to buy another curado
From: Ross: Tulsa, OK 3/23/14
Comments: Get this reel. Very impressed at this price point. Shimano is back! Pulled 2 5+lbs Calico Bass from heavy structure no problem! Wind N Grind!
From: CFM: SoCal, CA 3/16/14
Comments: I am a huge Lew's fan but I thought I'd try one of these new curados just because of all the hype. My initial impression was it looked and felt way better than the G series and didn't feel nearly as smooth as my Lews reels out of the box. So I strung it up, tied on a casting plug and did a little grass fishin in the front yard all I can say is wow! I was very impressed to say the least the casting is effortless and the line just flows off the spool super smooth the reel feels completely different after its spooled up can't wait to fish with it tomorrow! This thing is Sweet!!!
From: Tyler: Waco, TX 3/14/14
Comments: No lake eats reels like Okeechobee. This new Curado is the real deal. On a 7 11 Xh Punchrod Cumara. Haulin em outa the thick stuff like nothing I have used before. I will be restocking my rods with these. Thanks Shimano. You have redeemed yourself after the G Series.
From: Bob: Okeechobee, FL 3/11/14
Comments: Got this reel in the 6:3.1 gear ratio on the day it came out but never got to tested it out until today March 9, 2014. Took it to the Delta and all I can say was WOW!. This reel can cast a mile and is smooth as butter. I was throwing them 1/2 oz rat l trap a mile a way. I had this reel paired up with a shimano cumara 7'6 ML action. The setup felt just right. Before this reel I had a Shimano Chronarch ci4 6:2.1 gear ratio with the cumara now I have put the Ci4 away and replaced it with the Curado I. This reel is just awesome. Hoping to get more of this reel in the future. What a great buy!
From: Saberwolf: Sacramento, CA 3/9/14
Comments: Super happy with this buy. This Curado out does any baitcaster in the market. This reel should've been in iCast. It wouldve won imo. What I like about curado verses the chronarch ci4 is the side plate. It stays attached when adjusting breaks on the boat. But like shimano says once you fix it you never have to open it again with the adjustable dial. Over all its beefier, light, smooth, long casting, and slick looking. I would recommend this to anyone if you can find one in stock.
From: Jimmy: AL 3/9/14
Comments: Best Curado ever. Ive owned every Curado made except the G series. This Curado I is silky smooth with stock bearings. The x ship also makes a big differance. It can cast super light lures with 30lb braid a country mile like the old E but further. The drag is also super smooth a typical Shimano drag but better than before. The reel is just awesome. Can't go wrong with this at all.
From: Vic: TX 3/1/14
Comments: Walking through the big box retailer last night I saw they had one new Curado in stock. I was home with it shortly thereafter. Observations. Nice...real nice. Feels solid and casts like a rocket. Took the spool out to clean and oil bearings. It took a couple of soakings in thinner to get all the grease out of the bearings as they were LOADED. 12lb Seaguar on a 7'3" Duckett and I was whipping a SK lipless crank way out there. Great reel.
From: Rudy: Ft. Myers, FL 3/1/14
Comments: This is the longest casting reel in the $200 and under class by far. Compact, smooth and solid. Its a bargain for the performance you get.
From: John: TN 2/28/14
Comments: just an absolute workhorse and the braking system is genius.
From: Stephen: AL
Comments: Best reel Shimano has ever made, I was put on the Shimano test team to see what the new Curado could do. Let's just say in passed with flying colors. This reel is the real deal!!!
From: Glenn: Hammond, LA
***Note: If you have questions about this product or need assistance with an order please email your questions to info@tacklewarehouse.com
View Large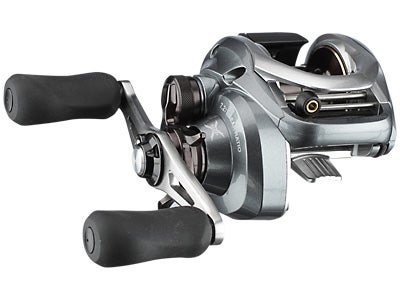 Place Your Order
More Shimano Reels Casting