Shimano Curado 200 I Casting Reel - $179.99
Only a small portion of our initial order arrived. Shimano expects small shipments to continue to arrive over the coming weeks.
The legacy continues with the new Shimano Curado 200 I Casting Reel.

Tougher and more powerful than ever before, Shimano placed a major emphasis on durability with this next generation reel. Featuring the latest in Shimano reel technology, it also boasts improved casting performance, a whole new level of versatility, and smoother functioning.
Shimano's new X-Ship technology greatly improves the Curado I's gear durability by providing more precise gear alignment between the pinion and main gear, especially under heavy loads. This translates into vastly improved power and gear efficiency, and it also reduces friction between the spool shaft and main gear for enhanced casting performance with lighter lures.
The new SVS Infinity Brake System picks up from there, providing infinitely adjustable, consistent spool control and brake force. Its externally adjustable dial features six settings (1-6) that furnish a level of precision previously impossible with traditional cast controls. Shimano's new S3D Stable Spool Design also improves casting capabilities even further by greatly reducing spool vibration.
No matter what application you prefer - saltwater or fresh - there is a new Shimano Curado 200 I Casting Reel ready for the task. Available in three gear ratio and tougher than ever before, the new Curado I leaves no doubt why the Curado has earned a reputation as one of the best reels in the business.
Tougher, stronger and more powerful than ever before, the new Shimano Curado 200 I Casting Reel lives up to the Curado's reputation of baitcasting excellence and reliability.
-X-Ship
-SVS Infinity Brake System (Infinite Cast Control)
-Shimano Stable Spool Design (S3D)
-Super Free Spool
-Escape Hatch
-SuperStopper
-Cross Carbon Drag
-Offset Handle Design
-Center Clutch Design
Comments: Got this reel in the 6:3.1 gear ratio on the day it came out but never got to tested it out until today March 9, 2014. Took it to the Delta and all I can say was WOW!. This reel can cast a mile and is smooth as butter. I was throwing them 1/2 oz rat l trap a mile a way. I had this reel paired up with a shimano cumara 7'6 ML action. The setup felt just right. Before this reel I had a Shimano Chronarch ci4 6:2.1 gear ratio with the cumara now I have put the Ci4 away and replaced it with the Curado I. This reel is just awesome. Hoping to get more of this reel in the future. What a great buy!
From: Saberwolf: Sacramento, CA 3/9/14
Comments: Super happy with this buy. This Curado out does any baitcaster in the market. This reel should've been in iCast. It wouldve won imo. What I like about curado verses the chronarch ci4 is the side plate. It stays attached when adjusting breaks on the boat. But like shimano says once you fix it you never have to open it again with the adjustable dial. Over all its beefier, light, smooth, long casting, and slick looking. I would recommend this to anyone if you can find one in stock.
From: Jimmy: AL 3/9/14
Comments: This lure is garbage. I ordered one from Sam and it had multiple problems. The main problem was that the hooks were inside out. I've tried to contact Sam through phone and email and I haven't gotten anything back yet. It's been 4 months now. Waste of money and horrible customer service. Spend your money elsewhere.
From: Richard: Dublin, CA 3/9/14
Comments: Best Curado ever. Ive owned every Curado made except the G series. This Curado I is silky smooth with stock bearings. The x ship also makes a big differance. It can cast super light lures with 30lb braid a country mile like the old E but further. The drag is also super smooth a typical Shimano drag but better than before. The reel is just awesome. Can't go wrong with this at all.
From: Vic: TX 3/1/14
Comments: Walking through the big box retailer last night I saw they had one new Curado in stock. I was home with it shortly thereafter. Observations. Nice...real nice. Feels solid and casts like a rocket. Took the spool out to clean and oil bearings. It took a couple of soakings in thinner to get all the grease out of the bearings as they were LOADED. 12lb Seaguar on a 7'3" Duckett and I was whipping a SK lipless crank way out there. Great reel.
From: Rudy: Ft. Myers, FL 3/1/14
Comments: This is the longest casting reel in the $200 and under class by far. Compact, smooth and solid. Its a bargain for the performance you get.
From: John: TN 2/28/14
Comments: just an absolute workhorse and the braking system is genius.
From: Stephen: AL
Comments: Best reel Shimano has ever made, I was put on the Shimano test team to see what the new Curado could do. Let's just say in passed with flying colors. This reel is the real deal!!!
From: Glenn: Hammond, LA
***Note: If you have questions about this product or need assistance with an order please email your questions to info@tacklewarehouse.com
View Large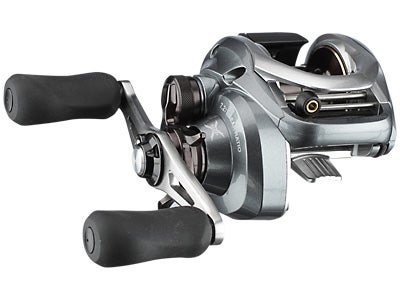 Place Your Order
More Shimano Reels Casting