Shimano Neoprene Casting Reel Covers - $5.99 to $6.99
Shimano Neoprene Casting Reel Cover features:
*2-tone 3mm impact resistant neoprene materials.
*Protect your valuable conventional and baitcasting reels with our new neoprene reel covers.
*All sides made of neoprene to help absorb the bumps and scratches.
*Design allows for reel covers to be mounted while the reel is on or off the rod.
*Neoprene covers stretch to easily slip on.
| | |
| --- | --- |
| Size | Applicable Reels |
| Baitcast | Calais 100, 200 Series,Callisto100 Series, Castaic200 Series, Chronarch100, 50 Series, Citica®200 Series, Coriolis®100 Series, Crestfire®100 Series, Curado®100, 200 Series |
| Small | Calcutta 250, 200 150, 100, 50 Series, Calcutta TE 300, 200, 100, 50 Series, Calcutta TE DC 250, 200, 100 Series, Cardiff®300, 200, 100 Series, Corvalus®300, 200 Series |
| Medium | Bantam®1500LC,1500LC, 50 Series, Calcutta700, 400 Series, CalcuttaTE700, 400 Series, Cardiff400 Series, Catala®400, 300 Series, Corsair®400A, 300A Series, Corvalus®400 Series, Tekota®600, 500, TLD®-Star 20/40S, 15/30S, Torium®, Speedmaster®lV30, 20, 16, Trinidad®40N, 30, 20, 16, 16N, 14, 12, TR2000LD, 1000LD, TRN 200G, 100G, Speedmaster®lV |
Color:
Baitcast
View Large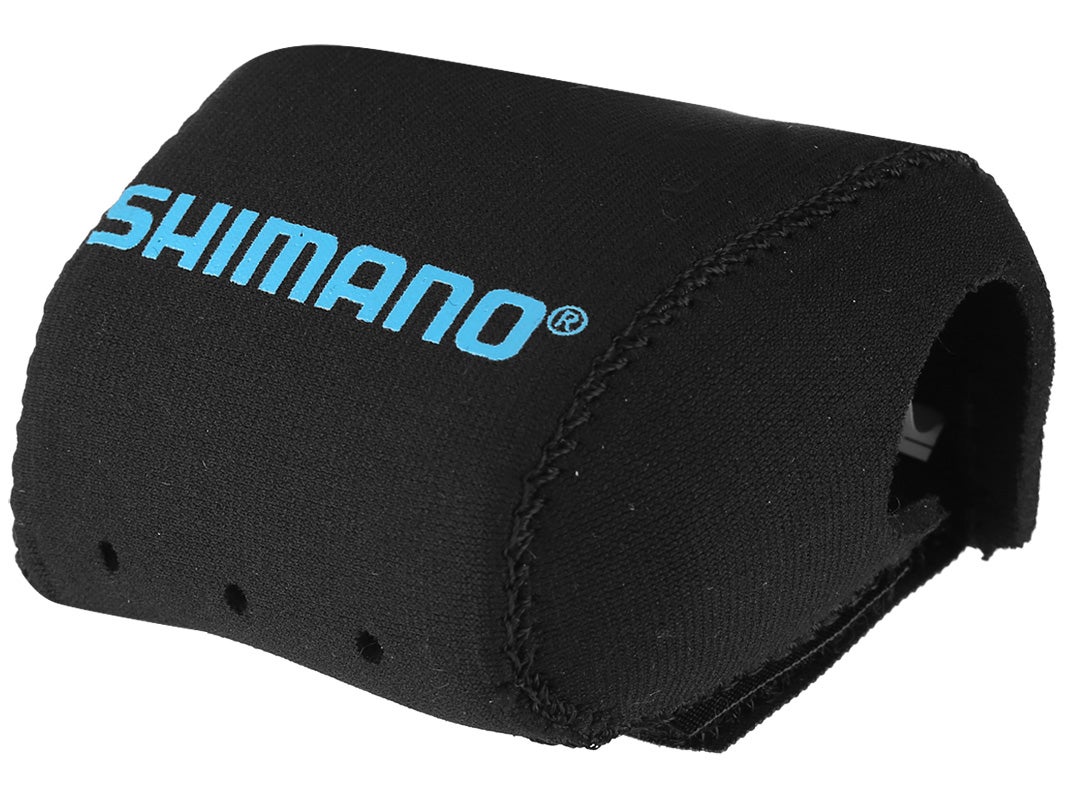 3 Available Colors
More Shimano Accessories
Comments: It's a decent reel cover. If you have to have the Shimano logo, get this one, if you don't care about the logo, get the Tackle Warehouse one. The TW one is thicker (therefore more protective), more snug (which is good for small low-profile reels like my Aldebaran), and somehow less expensive.
From: Jordan: Toledo Bend, TX 12/29/15
Comments: The Shimano reel cover size Medium fits very loose on the Calcutta 400TE. I would guess that the size small would fit just right? I use the Baitcaster cover size to protect my Curado 300 as well as my Abu Revo Toro/winch 60's. The neoprene stretches well to accommodate the width of the 2 Abu...

From: Ryan

Comments: Durability is an issue. No lining or stitching on the handle side so after a while, the thread starts to come undone on that side of the reel cover.

From: Peter: Twin Cities, MN

***Note: If you have questions about this product or need assistance with an order please email your questions to info@tacklewarehouse.com