Spro BBZ-1 Rat - $21.99 to $29.99


Tested and perfected over the last two years by Spro pro-staffer and lure-designer, Bill Siemantel, the Spro BBZ-1 Rat is the most lifelike rat imitation to ever hit the market. Perfectly sized, the Spro BBZ-1 Rat features a single-jointed rodent profile and a durable square bill that offer an effortless "walk the dog" action and a gentle wake that humps along the surface.

Made from multiple composites, the Spro BBZ-1 Rat offers a custom "wood" feel and a sturdy construction that stands up to the most crushing topwater explosions. At the rear, the Spro BBZ-1 Rat comes equipped with a long articulated rat-tail that adds to its realistic rat appearance. Armed with super-sharp trebles, the Spro BBZ-1 Rat offers an easy-to-walk, lifelike presentation that is sure increase your fish count and your heart rate.
| | | | | |
| --- | --- | --- | --- | --- |
| Spro | Total Length | Length w/ out Tail | Weight | Class |
| BBZ-1 Rat | 10" | 5-1/4" | 2.5oz | Waking |
Color:
Brown
View Large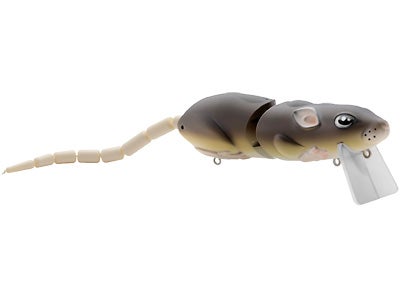 More Spro Swimbaits
Comments: This rat is awesome. First time out I caught a 6 lb Bass. Bass love this. Second time out I got 6 fish. Slow to medium retrieve worked best for me
From: Mike: Allentown, PA 5/22/15

Comments: The fish really like this bait unfortunately the paint isn't too durable but that doesn't really matter with topwater for the most part. love this bait I've already had an 8 choke it!
From: Bass Angler: Memphis, TN 4/17/15

Comments: USE 85# braid!!! this dandy will also catch small fish but its design say's hogs. i use a 8 ft. heavy action rod with a fast retrieve b/c reel and they work fine so far. biggest fish is a 7.5 lg mouth in the middle of a tule patch. since color means little with surface lures, pick one or two and have some fun. night fishing is a blast and as exciting as bassing can be. good luck --
From: Wes: Salinas, CA 3/21/15

Comments: Finally a super rat at a great price! Last year the "RAT" craze began, and now there is a migration of new "RAT" lures. The Spro BBZ-1 Rat has staked it's claim for water supremacy. Move over rodents, this alpha rat's mindset is on total largemouth bass domination!
From: William: Thomaston, GA 3/18/15

Comments: This rat is awesome! I recommend buying it if you bass fish. My first cast I landed a 4 pounder! The bait has an awesome life-like movement through the water and the slow roll is a largemouth killer!
From: Mason: San Jose, CA 2/23/15

Comments: I'm very impressed. Weighing 2 1/2 ounces it's not too big, but definitely targets the hogs. I see it more like a swimbait than just a wake bait. One of the best things about this lure is you don't have to replace the hooks or split rings. Great quality and, unbeatable price. Highly recommended.
From: Mullet: Atlanta, GA 2/20/15

***Note: If you have questions about this product or need assistance with an order please email your questions to info@tacklewarehouse.com