Spro Dean Rojas Bronzeye Shad 65 - $9.99
Designed by Bassmasters Elite Series professional, Dean Rojas, the Spro Bronzeye Shad 65 took over 15 months and four different prototypes to get absolutely perfect –and when we say perfect, we mean PERFECT. Throw it in open water, around trees, rip-rap, and rocks, the Spro Bronzeye Shad 65 effortlessly walks over the water completing turns in excess of 180-degrees. The walking action is built right into the bait and it is designed to move with minimal effort from the angler. For even more action and stability, the Spro Bronzeye Shad 65 is equipped with two vertically set, tri-colored tails on the backside. Like the Spro Bronzeye Frog, the Spro Bronzeye Shad 65 is also delivers incredible collapsiblity to expose its sticky-sharp 4/0 Gamakatsu frog hook. Offered in a number of baitfish colors, the Spro Bronzeye Shad 65 is just what you need to "walk" away with a victory at your next tournament.
| | | | |
| --- | --- | --- | --- |
| Spro | Length | Weight | Hook |
| Bronzeye Shad 65 | 2-1/2" | 1/2oz | Double 4/0 Gamakatsu |
Comments: Takes on way too much water.

From: Nick: Stockton, Ca

Comments: Sam-nope, these things soak up water like a sponge, but they walk really easy

From: Matt: TN

Comments: ive gotten more action in the past week on the bronzeye shad than ive gotten on the other spro frogs and the iobee from in months! awesome walking action and looks great too. my favorite frog thus far. great job spro.

From: Ryan: San Diego. CA, USA

Comments: By far this is my favorite top water frog that side to side walk drives these fins nuts and they choke it. Spro makes a great product and although I don't classify this as a frog it's a beast.

From: CJ: PA

Comments: Awesome bait , it takes on a little water but its manageable. I would not classify it as frog , it is its own special shape and action. Another great tool for people who alternate presentations.

From: Mr.Frog
Comments: The Bronzeye Shad is a great addition to to frog baits by Spro. Excellent side to side action. I found that this bait will call up some of the most finicky fish that has seen so many frog type baits.

From: Frank: Owings Mills, Md.

Comments: It does walk and skip very well, but everybody seems to be leaving out one important aspect; it takes on a lot of water. After one cast I can bring it back and it's half way filled with water. Maybe I got a dud.

From: Sam: Oakwood, GA

Comments: Finally !! A bait that walks as good as a zara spook ,but totally weedless...It's a game changer for sure.

From: John: St.Cloud , FL

Comments: Very easy to walk and very soft. Tested it in a farm pond over the weekend and they chocked it. Very pleased. It also skips well

From: Tracy: Summerville, GA

Comments: I was lucky enough to get one of these before officially bring released to the public. This thing WALKS like nothing I've ever seen. It's basically a weedless spook. If you like frog fishing, this is a must own. I've got killer gill and just like it's frog brother it's awesome.

From: Jonathon: TN

Comments: Awesome frog! I will admit they need this frog in tropical white though. But all in all a great product. Awesome job yet again Spro!

Comments: I am honored to own this bait.. have been catching a lot of bass on it in the past few weeks , the hit the nail on the head!! Best FROG .

From: Jim: AL

***Note: If you have questions about this product or need assistance with an order please email your questions to info@tacklewarehouse.com
View Large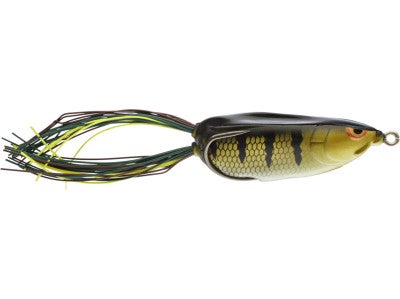 7 Available Colors