Strike King 3X ElazTech Z Too 4pk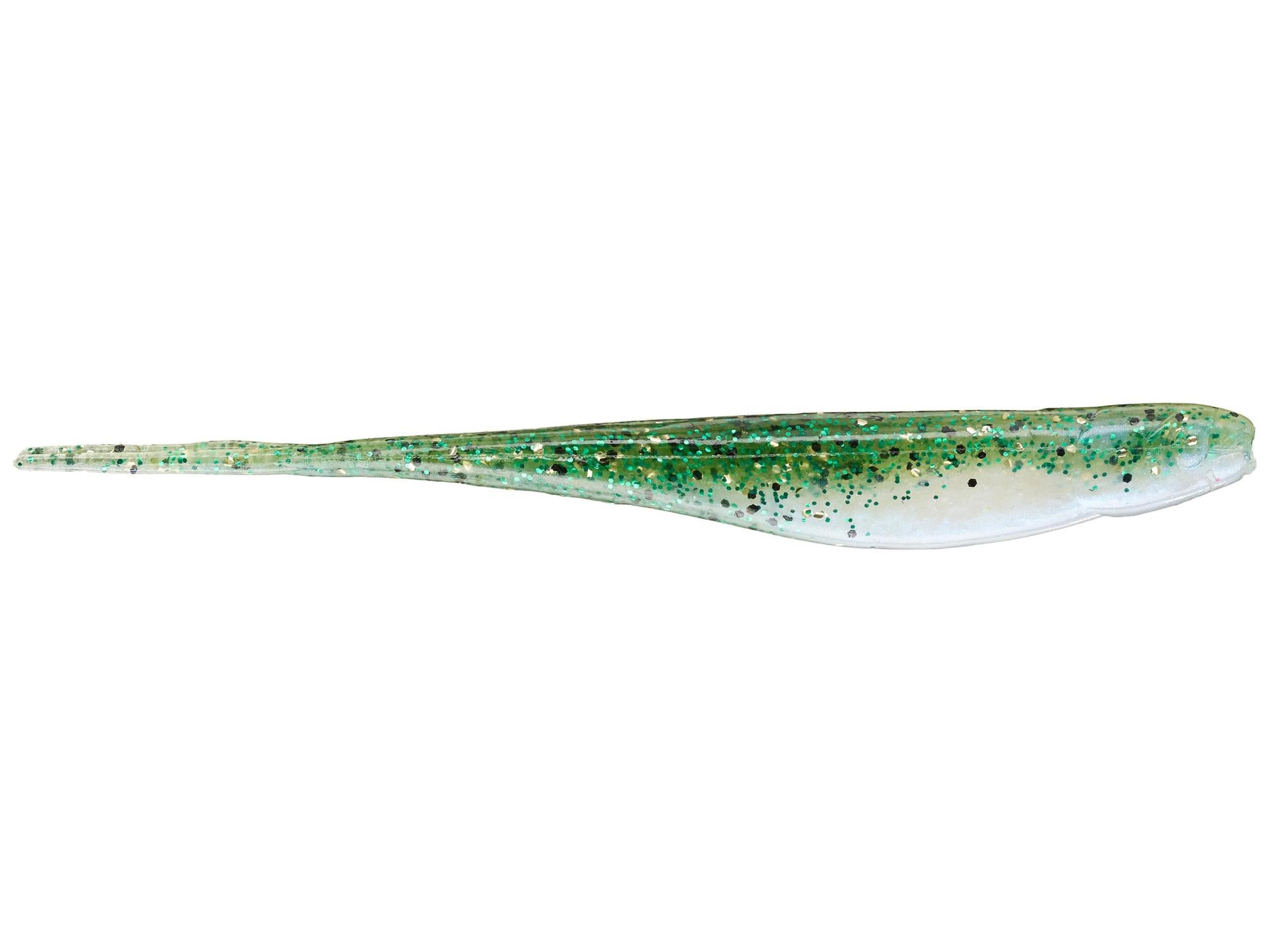 The NEW 3X baits form Strike King have completely revolutionized the Soft Plastic Market. These baits are softer, stronger and more durable then any other bait in the industry. We recently fished the Z Too side by side with another popular Fluke style bait, at a lake loaded with aggressive Spots and caught 45% more fish on the Z Too. Our field tester fishing the other bait went through 2 1/2 bags and the one fishing the Z Too fished the same bait ALL DAY and caught over 60 Fish!!! Even after getting hammered by all those toothy spots the 3X Z Too was still in excellent shape.
6 Colors
More From Strike King Softbaits
Customer Reviews
Comments: I have been using this product for years & they work fantastic rigged weightless for inshore saltwater species, especially the blue glimmer pearl belly. One thing I have noticed recently is that many of the baits are bent in odd directions in the packages which makes them practically useless since they will not track straight or zig zag when retrieved, but instead spin. My last purchase of 5 packs resulted in only 4 of the 20 baits being straight. I have tried various methods to straighten these baits with limited success depending upon how contorted they are. I am to the point that I do not want to purchase more, but they work so good!
From: John: FL 1/20/16

Comments: I have one of these tied on one of my rods at all times. Texas rig them with no weight & you can drag it thru anything. I walk the dog twitch brings great topwater action, or weight em down & fish em deep. These are extremely durable & fish killers. The ONLY negative remark is that these baits do not do well in the direct sun or in a closed tackle box in the trunk of your car. They will melt & ruin the form. But if you take care & don't leave them in your car as well as don't leave them lay on the deck of your boat in the sun for 8 hours you will be fine. Over all I think this is a fantastic bait
From: John: Palm Coast, FL 10/13/15

Comments: used for schoolers last night. Caught 6 on the same bait. The 6th fish turned the bait inside out, where the tail was somehow pulled through the hole made by the hook. My partner said, "looks like that ones finally done." About sixty seconds of pulling and stretching later, it was ready to catch 50 more. 4/0 wide gap and a 1/16 oz belly weight is my favorite way to fish it. Great bait. There's a learning curve on elaz-tech baits, but once you're past it, they are very effective, economical baits.
From: Nathan: Tulsa, OK 6/24/14

Comments: Just a reply to Ryan in Raleigh re: his review below; the instructions on the bag state to not mix with other soft plastics. Which might be why they had an adverse reaction to your Zoom flukes. But these are excellent, super soft, super durable baits. Deadly thrown weightless on a double rig setup near baitfish. Just let it flutter to the bottom and hold on!:-)

From: Douglas: Table Rock

Comments: Put these in my plano box about 2 weeks ago and went to get one and they had melted into a single blob of slimey plastic and ruined some of the other Zoom flukes they had come in contact with. Won't be buying again.

From: Ryan: Raleigh, NC

Comments: great! Super soft and durable. They kinda suspend with a 3/0 EWG and sink slowly with a 5/0. I love twitching these around beds for spawners. They slam it! One of the baits I got had a deformed tail so I stuck it in boiling water for 10 seconds and laid it down, and that fixed it perfectly.

From: Cullen: Ashburn, VA

Comments: These are an awesome plastic that is I use in the bay and also off-shore. The tough durability of the ElaZtech just keeps them on the hook for longer, sometimes you don't always get back your hook. Love these lures.

From: George: Brisbane, Australia

Comments: This is a great bait. Very durable and much better than Zoom flukes. Pearl is my favorite color.

From: Bob: CO

Comments: I love to use flukes but i was looking for one that has good action and is durable, this is the one. I can not believe how stretchy this thing is, it also is super soft so it has a great action. They say the length is 4 inches it is really 5inches so i would recomend using a 4/0 or 3/0 wide gap hook for it. My favorite color is ice.

From: Matt: Minnesota, USA
Comments: The best product I've ever found for drop shotting for small mouths on Lake Erie. Constantly catching 5lb plus fish as recently as 10/09/10. Excellent designed bait.

From: Dan: Van Wert, OH
Comments: I've been using these for awhile now and I love them! They really do last as long as they say. Not only are they tough, but their action is considerably better than other soft plastics. They are so soft. The floating flukes have been awesome for a more subtle top-water approach. I pull them off weed beds and work them similar to a Spooky. Sometimes they float and splash, other times they'll dive a few inches. I used them a couple weeks ago on a drop shot and did well when nothing else was working. Don't mix them with other plastics! I accidentally left a regular Senko in the same tray as one one these and it came out with a big melted spot. I'll keep buying them as long as they're available.

From: Derrik: Iowa, USA