Strike King 3X ElazTech Zero 5" 6pk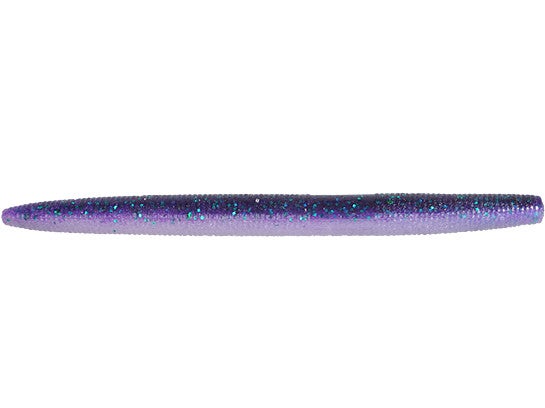 The Strike King Zero is impregnated with a ton of salt so it will sink quickly like the other Senko Style baits. But the Zero has one major advantage over any other stick bait, it is made with Strike King's revolutionary 3X plastics making it extremely durable. Instead of easily going through 20-30 baits you could fish the same all day.
10 Colors
More From Strike King Worms
Customer Reviews
Comments: So here's the deal, from my perspective anyway. Fish these babies on the Gama Stand Up Alien Head jig head, which is a shaky head type jig with a barb holder that will hold the ElazTech stuff pretty well. Now at first the Zero's are darn salty and will sink. Oh, you'll catch fish on 'em. But after about 15 minutes in the water they looses all their salt to become really buoyant. Now, don't get upset boys -- the best part's coming. See, the buoyancy is good because you got the weight of the shaky head to bring it down to the fish. And now's the really good part: the newly salt-free Zero will stand up in the water like a soldier, but it'll wiggle like a belly dancer in the current or if you move it even a little and the bass can't resist. And those Zeros are tough and will hold up for hours -- you just push it back on the barb holder if she loosens! Works great in the everglades. I like Bama and Dirt.
From: Bob: USA 5/18/16

Comments: Fished them for the first time today and was impressed with the fact that the held through all my hook sets (on bluegill). They do keep their durability, but after awhile they get soft & the salt comes out. Bama Craw is what works best
From: Jacob: VA 5/10/16

Comments: Works well when the bass are deeper in early spring or when the water is hot from the July heat. I decided to put on the green pumpkin and red flake zero in a texas rig with a 3/8oz bullet wieght. As soon as the rig hit the water on my first cast in thick muck I got a bass. I kept casting and pretty much got a hit each cast. Later on I decided to cast in vine type vegetation and got a 6.5lb bass. Considering where I live it was huge.
From: Joseph: Caldwell, OH 12/22/14

Comments: These are a great early spring bait! If you have trouble getting it to sink I have used a. Small finishing nail or brad in the head of the bait, works great in stronger wind also.
From: Blake: Hannibal, MO 6/16/14

Comments: Strike King Zero chart green and watermelon red laminate will beat these (Yamamoto Senkos) out anyday and they are much cheaper and last you about 10 fish longer, they are ridiculously durable. I've been fishing with Senkos for YEAAARS and then tried the zeros. I caught double the fish, for a less price. I used up all my senkos and then completely replaced them with zeros. Don't get me wrong, senkos are awesome, without a darn doubt; but I'm a firm Zero believer now.
From: Zane: IN
Comments: This thing has the same action as a Senko yet its so much more durable and soft. Awesome lure.

From: Adam

Comments: These lures are awesome, they are super soft, salty , and catch tons of bass

From: Carlos, Miami

Comments: Ok I dont know about you but i couldn't get these things to sink to save my life. Once i put a small bullet weight on it was fish catching machine

Comments: They are the real deal,have used senko's and like the zeros better. I catch peacock bass here in Hawaii on them,and they can't hurt them- buyum!

From: Kanaka
Comments: I have the pearl and dirt colors. the pearl is okay but, the dirt works the best out of both of them will buy more.

From: Caleb: Hampstead, MD

Comments: These are great you can buy dang near 3 packs of these for one pack of Senkos and these work just as good if not better and more durable than the Yamamatos are.

From: Lance: Livingston, TX

Comments: yes sir these are bad mamma jam as I like them more than Gary's(still love Gary's)due to $ and how limber the rubber is they wiggle sooooooo well on the fall(I think that is why they are so deadly)you can stretch them close to two feet and not harm them at all. Buy them while they are cheap I think they will win some money soon and not be so cheap, hope they have a long shelf life.

From: Jeremy: Cupertino, CA

Comments: ooohhhhh yea these bad boys work just as good as garys when the fish are active the have decnt action and hold up way better, totally worth it!

Comments: these work as good as senkos i threw these as my buddy threw senkos we went fish for fish all day and the durability makes them better than senkos in my eyes. not to mention the price difference

Comments: Very good bait. It swims so nice the fish love it.

From: Austin: MN
Comments: Very good bait! Only drawback I found is that after catching so many fish, 10 to 15, the worm gets a very spongy and light texture because of the 3x plastic, and it then starts to float a lot more, making it hard to work wacky style. At that point I use them Texas rigged as soft topwater bait.

From: Ian: Port Royal, PA
Comments:Yesterday afternoon (April 11, 2010), I used the Bama Craw color in a local pond and caught 18 Bass with one worm. I used it with a worm hook and no weight. All the bass were 1-2 pound in size, most in the 2 pound category. The fish could not resist this worm. I suggest buying as many as you can get your hands on!!
From:John: Plano, TX