Strike King Bitsy Bug Jig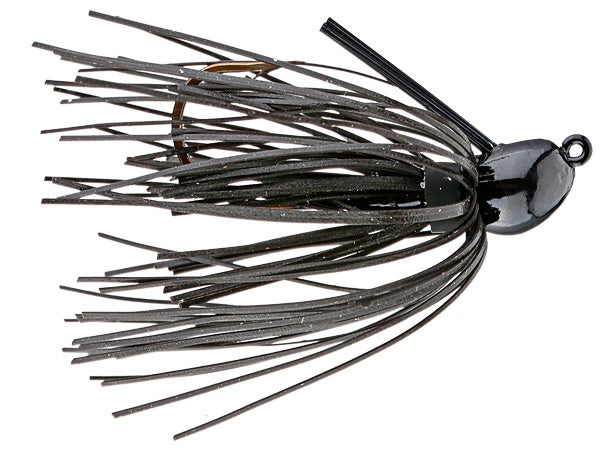 The Bitsy Bug Jig has a snagless/weedless head design helps prevent the jig from getting wedged in the rocky bottom. The Bitsy Bug also features an inverted line tie on top of the jig head to protect your line from getting chewed up by rocks and other obstructions.
6 Colors
More From Strike King Jigs
Customer Reviews
Comments: This jig is amazing! You can swim it, drag it, or just jig it, and you will still catch fish. This jig is great for a smaller presentation and still catches decent fish. SK makes a trailer just for these but I like the Havoc Pit Boss Jrs. in Black and Blue. I love fishing this jig in Black and blue in 1/8 and 3/16 oz.
From: Jed NYC, NY 1/1/17
Comments: These jigs fished on the Guadalupe river in Texas is the best that you can have. I have tried everything & without a doubt these are the most productive lure that you can use. The bass are as finicky & the water is very clear so presentation is everything
From: Kevin: Kerrville, TX 6/18/16

Comments: I love these jigs so much! I flip the 3/16 jigs in black in blue! The jig is so well compacted that it seems no matter how hard i set the hook, the hook does no bend a slight bit. They work really good one wing dams & rocks! I've even flipped heavy cover like trees & sunken docks. The best trailers seem to be the zoom swimming tails & the Paca Chunk.
From: Hunter: WI 6/5/16

Comments: My favorite jig. I love fishing this in rocks & around scattered wood in the summer time. Also great right after ice out. Fish this on lighter line & a lighter rod than you normally would a jig so you don't bend the hooks. Excellent paired with a menace grub, baby rage craw, speed craw & smallie beaver.
From: Eric: PA 5/17/16

Comments: It's ice out in Michigan and the bass are very finicky. In a local lake I've been throwing 1/4 ounce bitsy bug. Bass have been eating it up. The small profile is really the ticket here right now. Id highly recommend it. I didn't catch any monsters, but these 1 to 3 lbers are great especially for my first outing. Only thing I have to complain about is the hook. It's not very strong, hopefully it doesn't cost me a big fish. But all and all, for the price it's great.
From: Ben: MI 3/13/16

Comments: I fish these jigs on the flats in Florida and catch some of the biggest Snook,Reds,Trout and even Tarpon ! Thanks Strike King Keep Up The Great Product !
From: Tom: Venice, FL 6/5/15

Comments: Great jigs. I Use the 3/16 in black and blue and green craw with a yum crawbug for creek smallies, and have caught some real monsters on them. Defiantly recommend them
From: Eric: PA 1/11/15

Comments: These jigs are garbage!! The hooks are total junk, the weed gaurds fall off on the first cast, the skirts slide off. Half of the jigs I bought the weed gaurds had already fallen off in the pakage! Why can't strike king step it up and make a decent version of this jig? The concept is good but the quality is not!
From: Nick: USA 7/31/14

Comments: My all time favorite jig. River smallies love this thing. I fish this jig with a netbait trailer during the spawn and it wears them out, big ones too. Fish it over rocky areas during the summer and fall and you will be hooked up in no time.
From: Henry: USA 4/17/14
Comments: My favorite jig hands down ! I have caught several giant bass using this jig tipped with a craw trailer.
From: Scott: IL 3/29/14
Comments: Outstanding jig. Rig up a 3-4 inch Yum Craw Papi or Strike King Rage Craw on it and river smallies will nail it bouncing on the rocky bottom, especiallnin current, rocky areas, and rapids.
From: Just: PA 3/21/14
Comments: These jigs are AWESOME!! There is always one tied on in every tournament. There are many applications both shallow and deep for both largemouth and smallmouth. Just wish TW would carry the black in 1/16th.

From: Sean: Spofford, NH

Comments: the hook on this jig is no good. Too much flex in the hook and it will cost you fish. Get the SK Bitsy Bug "FLIP" jig. Same size and profile as the Bitsy Bug but with a much stronger hook.

From: Jason: Ohio

Comments: i love this jig in green craw colr paired with a orange bc soft craw trailer. i caught a 5 pound smallmouth in a creek by my house with this.

From: Kyle: TN

Comments: Good for price but the hooks are not as sharp as I like and the skirts are not very good. They still will catch fish though.

From: Jim
Comments: It's nice but not my favorite.

From: Aeolian: Kalamazoo

Comments: This is one of the best jigs ever. it catches fish big and small i caught a 5 lber on it during a tournament but it was on the color Cajun craw which they don't have so if they get that color i recommend getting it.

From: Chase: North Dakota
Comments: awesome jig, but i wish they had some heavier sives and i wish they put a little skirt on it.

From: Alex
Comments: I love this reel it is the best one I have ever used and I have used many expensive reels and this is by far the best, very smooth casting and retrieve light weight, will be using these from now on hands down, I have it paird with a varitas best combination, all rods and reels will be varitas and lews.

From: Lucas: St. Louis, MO

Comments: The bitsy bug jig is a grate jig to use before the sun goes down when all the bugs r flying low over the water tye on a fly type trailer instead of a craw for this technique

From: Chris
Comments: this is best jig to use under the toughest conditions, clear water, muddy water, it doesn't matter the bitsy bug will get bit!!

From: Cade: Kentucky, USA
Comments: This is my go2 jig for dock fishing and scattered grass. I through this bait every time I go to Lake Winnipausaque in NH and I always catch big fish. I put a net-bait paca craw on the back in the four inch and I catch a lot of fish big fish too the bitsy flippin jig works just as good,try one yourself.

From: Jack: New Hampshire, USA
Comments: This is a winner for tough bite days and cold water gives lots of flex depending on trailer choice.

From: Brian: Quincy, MA