Strike King Burner Spinnerbait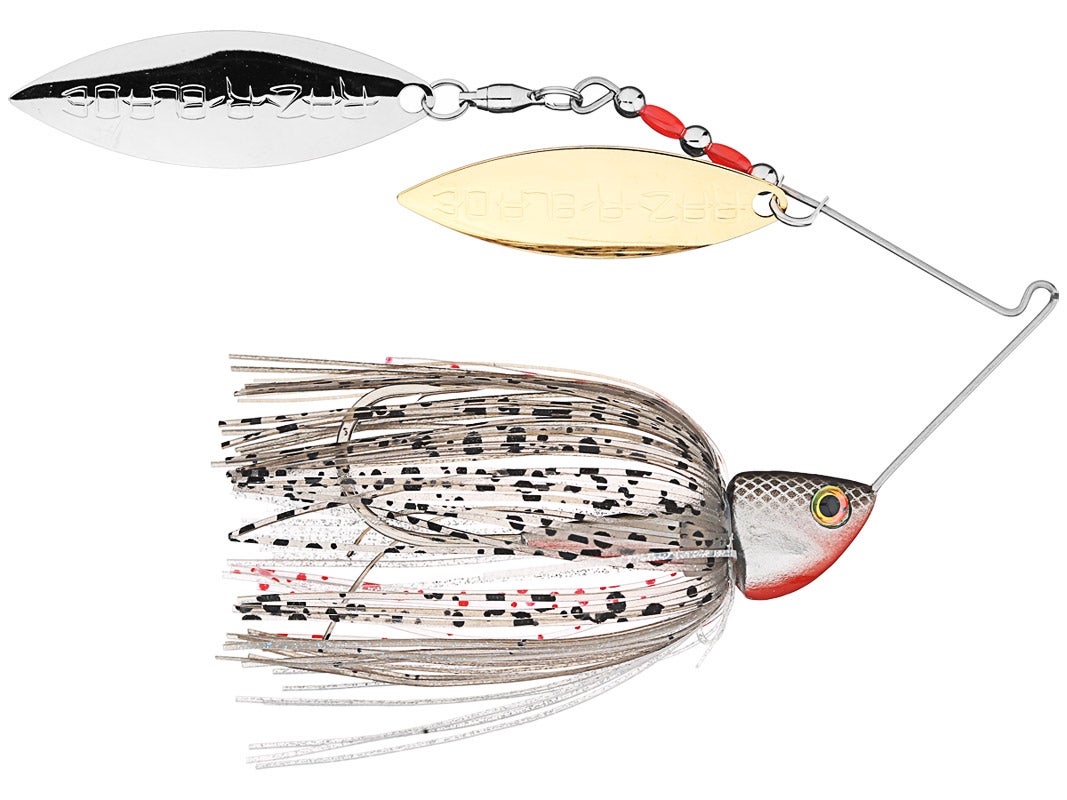 The Strike King Burner spinnerbait has been designed to swim just under the surface of the water all the while creating the flash and attraction to catch the big ones. This compact, minnow shaped head design allows for maximum speed and flash while reducing the drag. The Burner features the all new Raz-R-Blade High RPM Blade. The Raz-R-Blade is a thin cut willow leaf blade that was designed to increase the revolutions of the blade, which increases the flash and keeps the bait from lifting like other willow leaf blades will do. The Raz-R-Blade is the ultimate blade for ultra clear, high speed applications. The Burner also come available in 5 fish catching colors, including the new and very popular Sexy Shad. The burner comes complete with the new perfect skirt, a sharp Gamakatsu hook that hooks em' and hooks em' hard and premium components. Tie one on today and set the water on fire!
Click here to see some video on Strike King baits with Crispin Powley at ICAST '08.
6 Colors
More From Strike King Spinnerbaits
Customer Reviews
Comments: Great spinnerbait for burning, which I do a lot of on these clear lakes up North, but just so you know- they are not very versatile. If you want to slow down and crawl them through grass or docks, it doesn't work... They sink too quickly and provide little "thump". Its ok though, just have a couple different spinnerbaits, one for the slow crawling, and one for fishing fast! BOTH smallies and largies love em
From: Tom: MN 2/6/17
Comments: These are solid spinnerbaits. I like the fast retrieve right now in the cal delta & these baits pull through the grass well. The fish will come up out of the weeds and smoke this thing. When the wind is up the reaction is on. I like these baits & you can fully feel the vibrations of the bait through the water. Why would you want to fight a bait that is designed to be worked fast? No.
From: Dean: Concord, CA 9/11/16

Comments: Awesome spinnerbait. They catch fish in clear water and in pure mud. Easy to control the depth and the thinner blades make a huge difference. The installed hook is sticky sharp and strong.

From: Jackson: Knoxville, Tn

Comments: This is an awesome spinnerbait. The smallmouth crush it when you burn it right beneath the surface.

From: Kyle: MI

Comments: Wow... What a blade!!!! Truly awesome action, i bought a 1/2 oz. sexy shad and its awesome!

From: Tyler: MN

Comments: This is truly an amazing spinnerbait. I got mine int he char/white color and bass just love it. The blades on this thing are great providing a fast spinning action which sets off tons of vibrations. All in all this is an amazing bait. check out my youtube for some bass videos:

From: Hayes: Blountstown, FL

Comments: I landed a 6lb large mouth at lopez on the Strike King Burner Spinnerbait. Thanks.

From: Jesse: CA
Comments: I love this bait. Great value for the money. They are great when you need to use a spinnerbait without tons of vibration and you need to fish fast. Great for covering lots of water

From: Jim: Woodstock, GA
Comments: this spinner is amazing. i add a 3 inch white twister tail as a trailer and i can catch fish all day long. i have caught big bass and even a couple of good sized pike on this spinner. my favorite spinner

From: Tommy: Chicago, IL
Comments: A few buddies and I have recently been using these spinnerbaits with great sucess. They are perfect for burning but can also be slow rolled and work extremely well on a stop and go retrieve, letting the skirt poof on the paus. The smokey shad has been my favorite color so far and I landed a 5 pounder on it 3 days ago (check out the vid on youtube: strike king burner). The fish completely bent the wire way out of wack but I was able to straighten it back out and it runs like new again. Very durable.

From:
Comments: These spinnerbaits are for burning like the name implies! I have used these with great success! When the fish don't want something fast, I like to use the Strike King KVD spinnerbaits for slow rolling! Also never under estimate the Strike King 38 Special! I have caught more bass on it than any other Strike King Spinnerbait!!!!!!

From: Gary: Vermont, USA
Comments:These spinnerbaits are awful, A huge part of spinnerbait fishing for me is being able to feel the blades turn, assuring me that my lure is working correctly. You can't feel a thing with these little blades, it just feels like bringing in a clump of weeds. To make matters worse, they just plain don't run straight, tweak it as much as you want but it just has a tip to it.
From:Zach: Port Huron, MI