Strike King Denny Brauer Premier Pro Jig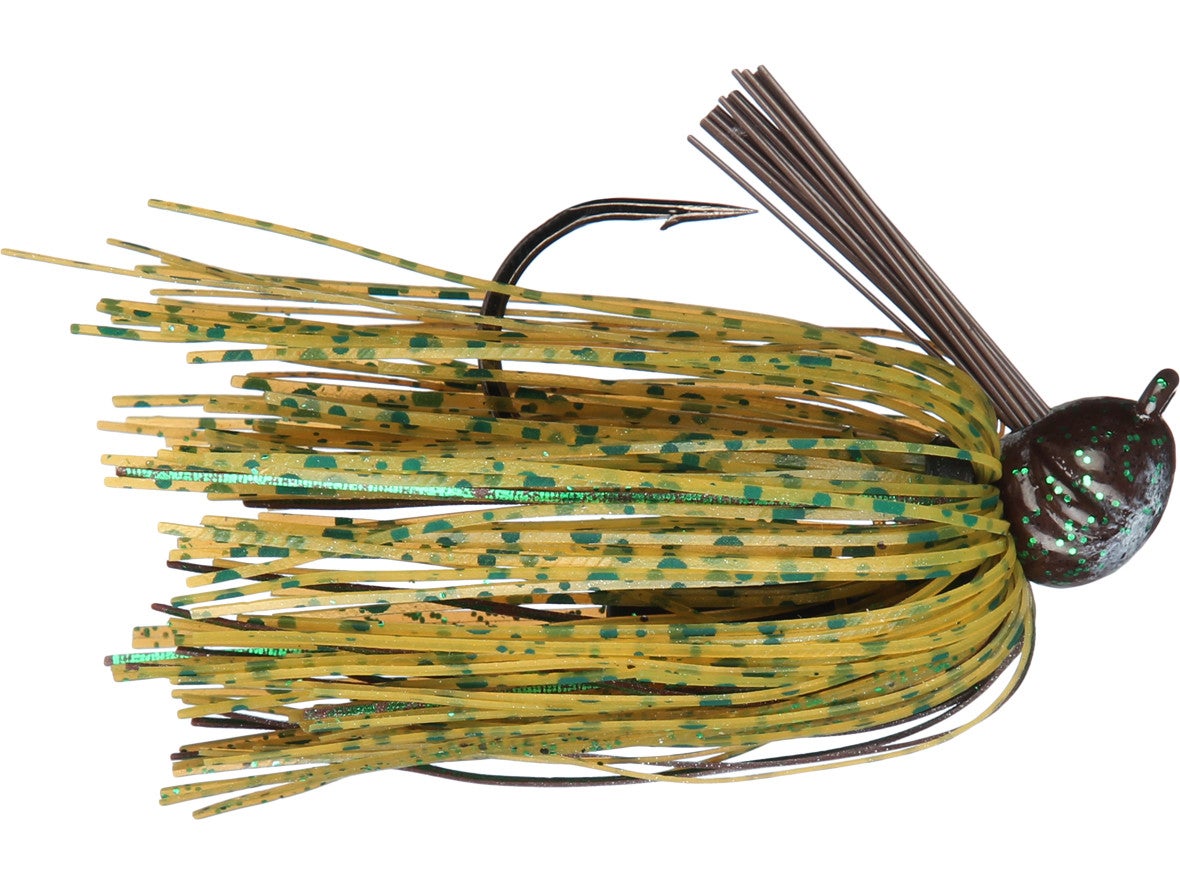 The Premier Pro-Model Jig has all the features of the original Pro-Model Jig with a few New upgrades. Strike King stepped it up with an even larger, premium, black nickel hook and a new rattle system. The rattle is mounted just off of the hook allowing you to easily use any 3X soft plastic trailer. The rattle also features an extra wide chamber enabling it to rattle even when work side to side. At the end of this rattle Denny Brauer and Strike King installed a barb to help keep the trailer for slipping off. We were very impressed with how much noise this new rattle system puts out. All Strike King Denny Brauer Jigs come with a Premium Came-Flash skirt that really makes the color of the skirt pop. If your looking for a downsize compact version for heavy pressure or just when the bite is tough check out the Denny Brauer Premier Pro-Model Bitsy Jig.
7 Colors
More From Strike King Jigs
Customer Reviews
Comments: this jig is awesome I went to a pond that gets tons of pressure and pitched it near a tree & the fish were all over this jig.i paired it with a berkley havoc devil spear for trailer.
From: Dylan: TX 1/18/16
Comments: This jig is simply AWESOME...man it's got a serious, & sturdy hook; it stands the test Bass in heavy cover- EVEN in SALTWATER when I use it for Redfish >12 lbs. Got six of em, and use it not only for large-mouth, but Reds and Flounder in the saltwater! Special Note: I coat the rattle in water-proof Gorilla Glue- to last a long, long time flipping
From: Joe: Wilmington, NC 7/4/15

Comments: this is one of my favorite jigs to throw. I pitch, flip, swim, I do everything with this jig. The rattle is really nice and loud. I use the Berkeley Havoc Pit Chunk, and that trailer complements this bait very nicely.
From: Mitch: MN 2/5/15

Comments: This is a great Jig for the money. Just yesterday I landed a 4lb6oz prespawn Largemouth under a dock. I dress mine up with a 3" Chigger Craw and I'm good to go. The rattle falls off easy and then you have no barb to hold on trailers but otherwise its a great jig with a good hook and I like how they come with long full skirts so I can trim them up or leave em for a big profile
From: JBird: RI 4/23/14
Comments: After a couple casts, my first fish on it was a 6lber. Trailers work great with it and the bass hit it hard! The variety of colors enable a fisherman to catch big bass anywhere.

From: Ryan
Comments: Amazing Jig - First fish off of it was a 7lber. Fish seem to love them!! I personally don't have rattle issues but overall they are an awesome jig designed by the jig king himself, Denny Brauer!

From: Carson
Comments: Great jig except for rattle falls off when get a bass or pike. Every rattle fell off the 4-5 jigs I used. I just wrote SK to ask they send me some rattle replacements. Will see how that goes. Going to crazy glue them on if they replace them. Other then the rattles falling off, fantastic jig. Rattle itself makes great sound that attracts bass. I've watched bass dive on them.

From: Brin: Schodack, NY

Comments: Love the colors, size, head shape. However, the hook bends too easily and the rattle fell off. Tied a new one on. Three casts in, caught a 3lber. 5th cast, rattle fell off.

From: Steve: NSTP, MN

Comments: Great Jig. Makes bass go crazy when you bounce it off of rocks

From: John: SD, CA

Comments: this jig is awsome ive caught tons of fish on it. black blue accent and black/blue is way to go

From: Charlie

Comments: All I have done for the last 20 years is flip jigs in structure. I have used thousands of different jigs and this Premier Pro Jig is one of my favorites. I love the rattles and the colors that this jig provides, pick one up and see if you like it because its worth it to me. I like the Black and Blue, Sexy Craw but most of all the Okeechobee Craw.

From: David
Comments: Worst jig i ever used gets caught on every cast

From: FL
Comments: Not bad for flipping but it is great for fishing sparse cover transitoning to rocks.

From: Preston: IL

Comments: I was simply practicing flipping with it in my pool and the rattle fell off. Won't be buying anymore

From: Dylan: Broken Arrow, OK

Comments: These jigs catch fish, but the hook bends way too easily way too fast, go for the hack attack if your fishing cover

From: Cole: Ontario

Comments: i have these jigs in black blue accent and sexy crawdad and they are the only jigs i will flip anymore they are that good. i have tried a lot of other brands but these are the jibs for me. they are the best. buy a few in the 1/2 ounce size and pair it up with a chigger craw in the same color and hold on because the bass are gonna bite!

From: Tyler: Cincinnati, OH

Comments: i love the watermelon seed jig great for flipping

From: Paul: USA

Comments: this is the best jig i have used. I caught most of my best fish i have ever caught with a sweet beaver trailer

From: Matt
Comments: this jig is GREAT !!!!!! very sturdy hook...... and it stands up unlike the competators claim their jigs do .... but i have had no problems with it until i was fishing a tree got a hit missed him reeled it in to notice the rattle was gone !!!! MY ONLY COMPLAINT

From: Nathan: KY, USA

Comments: i have this flippin jig and i have already caught 10 bass on it one was 7 1/2 pounds and another was 5 pound even. great when pared up with the rage chunk as a trailer. i love to flip it in and around flooded cypress trees. that is what has gave me the best results

Comments: Great jig, stands up unlike most flipping jigs. I use the Sexy Craw color with Alabama Craw Pca chunks. Great rattle.

From: Joseph: Illinois, USA
Comments: my favorite jig. buy any thing with Denny Brauer name on it. you will now that it is high quilty

From: Charlie: Kansas City, MO
Comments: I like these jigs, they work well, used to be my go to jig now still a player in my box. The rattle chamber can and does come off some times from various impacts while fishing.

From: Brian: Qunicy, MA
Comments: The day i got this jig i went to my local tackle shop and got blue with black sparkle chigger craws for it and that day caught a 8 pounder.

From: Chris: Williamsburg