Strike King Hack Attack Heavy Cover Flipping Hooks 4pk - $7.49

The Strike King Hack Attack Heavy Cover Flipping Hook is a super sharp, heavy duty, black nickel Gamakatsu Siwash hook made exclusively for Strike King. Its line eye is sealed closed, so your line won't slip out, and its injection molded rebarb keeper holds your bait in the proper position even when pulled by snaggy cover. A big wide gap offers plenty of bite for good hook sets, yet is compact enough to accommodate smaller baits. Use it with heavy rods and strong line, the Strike King Hack Attack Heavy Cover Flipping Hook has what it takes to consistently get giant bass out of heavy cover.
4 per pack
Color:
4/0
View Large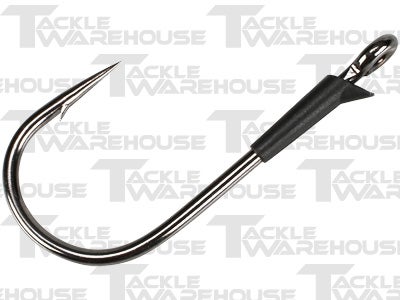 More Strike King Terminal Tackle
Comments: Best flippin' hooks to hit the scene, by far. If you're saying that you or your friends can't stick a fish with these, then you best step up your flippin' game. I've never had one bend out on me. All hook points will roll eventually. That's just the name of the game when you're flippin' heavy cover; especially a mix of wood and weeds. These hook points, however, take A LOT longer to roll than any of the other hooks on the market. Spend a little more coin for a top-shelf product and put more weight in your well.
From: Dustin: Valdosta, GA 4/9/15

Comments: Best flipping hook ever!! if you tie a snell knot it always sticks em, When finding that hook to fit just right to punch into the nasty this on just feels that the bend of the hook fits all baits I've used better then most. Beavers, rodents, fighting frogs.

From: Matt: Dothan, Al

Comments: These are the best flippin' hooks I've used. I've used the original BMFs, the new Gamakatsu versions, other flippin' style hooks; and these IMO are the best of the best. They're sharp, have the welded eye so braid can't get cut, the keeper works; and the hook is straight up STRONG! I have no problem getting great hooksets with these hooks and my hook to land ratio is no worst than with other hooks. If you fish heavy enough cover, you will lose fish. That's just part of it. I'm not a Strike King fan and don't really fish their products; but they did well with this one. This is the only heavy cover hook I need.

From: AC: CA

Comments: As hard as I tried, I could not stick a fish with these hooks. 8' HEAVY action rod,50# Power Pro braid,..... could not drive the hook. Gave a few of them to friends to see if it was just me, and they had the same problem.

From: KVW: SC

Comments: Best flippin hook I have found yet. I had a problem with hooks straitening out not with these.

From: Brett: FL

Comments: Took this hook down to Lake Kissimmee and i have to say this is a great flipping hook. Used the same one for 3 straight days and the tip never rolled and the keeper never moved. Best flipping hook i have found on the market today imo.

From: Cody: Tallahassee, FL

Comments: Best flippin hooks on the market. The bait keeper is hard molded plastic and it doesn't move. Hook is extremely sharp and is strongest I've seen yet. Buy with confidence on this product.

From: Greg: LA

Comments: This is what Gamakatsu should've done from the beginning. Sharp, strong, and the plastic keeper is still rock solid after catching several fish on the same hook. I won't be using anything else for heavy pitchin' / flippin' / punching.

From: Sam: Boston, MA

Comments: These hooks are awesome. Finally someone makes a real flippin hook that won't get mangled by a big fish.

From: Adam: FL

***Note: If you have questions about this product or need assistance with an order please email your questions to info@tacklewarehouse.com