Strike King KVD Perfect Plastic KVD Finesse Worm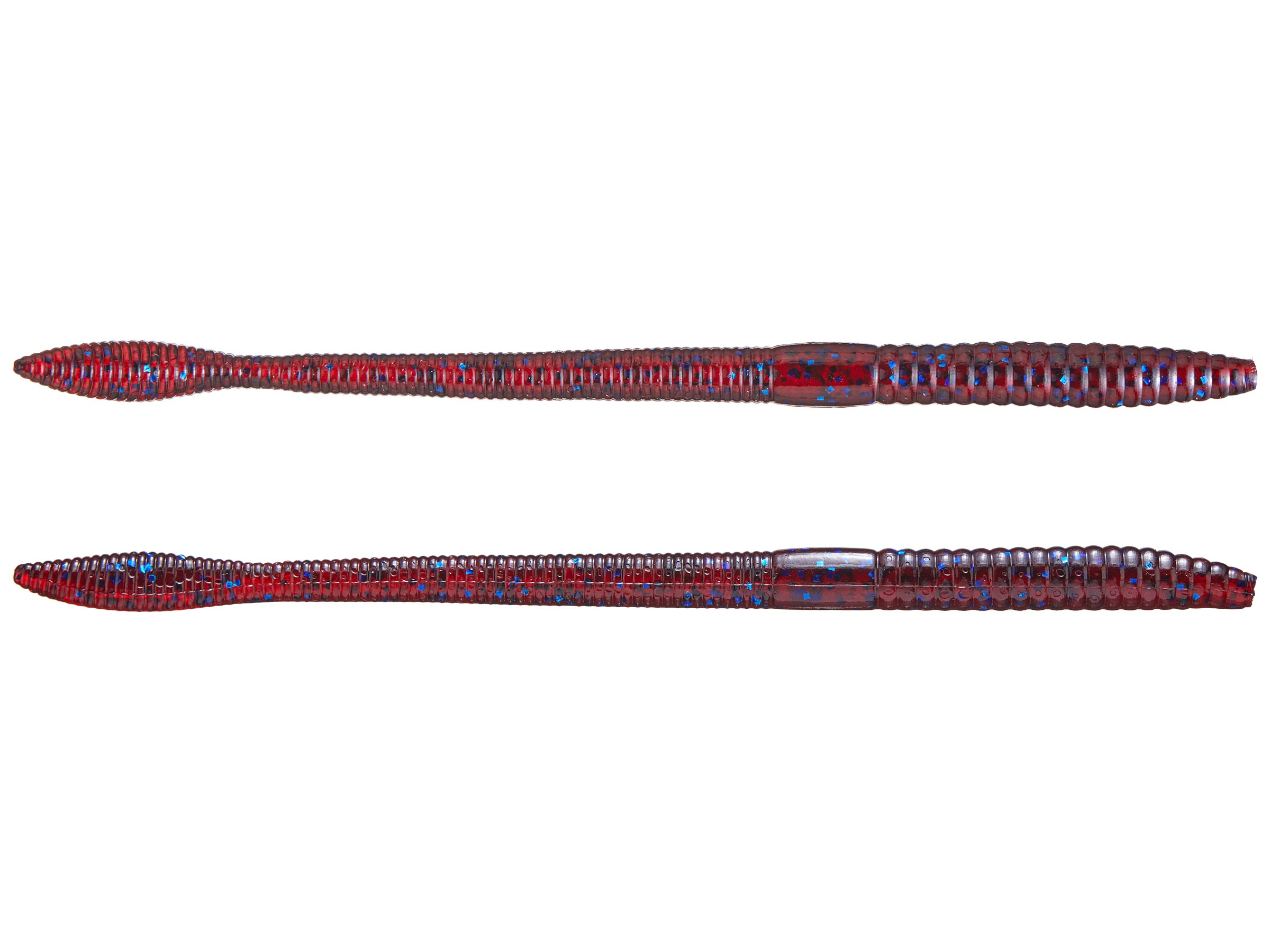 Delivering a tremendous action thanks to its super soft Perfect Plastic construction, the Strike King Perfect Plastic KVD Finesse Worm was designed with the help of 6-time Angler of the Year and 3-time Bassmaster Classic Champion, Kevin VanDam. An excellent choice on a shaky head, drop shot or even weightless and wacky rigged, its unique beveled tail design further adds to the KVD Finesse Worm's action. Available in a variety of colors, Strike King's Perfect Plastics are the softest, saltiest plastic lures ever produced, and each bait is loaded with Strike King's exclusive coffee scent for added fish attraction.
| | |
| --- | --- |
| Length | Quantity |
| 5" | 15 |
| 6.5" | 12 |
13 Colors
More From Strike King Worms
Customer Reviews
Comments: A great bait. Bass will not let go. I wish SK would make "Junebug" in the fat baby & the 6.5" worm
From: Tom: Wilkesboro, NC 5/10/16

Comments: The 6.5" is my go to bait anytime the fishing is rough. It's most lethal configuration is Texas rig with 1/8 oz tungsten. Also like to rig them wacky.
From: Chris: IA 3/21/16

Comments: I've used these for the past year & yes while they do rip fairly easily, these are best soft plastic worms I've used next to Zoom Trick worms, I love the coffee scent that comes with'em too! I've caught more fish on these than any other soft plastic l have used. Dirt & Blue Fleck are my favorite colors.
From: Elliott: Yarmouth, ME 5/10/15

Comments: I feel as though there is a problem with the honesty of some of these reviews. When I rig these worms on a shaky head, they lie fairly flat on the bottom. The only way to elevate the tail is to use a stand-up shaky jig head (and I certainly prefer not to do that). On a drop shot, these worms aren't bad. I like the design and size. If you are looking for a good shaky head worm, however, look toward Netbait. Their T-Mac worms are excellent and do stand up effortlessly.
From: Matty: KY 7/20/14

Comments: got some of these in a mystery tackle box and boy are they awesome. I was near lake Champlain for work and went to a little pond near there had to have seen ten people fishing that day. Had people on the bank ten feet away on both sides. They just watched me pull out fish after fish while they scratched their head. Gave a kid on the bank some of them and he started nailing them. Only have used them on a shakey head but thats all i need.
From: Jordan: Carlisle, PA 6/5/14

Comments: They may be soft but that just means you get more action out of them. I've caught 8 pounders using this bait on a shaky head. Definitely my favorite finesse worm.
From: Unknown: Fort Worth, Tx 4/20/14
Comments: Went out on a heavily pressured lake and threw the red bug on a drop shot and landed over 20 fish, two of which were pushing 4 pounds. Each worm lasted for about 4 or 5 fish. If the nose ripped through I just bit it off and re-hooked it and good as new.

From: Steven: 703

Comments: I know most of the perfect plastic baits have bad durability but this worm actually catches 4-6 fish per worm and there not overly expensive and mostt importantly CATCH FISH

From: Paul: MN

Comments: Best drop shot bait on the market!

From: MI
Comments: This is the worst Finesse worm i've ever used. I will be sticking back to Zoom!

From: Cali: GA

Comments: This is the worst finess worm I have ever used in my life. The first few times you throw it it will stay on your hook ,but after that it will fall off. It is the softest plastic on the market that is still in production and thats the problem its to soft and won't stay on your hook. This bait and this entire line of baits are terrible but if you want to go through a few packs of these in a few hours and you like to waste money than this is the worm for you.

From: Patrick: Greensboro, NC

Comments: this+ shakey head = big bass or drop shot it...this catches monster bass and has great colors the dirt color is amazing...chech out my youtube channel boysgonefishing for drop shot tips with this worm

From: Tyler: US

Comments: Great Worm. They catch fish when nothing else will. Great for Shaky Head rigging.

From: John: Camden, TN

Comments: What a surprise: KVD's baits work. Throw the green pumpkin or the doubleheader on a dropshot and catch the biggest pre-spawn tubs on the lake. In CT right now this is my hottest bait. It floats pretty well which I find important.

From: Matt: North Haven, CT

Comments: my favorite finesse worm!!! neon green pumpkin is one of my favorite colors works great.....my favorite worm in the spring!!! A MUST HAVE in your tackle box =]

Comments: Great smell, durable, perfect shape and size

From: Stone: Indiana, USA
Comments: these worms are great use one worm all day. extremely durable. will catch fish when fish aint bitting.

From: Dustin: Pace, FL