Strike King Premier Plus Spinnerbaits Double Willow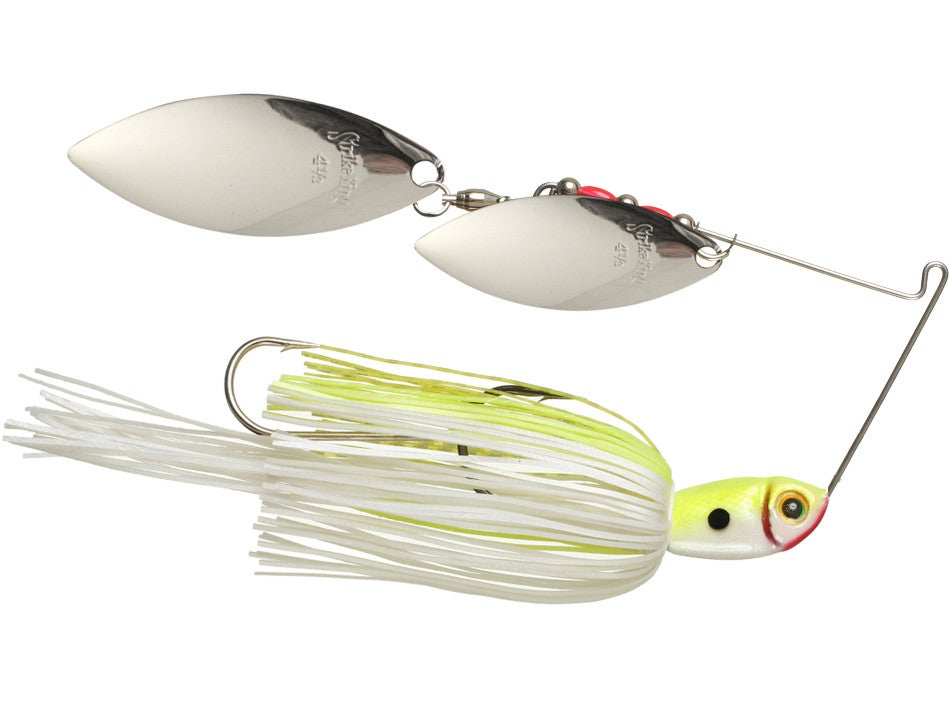 The Strike KIng Premier plus features the exclusive Z-Man perfect skirt. The perfect skirt blooms wide and even, and the exclusive Magic Tail also serves as a trailer and provides extra action to the skirt. Each skirt is matched perfectly to the head of the bait for an appealing natural look. The premier plus also features Spin EzeŽ ball bearing swivels with 24k gold and or nickel plated blades. Attached with a flex bend spring tempered stainless steel wire to the beautifully painted head with Holographic 3D eyes. All Premier Plus blades also come with a pre-rigged Sabre point trailer hook, making this bait ready to fish right out of the package.
10 Colors
More From Strike King Spinnerbaits
Customer Reviews
Comments: Skirts get annoying after awhile. The majority of the time they do not get in the way, but they do wrap around the back blade and foul the bait up on occasion. Cuts through the weeds well. This is my go to spinnerbait right now in the fall, it is the only thing producing for me. Hope they bring the smokey shad color back.

From: Ryan: WA

Comments: You've got to trim the skirt on these spinnerbaits or they will literally PISS you off, mutliple pin point casts ruined and not being able to pump the bait, or any other retrieve besides a steady retrieve, b/c the tail end of the skirt that "flutters" always gets caught in the blades and twisted up. It would get to the point where I'd be slamming the spinnerbait on the water and throwing my rod into the floor of the boat...not the guy you would want to fish with when using these things. After trimming, though, no hard feelings.

From: Michael: GA

Comments: What size blades come on these spinnerbaits?

From: Brandon: VT

Comments: Great spinner bait! Did have a problem with the long skirt, trimmed it up and works like a champ! You will catch fish on this spinner in any conditions. I've slow rolled it and burned it up high and still nailed big fish with it!

From: Adrian: Heath, TX

Comments: I have caught quite a few fish on this in sexy blue back herring. Nailed 8 or 9 northern pike during a bass tournament here in Indiana. Yesterday we placed 7th in a 29 team tournament, and all my fish came on this spinnerbait.

From: Caleb: IN

Comments: first time i used this bait i got nailed from a striper,good bait,but there are some things like the blades that good improve,but after all,this is not a bad bait at all.

From: Nathan: USA

Comments: great spinnerbait. i have caught a 6 1/2 pounder on it.

From: Mikey: USA