Strike King Rage Tail Shad 5pk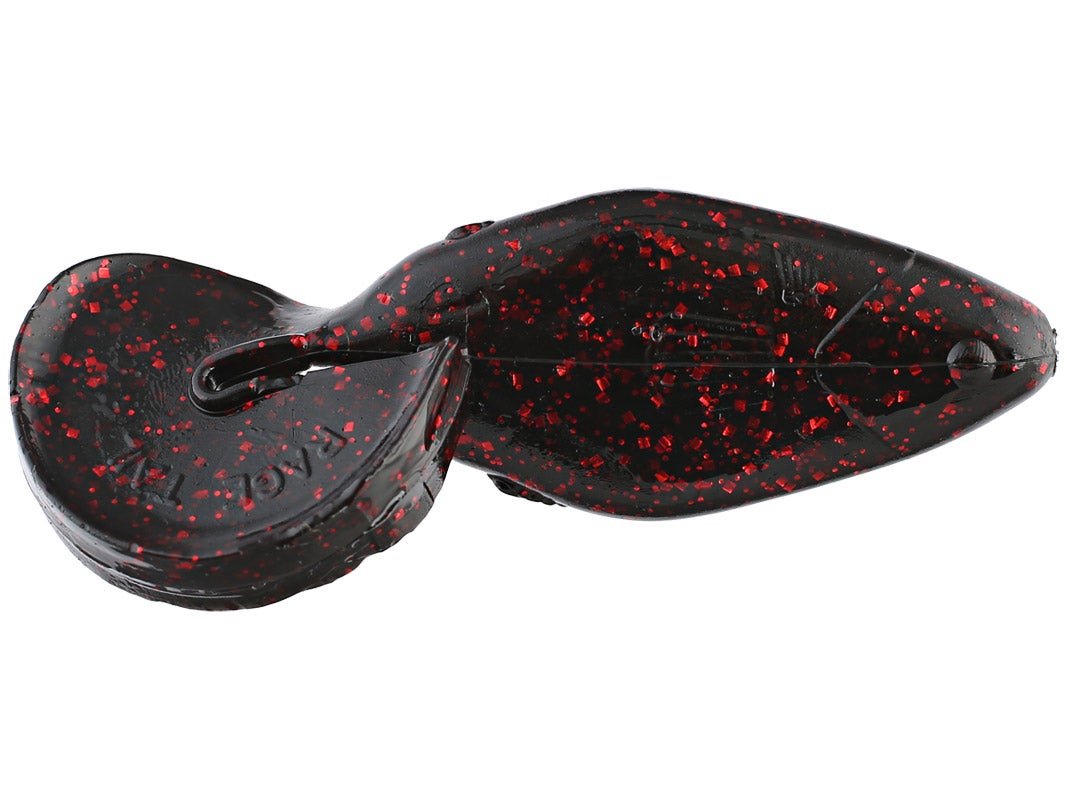 The Rage Tail Shad by Strike King brings a revolutionary new look to top water fishing. Each Rage Tail Lure has a unique and exclusive tail design and is engineered like no other soft plastic bait. The Rage Tail is designed with a specific purpose and uses customized hi-grade plastics for superior action.
The secret to the Rage Tail is the unique ridge which runs along the edge of the tail. This ridge acts as a funnel channeling water through the length of tail creating turbulence and vibration. You won't believe the splash, noise and action that the rage tail design produces! The Rage Shad is best rigged weightless with the tail up on a 4/0 to 6/0 wide gap hook and fished on top of the surface for some awesome top water action. Protected by US Patent # 7,774,974.
Click here to see some video on Strike King baits with Steve Parks at ICAST '08.
| | |
| --- | --- |
| Length | Quantity |
| 2.25" | 5 |
6 Colors
More From Strike King Softbaits
Customer Reviews
Comments: The first time using them last evening a 3+lb, 2-4+lb and a 5+lb. Missed two others. I used the same one. These are great topwater baits.Fantastic just before dark.I used a Smoky Shad color. I used a 4/0 VMC 1/16oz swimbait hook My personal best was a 7lb 2oz taken with a Strike King Rage Tail Toad 2015, Green Pumpkin/White Belly just before dark.That's a Big Bass for Central NJ.
From: Francis: Columbus, OH 8/10/16

Comments: This bait is awesome. Use it in pads or other weed slop. Very easy to fish. Didn't tear up any more than any other soft frog bait.
From: Ryan: Goshen, IN 6/23/15

Comments: This bait is probably my favorite top water bait. All I did is use with a 4/0 weighted hook and there are no line twist and the bait runs true. Caught my biggest fish ever last summer on this bait on a small farm pond. I have stocked up on this bait so I will never run out. Strike King does it again!
From: Josh: Kansas City, KS 1/17/15

Comments: I absolutely fell in love w/this bait this year! Landed a 3.5lb that blew through the mats three times trying to get it. Finally hooked up with it on the third time! Caught numerous fish with it this year. The tail definitely can use more durability. But its a favorite in my box. Id recommend it around heavy cover because that's what its made for. Otherwise just use a regular buzzbait and save them.
From: Trent: PA 10/6/14

Comments: One of the best surface lures out there, right up there with a regular buzzbait imo. Except this one can be thrown into thicker cover and vegetation being weedless. Yes they tear and only last for a few fish, so invest in some mend it. But sometimes they will CRUSH this when a regular buzzbait gets passed up. A MUST HAVE.
From: Tyler: Grand Junction, CO 6/28/14

Comments: Great topwater lure, has brought me some nice ones. Even got a couple on the fall. Pros: great action, decent weight, casts further than others in the rage series, good hookup ratio. Definitely gets hits. Cons: skin-hooking becomes difficult after a certain # of casts, definitely harder after a few fish, so heads up if you're fishing weeds that have reached the surface. Tail does tear after a few good hits.

From: sb: Northeast US

Comments: Great bait. Only problem is tail tears way to easily.

From: Ken: IL

Comments: great bait! caught my biggest bass on one of these. he was 28" and an estimated 7-8 pounds which is huge for michigan. he hit about ten feet from shore and i was fishing a really weedy area and he just dove and started taking out drag ( which was turned pretty high up). only downside is they tear after 2 or 3 fish. but heck if it brings some monsters in the boat and wins you a tourney its well worth it!

From: Chris: MI

Comments: Finally had a chance to pull these out of the pack today, pulled in some nice bass and if they miss they usually come back for more. I actually prefer this over the rage toad and they cause more of a disturbance in the water. With the toad I seem to get caught up in dense vegetation more because of the two appendages. I also have a problem getting the toad to flip over right side up and yes I have it rigged properly; I am ocd about that. Had no problem with line twists using sunline fx2 65 lb braid, and I actually thought these baits were pretty durable. Rigged them up with a owner twist lock 4/0. I would also like to comment that 2-3 fish on a premium soft plastic is okay with me if they are catching fish; 3 fish still and I was still going strong if it wasn't for the pickerel tearing these things up.

From: Brett: Rochester, NY

Comments: I think I just found a new top 5 lure for myself. I watched KVD tear up with these things on The Bass Pro's so I thought I would give them a shot. They came in and I thought they were a little big so they sat in my tackle bag for a few weeks. I went out this morning and the action was a little slow so I threw one of these on in the green pumpkin color. 3rd cast I hooked a decent one; unfortunately it shook off close to shore. About 10 minutes later; one took a swipe and missed; I cast back to the same area and caught one about 2 pounds. About a half hour later I had one miss; I kept reeling and he hit a second time.....got her in and weighed her.....5 lb 2 oz......VERY IMPRESSIVE BAIT. I am sure I would have caught more but got an awefull birds nest and had no spare line with me.....URGH!

From: Gary: PA

Comments: Very unique bait. Rig properly to avoid line twist and make it easy to run true. Perfect for buzzing over SLOP and lilly pads where a traditional buzzbait will get hung up. Actually makes quite a commotion and leaves a very heavy bubble trail.

From: Jeff: Rensselaer, IN

Comments: Great lure. But tears really easy. 2-3 bass and ur done.

From: Cvang23: Minneapolis, MN

Comments: Use heavier line and that will do away with most line twist your having with this bait.

From: TWellsJr: Temple, TX

Comments: Fish will destroy these things but the tear to pieces very quickly they break apart at the base of the tail too easily. They also are hard to get to run true and not twist.

From: Sam: Crestview, FL

Comments: love this bait cast it a mile and u can fish it in flooded cover lilys and in open water throws water 6 inches in the air it wobles and is a fish killer.

From: Ben
Comments: Great lure,first fish was a 4+ lb fish.Caught about 5 before it tore up.Rig it per the package instructions and vary the retrieve and success is yours.

From: Tony: West Chester, PA

Comments: i have been using these things since they came out, if you rig them right they WILL NOT TWIST your line!! If you are inexperienced and dont pay attention to detail when rigging plastics, they will not run true, like anything else they will perform as good as they have been prepared to do so. i use a long shank wide gap 4 or 5/0 Z bend hook and it really helps with the tearing. If you let the fish take it and keep from pulling it out their mouths like you should be doing, they wont tear anyways. :o)

From: Justin: Tennessee

Comments: Excellent bait, the tail tearing is something that any bait will do in this category, even some hollow bodied frogs with paddle tails. As far as line twist goes, follow the instructions on the package and they work just fine.

From: C.H.: Virginia Beach

Comments: sweet little bait, this thing is a fish magnet!!, it is basically a weedless soft plastic buzzbait. the only thing is you MUST pay attention to the rigging instructions that come in the box. so i recommend giving this bait a try, it loves to catch fish!!

From: Cade: Kentucky, USA
Comments: I like this bait. Has a great surface action a little less subtle than a buzz bait, but you can throw it into the slop and its pretty weedless. The tail I guess because of its size does tear easy. What I do to solve this is carry a few baits and as I see the tear start I replace it with a new one. When I get home I glue them all back together with Mend it glue then I'm set for next time. The tail won't rip off completely unless a pickerel or muskie hits it, and it tears right at the bend which is the thinnest part.

From: Steve: W. Milford, NJ
Comments: Good bait, first time using it i caught two 6 pounders but does tear very easily, green pump/chart works well.

From: Colton: Florida, USA
Comments: Just used a rage tail Shad for the first time this weekend. Awesome!!! Just make sure you rig it with the tail up for it to work properly. The rage tail Shad has a louder sputter and the body has a small walk in it. I was impressed by the action. Just remember tail up rigging.

From: Chad: Jonesville, LA
Comments: These are aweful. The tails will tear off before you ever get a bite.

From: Tyler: Texas, USA
Comments:Um, no. These things suck, and the strike king claim to fish it weightless on surface is garbage. Try it, and all you will get is a ridiculous amount of twist as the tail overpowers the body and starts the entire bait into a fish repelling spin. Avoid.
From:Big J: Houston, TX