Strike King Rocket Shad - $3.19

A must-have for anglers who like to fish fast, the Strike King Rocket Shad is built to track true at all speeds, including full-throttle. Perfect for fishing in fast-moving current, the Strike King Rocket Shad features a realistic head shape that keeps it balanced as it's being burned through your favorite big fish haunts.

Offering a smaller, bite-sized profile, the Strike King Rocket Shad is fitted with a vibrant Colorado blade that spins freely in conjunction with a premium ball-bearing swivel to make it stand out in the water. Available in a number of fish-catching colors, the Strike King Rocket Shad is sure to make your fish counts soar.
Comments: I was using this for the first Tim in New York not really expecting much but within 10 casts I gat a monster rock bass 13 inches a pound and a half which is huge for a rock bass. Also caught several smallies before I lost it to a tree.
From: Bryce: Raleigh, NC 6/17/14

***Note: If you have questions about this product or need assistance with an order please email your questions to info@tacklewarehouse.com
Color:
Chartreuse Shad
View Large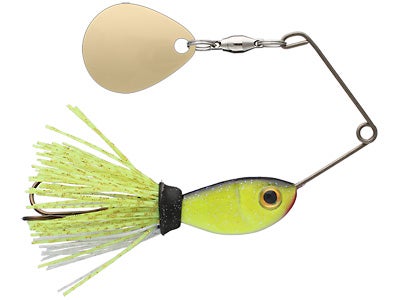 More Strike King Spinnerbaits