Strike King Tour Grade Finesse Football Jigs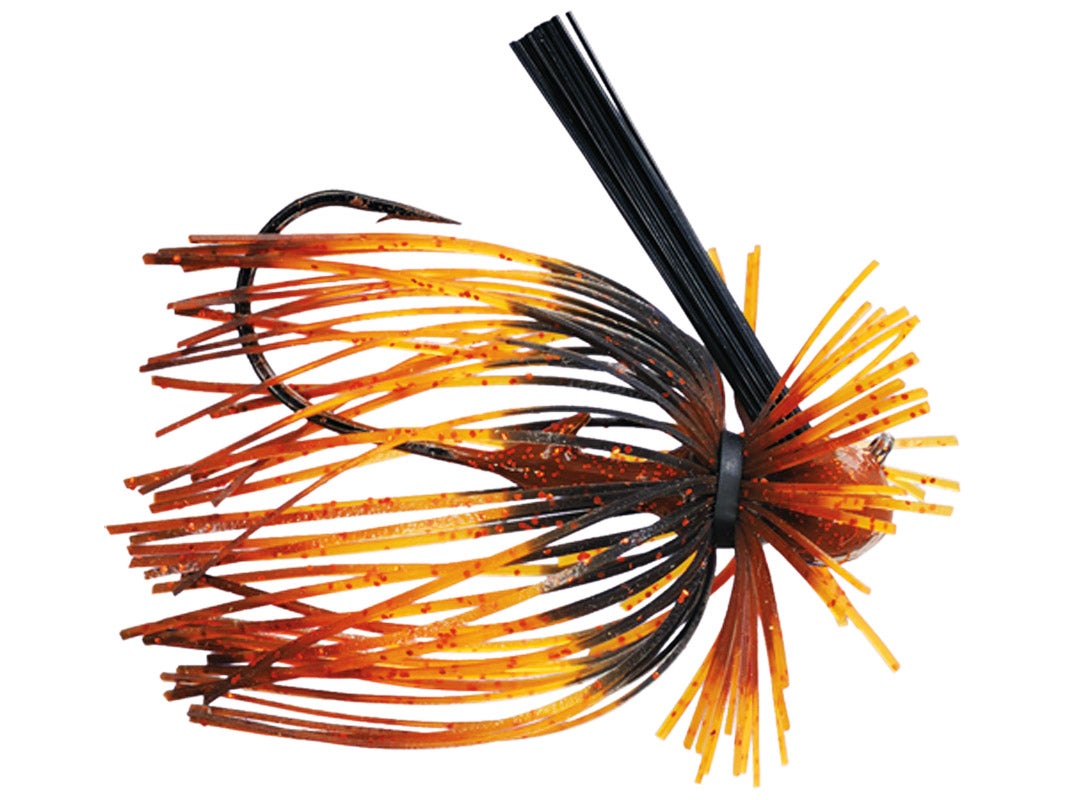 The Strike King Tour Grade Finesse Football Jig is the pro's choice for finessing finicky fish. Featuring an incredibly sharp Gamakatsu hook for better penetration when setting the hook with light line, its wide football-shaped head provides an enhanced feel when contacting the lake bottom, and also keeps the jig upright. Available in a variety of colors, crew-cut Perfect Skirts add to the winning presentation, and a specially tapered barb keeper securely holds your trailer in place.
10 Colors
More From Strike King Jigs
Customer Reviews
Comments: Won a night tournament with this lure in the pb&j color and a bio spawn vile craw trailer. Have caught many 4+ pound fish on these jigs and they hold up well. Highly recommend
From: Dillon: Covington, VA 7/10/16

Comments: Great little jig. Bass seem to love it too. I've caught a bunch on the mizzou color down around Tampa / Central Florida, and I'm on TW to order a few more as the one I have tied on is pretty beat up now after one too many fish chewed on it. When they are really biting these, I'm getting bites before the jig even hits bottom. Falls at a nice pace with a Missile D-Bomb trailer (Sprayed grass). Good stuff. Don't hesitate to get some in your favourite colors.
From: Shawn: Tampa, FL 10/21/14

Comments: Excellent jigs. All components to this jig are high quality and durable. Holds up very well with big bass. No complaints.

From: Mike: IL

Comments: Awesome jig, I tip mine with a SK Baby Rage Craw in Candy Craw and I kill the smallmouth. Hooks will break occasionally if you have it deep in a smallmouths jaw, but I have never lost a fish because of it.

From: Aeolian: Kalamazoo

Comments: excellent jig. First time I used them I caught fish (it was my first time jig fishing too). I used the bama craw and whiskey craw for my local lake and caught fish on both colors. I would definitely recommend these strike king jigs.

From: Peter: USA

Comments: Great jig, love the angle that it sits at, only down side is I have noticed that the hook does flex a little after multiple big fish. Otherwise a fantastic jig

From: Austin: WI

Comments: A sweet little jig that can be used anytime, anywhere. Put a Reaction Innovations Smallie Beaver on the back and set the hook hard!

From: Daniel: Spokane, WA

Comments: This is one of the best football jigs I've ever fished, and will catch fish when the bite is tough...it drags across the bottom very easily too for a football jig. One glaring negaitve is the paint on the head chips off extremely quickly...I'm talking like in three hours 2/3 of the paint is gone off the head.

From: Sam: Topeka, KS

Comments: Love this bait easy to work the bottom even through heavy boulders.

From: Brian: Quincy, MA