Strike King Tour Grade Painted Blade Spinnerbait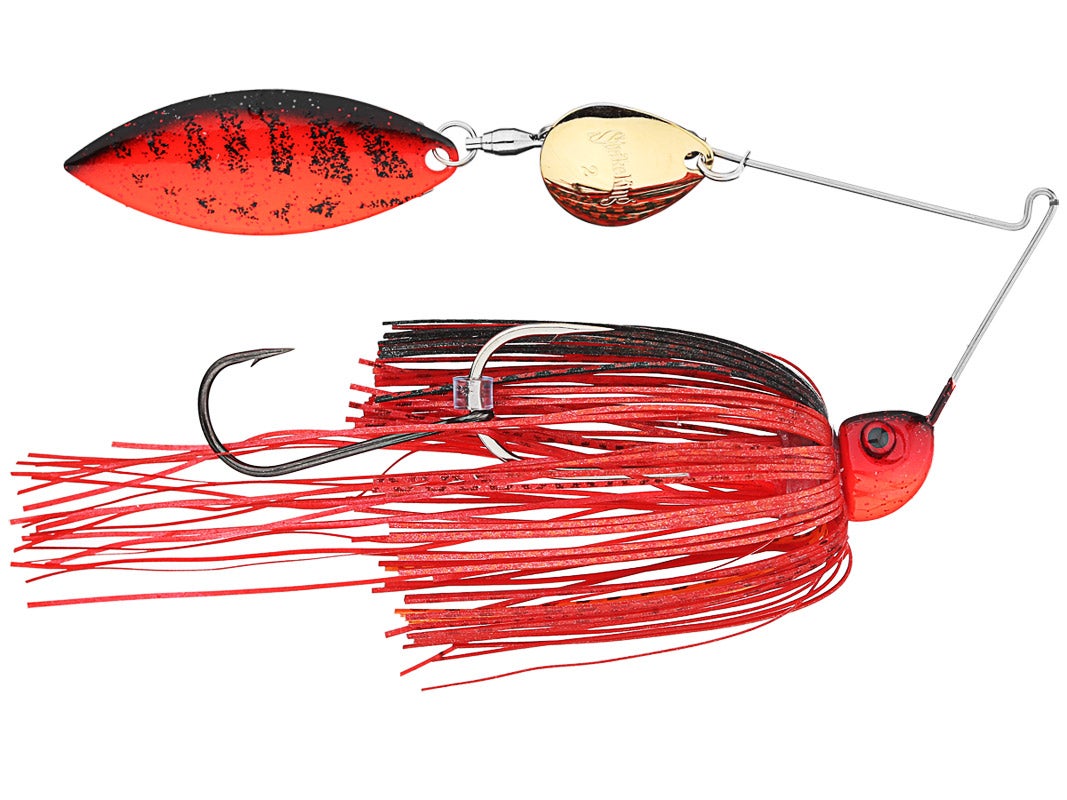 Equipped with painted blades, which match the color patterns of the head and skirt, the Strike King Tour Grade Painted Blade Spinnerbait provides a winning presentation with more flashes of color. Its weight forward head design also allows it to come through heavy cover more easily, while Spin Eze ball bearing swivels and Vibra-Max stainless steel wire provide the best action a spinnerbait can get. Tie on a Strike King Tour Grade Painted Blade Spinnerbait today and see why Strike King has been the leader in spinnerbaits for over 40 years.
6 Colors
More From Strike King Spinnerbaits
Customer Reviews
Comments: Just picked up a 3/8 oz Chart Sexy Shad and even though it was raining I had to try it out. Within a few casts I caught an angry bass! I will definitely be using this a lot. Very high quality & very sharp hooks. You can't go wrong putting this in your arsenal.
From: Travis: WI 5/28/16

Comments: i'm a South-korea pro Basser and used this spinnerbait on tournament...i took the second place. this spinner is great.
From: Bowon: Daegu, Korea 7/6/14

Comments: Awesome Spinnerbait! On a windy point on a cloudy day I snatched up a 4lb 3oz Bass and the fish didn't even bend the Spinnerbait arm like other brands. One of my favorite Spinnerbaits. Definitely will being buying more

From: Jbird: RI

Comments: GREAT Spinnerbait!! I'm writing this about 10 minutes after hammering some smallmouth in the river by house with this thing. I use the 1/2oz. Sexy Shad and I'm catching fish almost every other cast. Great action, I agree that it has amazing flash when you give it a little pop. The skirt can be a little sticky, but not enough for me to consider it a real issue. They run true, even after 20 or so fish catches, I haven't had to tweak mine yet at all. Pick one up, the smallmouth love them, I'm sure largemouth do too, you won't regret it!

From: Keegan: IA

Comments: this is an amazing spinner bait especially the double willow painted sexy shad and sexy shad crome. It will catch you fish

Comments: Good spinnerbait overall. The skirt gets tangled in the blades and swivels sometimes. I cut the magic tails off and eliminated the problem. It also gives the bait a smaller profile and more flare when popped or jerked.

From: Alex: Mooresville, IN

Comments: Sick, sick, sick spinnerbait. I have been killing it with the chrome sexy shad color. pick one up!

From: Julian: Amherst, MA

Comments: Awesome spinnerbait... The problem is the painted blades r not durable the paint chips on me really easy. Amazing spinnerbait tho!

Comments: run true, favorite skirts. never get unbalanced like normal banded skirts use skirts for spinnerbaits, swim jigs, buzzbaits. good quality no paint issues

From: Jeff: NJ

Comments: Great spinnerbait. It is on of my favorites. Just bought a new one in the chart sexy 3/8. Took it out for the first time and caught a 3-13 and 4-14. It was 99 out with out the heat index today in central Illinios and this was the only thing that would catch them.

From: Joseph: IL

Comments: Quality Lure! The skirt will get tangled in the blades now and then but, apply a little Atlas-Mikes scent to the skirt and it "dramatically" reduces the tangles. I found it to get me stronger strikes too. If you don't use scent, another way to avoid tangles is to make smooth casts. No flicking, jerking, or whipping on the cast. This lure is painted with good paint, more like a powder coat. I haven't had any issues with the paint coming off at all. I suppose it would if you fish a lot of rocks but, then again that's with all lures in the rocks. I've caught a ton of fish with this lure. Overall, "very quality lure"

Comments: GREAT spinnerbait bill does not know what he is talking about i bought one from a local tackle shop with a willow and colarado in sexy shad and then went fishing with my dad at the coal mines and caugth a 6 1/2 pound bass !!!!!! BILL IS SO STUPID FOR SAYING THAT!!!!

From: Nathan: USA

Comments: Cheaply made and over-advertised. You would be well advised to buy another brand. Paint came off the blades immediately. Skirts tangle in the blades and swivels. Skirts stick together like glue after one use. They're just cheap and over-priced. Hyped by an ARMY of professional anglers.

From: Bill: Owasso, OK

Comments: love this lure got 3 of them for christmas all in 1 oz. and i love them but they are larger than most spinnerbaits but still very good though

From: Nathan: Bremen, KY