Strike King Tour Grade Swim Jig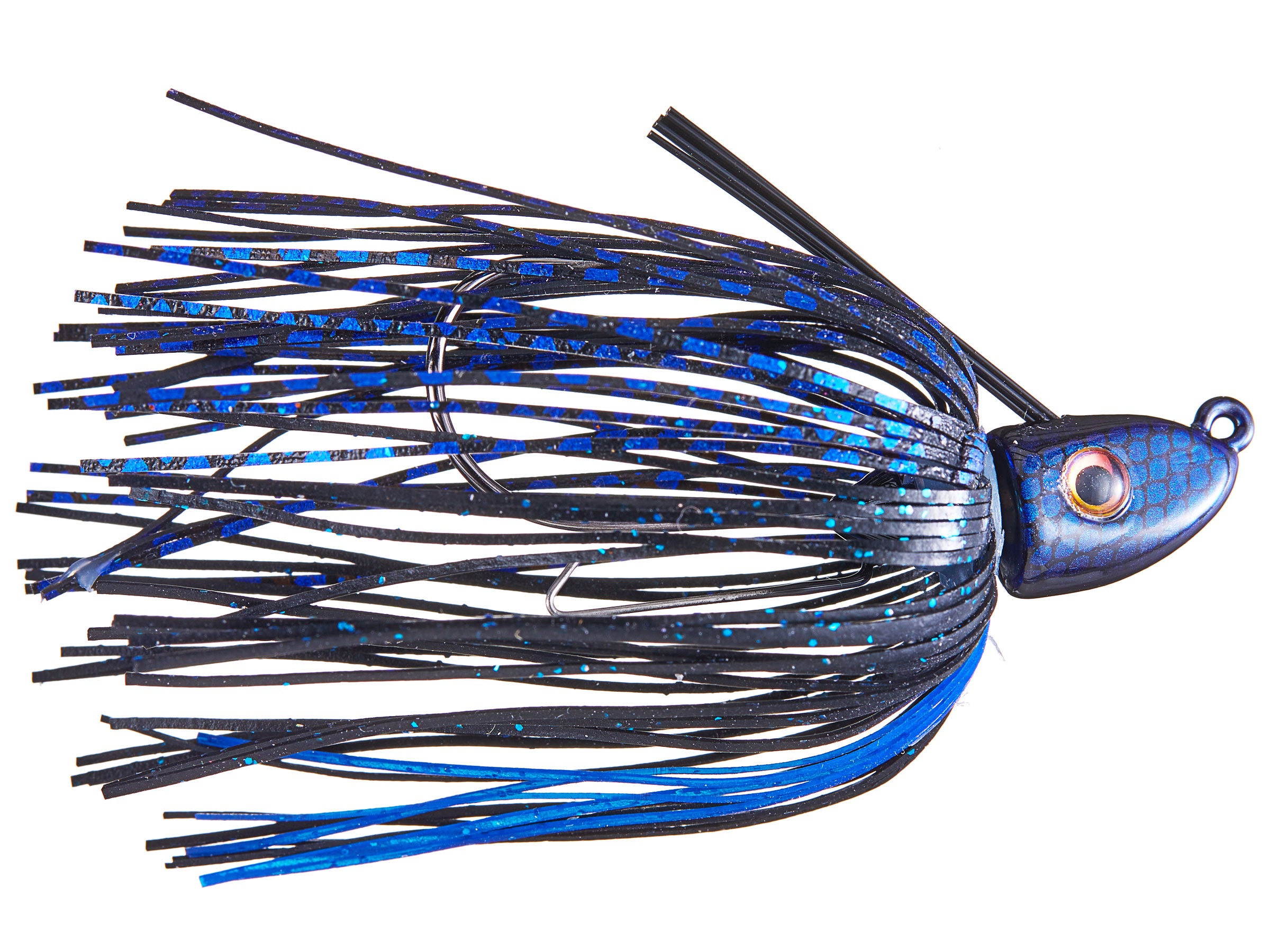 The Strike King Tour Grade Swim Jig includes a streamlined, balanced head for an enhanced swimming action. The head also features life-like eyes and a variety of colors that match up perfectly with the Strike King Perfect Skirts included with each jig. Swimming a jig is one of the most popular techniques on the pro tour and the Strike King Tour Grade Swim Jig gives you every advantage the pros have. The Tour Grade Swim Jigs also include a medium wire ultra sharp hook, light weed guard and a soft plastic keeper to firmly hold your favorite trailer in place.

10 Colors
More From Strike King Jigs
Customer Reviews
Comments: I have had a ton of success with this bait & the 1/4 ounce one actually comes through sparse grass better than the hack attack swim jig. They need a stronger hook though the hook flexes bad TW should pick up the kvd heavy cover swim hook isn't as beefy as the hack attack but the head design let's it come through grass better
From: Joe: RI 12/10/15
Comments: Took this jig out on the Susquehanna and dragged it along the bottom slowly with a crawfish/twintail trailer & just smoked em. Really good bait and some really nice fish.
From: Mike: Susquehanna River, PA 9/3/15

Comments: My new go to summer bait, catches fish all over 2 pounds. Slow roll between docks and big bass swoop up and eat it. I throw the bluegill color with a Houdini swimming fluke jr as a trailer.
From: Daniel: CA 8/4/15

Comments: Used these baits for the 1st time this weekend. Hooked up 6 different times and lost all 6 fish at the boat. Generated bites but the hook after inspection was very dull. Tied on a v&m started boating fish.
From: Jeremy: Belton, TX 7/19/15

Comments: I'm sure there are many good swim jigs on the market (I have tryed many) but for my money, Strike King, with all the extras built into it, make one of if not the best swim jig. I use the blue gill the most. If you need a bigger hook or stiffer fiber guard, go to the hack attack model.
From: Virgil: Green Bay, WI 3/23/15

Comments: These swim jigs catch fish! The eyes fall off after a few fish and the medium wire hook will bend out with braid but overall this is a decent swim jig for the money. The bait keeper on this bait is bangin cause you never have to adjust your trailer. Ive caught plenty largemouth with this bait and on a scale from 1to10 id give it a 7
From: Jbird: RI 10/21/14

Comments: Great swim jig! I use the 3/8 oz. bluegill color with a Strike King Rage Menace (Blue Craw) trailer and have not been disappointed! Large and smallmouth will devour these jigs! Jigs are well made and are very durable! I m fishing a highly pressured clear reservoir and consistently catch bass there. Highly recommended!
From: Nate: Daleville, VA 10/2/14

Comments: great swim jig, got it in the bluegill color and on my first outing caught a 4.5 lb smallmouth 3 lb largemouth and 7 more 1.5 to 2.5 lb fish, as well as a 35 inch muskie and 2 20 inch northerns, great bait and only used 1 trailer. i was using a strike king swimming caffeine shad
From: Tyler: USA 9/1/14

Comments: If the cover you're fishing is thick enough you have to use 50 lb braid then you should be throwing the Hack Attack Heavy Cover version of this jig, Not the light wire/weedguard open water version. I have used most swim jigs out there and these are the best. For only $3.29 per these are incredible. Pair them with a Reaction Innovations Kinky beaver or skinny dipper and hang on.
From: Hydrilla: Lake Seminole, FL 2/26/14
Comments: Best Swim Jigs out there period! I have been using them for about 2 months and have caught a 5.9, 6.1, 6.3, and a 4.5! And good amount of 2 and 3 pounders as well. I use a Zoom Swimmin Super Fluke 5" in the white ice color as a trailer, and the color jig that i have had the most luck on is Sexy Shad. the Swimmin Fluke makes the jig roll. Love this jig!

From: Johnny: Austin, TX USA

Comments: The skirt on these is very light yet quite durable, good swim jig overall, but I prefer dirty jigs.

From: Sam: USA

Comments: Threw this jig on a high pressured lake in Kansas. Helped me catch my biggest fish of the year, 5 pound largemouth. It has a nice wabble action to it and did quite well.

From: Carder: KS

Comments: This is a must have in every fishermans tackle box... went out the last 2 days for about 6 hours per day(upstate NY) and landed roughly 50 largemouth on the Bluegill color(5/16oz) all in lily pads and lay down trees... comes through vegetation incredibly well... use a 4 inch grub as a trailer and this well flat out catch fish... tight lines everyone

From: Craig: Upstate NY

Comments: used a 5/16 black and blue paired with a sapphire blue rage menace grub today and caught 13 prespawn bass 2 to 5 1/5 lbs. Through jig into cat tails and swam out never hung up. Eyes did fall off after a few fish but that didn't seem to matter. I have used all the top swim jigs on the market and always go back the strike king!

From: Kasey: MI

Comments: cut a half inch off the head of a watermelon red Zoom Swimmin super fluke and put it on a 1/2 ounce bluegill one of these jigs and 2nd cast caught a 3 pounder. today (april 6) swim it on the bottom about 5-15 feet from the bank (parallel)

From: Jared: VA, USA

Comments: Got the 3/8 ounce bluegill and threw on a 5.5 inch watermelon red magic shad and caught one on the first cast.. I catch bass like crazy on this jig!

From: Alex: TX

Comments: This jig in smokey shad paired up with a big bite bait paddle tail in blue pear pepper is amazing! Bass can't refuse!

From: Trey: Baton Rouge, LA

Comments: SK swim jigs are great! I've tried the Hack Attack, Tour Grade and regular versions of the Strike King swimming jigs with great success. Smokey Shad and Bluegill have performed best for me down here in Tampa, FL ponds and lakes. Have fished them in stained to heavily stained waters lately... They catch bigger fish and pair up well with Reaction Innovations Kinky Beavers for trailers. Have caught many 3~6 pound fish, all the way up to a nine pounder on bluegill and sprayed grass Kinky Beaver trailers. Great jig, as I rarely fish jigs, but now find my self with around 10 variations of the SK swim jigs now in my kit!

From: Shawn: Tampa, FL

Comments: Had my best day ever on the Black/Blue 3/8oz tipped with a Berkley Minnow Grub (Black). Devastating. Including a 6 and a 7 pounder (on braid)!

From: Shean: Northville, MI

Comments: This is one of my confidence baits. They are really awesome! I have one problem, but it might be self inflicted. I fish it normally on a 7'2"H or 7'2" MH with 15lb Flouro. The problem I get is that after several fish, my hook starts bending open... needing to close them with pliers from time to time during comps. Is my rig setup correct? Normal fish caught is 2-5 lbs, but when bigger is when I start getting problems with the hook bending open. I mostly catch with the 1/4 oz.. Any insight or advise will be appreciated, thanks! Awesome bait though!

From: Duane: Pretoria, South Africa

Comments: Well as todd has stated he is not a fan of this product, but I stand by this bait and would put money on it. I'm almost strickly a jig fisherman and any fisherman that does jigging knows that there is a specific way to fish your jigs with your line. Would you fish a shakey head with 50 lb power pro? Come on man its a light wired hook you don't need 50 lb braided line to set the hook, 15 - 20 lb fluro will do the trick. Yeah you should use 50 lb braid if you're using the hackney version, with a heavy hook, but not this. I have caught plenty of 4-5 lbers with this and have NEVER had any problem with getting the fish in my hands. I think that Strike King has the best jigs out there, period.

From: Derrick: Fountiantown, IN

Comments: Once again, another quality strike king product. Team these swim jigs with berkley havoc pit boss trailers and watch the rod bend. Have rigged up all the time. Get all the colors ! Caught numerous 5's with this combination

From: Brandon: Sioux City, IA

Comments: Caught my first bass of 2012 on the sexy shad with a white ripple shade trailer! This bait catches lots of fish amd stands up very well. Fished threw grass with no problems highly reccomended!

From: Jake: Maple Shade, NJ

Comments: Like the size and look of this jig, Great lure, going to fish with it this season. God bless all and keep fishing.

From: Alex
Comments: best swim jig ever caught ton of fish on it, its a very versatile lure can catch fish anywhere in any conditions.

From: Trevor: Lake Villa, IL

Comments: Elijah is right I have caught numerous 4 pound largemouth and a 36 in pike on the 3/8 oz GREAT PRODUCT!!

From: Alex: Wayland, MI

Comments: Todd has no idea what he's talking about. My first bass of 2011 came on a 3/8 oz black/blue with a black/blue smallie beaver trailer. threw it on 50 lb power pro into cover and pulled out a 3 lb 2 oz largemouth and the hook didn't bend at all. while the hook may not be overly beefy, it is plenty strong to handle big fish. the head shape allows for this swimjig to be pulled through cover easily without getting too hung up. the skirt pulsates enticingly.

From: Elijah: Seattle, WA

Comments: Not a fan. The hook is too light for braid in grass. Good luck if you hook one bigger than 2 pounds.

From: Todd: Potomac River

Comments: AMAZING BAIT!!! got the black and blue color and paired it with a green pumpkin with red flake rage craw and fished it in very very early post spawn....bass went freakin CRAZYY for them.

From: Shane: Hinsdale, USA

Comments: Absolutely love this jig paired with a rage craw or gambler cane thumper. Hard to beat around the spawn.

From: Andrew: Wellford, SC
Comments: I have no complaints about this jig. Catches fish for sure!! I use Black and Blue with either a Rage Chunk trailer or a Blueberry Vibe Craw. Sick combo!!

From: James: Orange Park, FL
Comments: I started throwing this bait back in early august 2010 and have caught several hundred bass since then. Won 1 tourny, 1 second place and 1 forth place. I can't believe more people don't throw these.

From: Denny: Cleveland, OH