Sufix 832 Braid Lo-Vis Green - $19.99 to $127.99
Winner of Best Fishing Line at the 2010 ICAST Show
Sufix 832 Superline is the strongest, most durable small diameter braid on the market. Constructed from 8 fibers (7 Dyneema plus 1 GORE Performance Fiber) at 32 weaves per inch, Suffix 832's R8 Precision Braiding and advanced fiber technology deliver superior strength, roundness and line consistency. The Gore Performance Fibers (from the makers of GORE-TEX) improve abrasion resistance, increase casting distance and accuracy, and also reduces line vibration, while the Dyneema fibers provide increased strength and sensitivity, as well as, superior hydrophobic protection and a smaller diameter. Stay ahead of the curve with Sufix 832 Braided Fishing Line in Lo-Vis Green.
| | | | | | | |
| --- | --- | --- | --- | --- | --- | --- |
| Line Diameter | 10lb | 20lb | 30lb | 40lb | 50lb | 65lb |
| Inches | .008 | .009 | .011 | .013 | .014 | .016 |
| Millimeters | .20 | .23 | .29 | .33 | .34 | .40 |
| Equiv. Mono Dia. | 4lb | 6lb | 8lb | 10lb | 12lb | 17lb |
Comments: Top quality braid, casts better than others and handles well. No problems with 20 lb test on baitcast gear. Only negative is loses color fairly quickly but just run a green or black sharpie down the last few feet and it works better anyways.
From: Joe: Salem, OH 9/19/14

Comments: Casts well. Ties knots well. Way less back lashes than any other line. Very strong. Color will fade some, but what braided line doesn't fade? Lo-vis green works well in all water clarity's. I tried the camo and I highly don't recommend it if the water is even remotely clear. I would only use the camo color of this line in very muddy/coffee stained water.
From: Seth: Pittsburgh, PA 7/7/14

Comments: This is literally the best braid that I have ever used and I would be shocked to find a better one on the market. I caught a 48' muskie last summer on 30lb braid while fishing for bass. The line held up great and I landed it no problem. If you are looking for an awesome line look no further!!
From: Ryan: WI 4/12/14
Comments: For the price it's a great all around braid, if your going to go over 40lbs just go to sunline fx2 but if your staying around 30lbs this is the best choice. This braid will fade a little bit over time but this does not effect strength at all. Very strong smooth braid that will not break off. Another great line product by Suffix
From: Simon: Ohio
Comments: This is honestly the greatest braid I've ever used, it's incredibly sensitive, never backlashes, and doesn't wear out. I've had pulled a 4 pounder through thick grass and cattails and it still held up! This stuff is the bomb! I will never buy another type of braided line!

From: Ethan: KS

Comments: I am satisfied with this line, it cast really well, and I find the knot is easy to tie and very strong. I change the hook before I have to re-tie. This line is very versatile and outlasts most braids. This line sinks really well when it comes to flipping and pitching, I just dont recommend it with a floating frog/lure,since the line doesnt sit on top the surface for long. Good Product

From: Cody: Baton Rouge, LA

Comments: I have several reels spooled up with this braid & am impressed. It does change color faster than a few reels I have spooled with other brands but I have noticed that with all braids eventually they will change color. The change in color to me is a cosmetic thing and has not impeded my fish catching ability. So far this has been my favorite braid got snagged in an oyster bed fishing for reds and the line hit the shells several times and never broke of course it was frayed but I didn't loose my lures. Which is why I have switched to braid for fishing certain rigs & types of fishing.

From: Skip: Roxboro, NC

Comments: Good line, from what I can tell. I haven't used it yet, but it is very limp and won't fray.

From: Nathan: Potomac, MD

Comments: I have used many braided lines over the years. I have been disappointed with a few and loved others. This one of the later. I have used it in 30,40 and 65 for saltwater use in Hawaii and California, on fish like GTs, tuna, mahi and striped bass. It holds up very well, needs very little break in time, and casts better than most other lines(with very little guide noise) I could bad mouth competitors, but there is no point. The extra cost is worth it. Be warned of the other dishonest "reviews" listed here. They are clearly not consumers but competitors leading you to another brand of line.

From: David: San Rafael, CA

Comments: this a great braid. It cast like a dream and handles well. The only problem I hav is the line starts to dig every now and then. It's a great braid but if u want better I suggest performance by sufix, it's the best

From: Ryan: Chitown, IL

Comments: Fishing in Lake Guerrero I need a good abrassion resistance line, thats why I use 50lb braid for my deep crankbaits. Last weekend I got snaged several times and didnt have a break and the line looked like new. trust me this line is awesome. making 60 plus yard casts with no problem at all. I use the 65lb for all my worm and jig fishing and havent had ANY problem at all.

From: Jose: Tamaulipas, Mexico

Comments: I have spooled up some of this 40 lb braid, and all I can say is wow! With my Tour KVD Baitcasting Reel I can cast this braid farther than fluorocarbon. Like all braids it makes some noise, but not as much as some. This is the first spool I have bought, and I will buy many more :)

From: Kyle: MI

Comments: The 832 is by far the best 8 braid in the market for diameter to strength ratio. Only down side is that it makes the competitors jelly and post negative comments and confused potential buyers. But who cares as I know I am using the best line right now.

From: 67er: Red Dot

Comments: Not drinking the Kool Aid on this. I've been using braid for bass fishing since you had to buy it as kite string and color it yourself. I must say I'm not impressed with 832. The color fades when you look at it wrong. Frays easily as well. I'm going back to Spiderwire.

Comments: This a great braid. I've used it on my pike/musky set-ups, and never had a problem with green stuff getting all over, or line strength. Like all braids, the color fades. This problem however, does not affect the preformance. If your worried about color fade, do what the pro's do and color the line with a perment marker. After all, I think the folks at ICAST know a winner when they see one. Thank you sufix for a great product!!!!

From: Mrbond007: East Lansing, MI

Comments: Worst braid i ever used.. Changed color in less than a day.. Went from green to almost white... Then the braid starts feeling slugish and thick.. Toss this stuff.. Sunline FX2 is the best

From: Sonny: East Wareham, MA

Comments: Casting is good. Smoothness is great. Strength is just okay. Color fades away faster than I would like. I've used 832 in 20 and 30 pound test. Was getting some break-offs with the 20-pound test in some light to moderate cover, but the 30-pound test held up well enough. Good all-around line but for me, it's not significantly better than Sufix Performance Braid. PP Spectra is tougher, but not nearly as smooth as SPB or 832.

From: Pete: City of Lakes, MN

Comments: Good value line, its soft and strong but is quite thick in diameter compared to what i usually use. Ive given it a decent run in fresh and salt water here in Australia and it hasn't let me down. Only negatives are it is thick and the colour fades, for a cheap braid its good.

From: Craig: NSW Australia

Comments: Anyone else have a issue with the green from the line gunking up any reels? I've used P Pro in the past but the baitcaster I put this on seems to have a lot more of the powder from the green coloring sticking to the reel. The line casts great and seems to be more resistant to frays. The color loss of the line, to me, doesn't seem any worse than the P Pro but, I am going to have to send my reel in to get cleaned professional due to all the green residue in every nook on my reel.

From: Dave: Rogers, MN

Comments: I purchased a 600 yd spool of 65lb to fill a few of my Curado 300e's since I fish heavy saltwater kelp. After the first time out, the line in one of the reels is slowly fraying apart. The color of the line is noticeably lighter as well. After a couple more uses, the line keeps getting lighter. It casts well, but other than that, it does not last and it cost much more than Power Pro. I personally would not recommend this line. I'll be going back to using Power Pro.

From: Jayson: CA

Comments: This line is awesome. I had high expectations for it and a low tolerance for any problems it might give me (having only tried Spiderwire braid before). This line far exceeded my expectations and gave me a new confidence when it came to catching Northern Pike, who, with monofilament, snapped off too many of my good lures to count. My only complaint, and it's a small one, is that this line does fade, contrary to the claims on the back of the box. It gave me no problems, and I will be buying more.

From: Eric: MI

Comments: Use this line on baitcasters and spinners, fish michigan's great lake st. clair, which you never know what might be on the end of your line. I use 10# and have had no break off's all season. Pulled in a 43" muskie on a XR50. Same 10# line pulling in 9-10lb laker and walleyes off break wall loaded with rocks. didn't frey or break. Color does fade but line holds up well. Spay with line conditioner and color will last alot longer. Used the lime green down in the keys and no issues there either. Just like all the other lines out, there's a defect in the bunch. Have friends that sware by spider wire, I had more breaks and lost lures than I care to remeber. Son (10yrs old) cast his brand new Rapala clackin rap that he bought with his own saved money fly off into the depths when his spiderwire broke off probably 20 to 30ft of line went with the lure. Would never buy spider again. We have had great luck with this line and will continue using until given a reason not to...

From: Tinmn: MI

Comments: I am yet to try it out but seriously, all of the worst reviews on here put in a mention of a competitor brand? Makes me wonder...

Comments: Great line. But in 1-2hrs it loses its color and turns almost white.... LOL

From: Sonny: East Wareham, MA

Comments: Not impressed. I stripped it off after a few uses and went back to Power Pro.

From: Guido, Canada

Comments: The line is very quiet through my duckett micro guide rods but the first few weeks it did bleed quite a bit turning my fingers and part of the rod green but aside from that it is a great line, very tough and worth the money just wish I could find a quite braid that doesnt turn my fingers and rods green

From: Nathan: MS

Comments: at first i thought this line was a joke, got a spool for free and didnt use it. needed braid and was out of power pro so i gave it a shot. it is horrible on spinning gear, but on baitcasting gear it is a completely different line. extremely strong and extremely smooth i was surprised. i thought the gore was just a gimmick but it actually is extremely strong and durable.

From: Max: WI

Comments: Man, a lot of conflicting opinions on here. I haven't had any problems with this stuff, and I have it on several rods that get heavy use. No signficant fraying, no breaking, no more line fading than any other brand. I feel like I get a little truer connection to the lure thanks to the line sinking instead of all floating on top. Its a little quieter through the guides as well. I dig it. Big J tested, Big J approved.

From: Big J: Houston, TX

Comments: Put this on 3 different spinning reels fishing same as what I would normally use 20# Power Pro on. For whatever reason, this line seems to hold twists something fierce. Not a good quality for spinning equipment. No matter how much line was on the reels, it continued to knot up. Power Pro has not given me any grief and hasn't knotted up like this. If you wanna pick knots outta your line all day like you've thrown an inline spinner all day w/ no swivel , this is for you. My money is on Power Pro. It might be great on a baitcaster, but it sucks on spinning gear

From: Eric: MI

Comments: very poor braid... its no stronger than any other braid and i dont see why its more expensive than power pro. its the worlds worst about synching down in your spool and knotting up. you will cast and find a knot in your line. save your money and buy something more dependable and CHEAPER like power pro

Comments: The absolute best braid on the market, I've been froggin with this line with the 50 lb test and this line is tough as steel! Super sensitive, casts well, and no noise when it comes through the guides, after all it didn't win best fishing line at I-CAST for nothing!!!

From: Mrbond007: East Lansing, MI

Comments: My brother and I put this braid to the test on one of the biggest bass team trails in the South East(Tom's Marine), and it passed our test! We used the 832 50 pound with both a floro leader and tied directly to the braid(pitching & flipping). Hands down the strongest and smoothest braid on the market!

From: Donald: Elizabethton, TN

Comments: As a big carp angler ive used all kinds of braid. The 832 50 pound is the stronges braid ive used to date. We fish for big carp in some of the heaviest snagg waters in South Africa and 832 has not dissapointed. Recently had a fish snag me up in a four meter tree and managed to uproot the tree and fish with no problem. Also found that the braid sinks quiker than its counter part Suffix performance braid. Colour loss is something all braids have. My money is on Sufix 832

From: Barry: South Africa

Comments: This is a very poor preforming braid. The whole concept of this line doesn't even make sense. Gore is used in fabric to make it water proof. So this line isn't supposed to absorb as much water than other eight weave braids. What I have found is line has the same buoyancy as any other braids I've fished and resisting water absorption should allow it to hold its color better than other braids. This is not the case. It took only two days of fishing for it to loose it's color. Also, as far as abrasion resistance, I have found it to be on par with other braids. All in all I will not be buying this line again. I now use Sunline FX2. It's the best line on the market right now hands down.

From: Andrew: Massachusetts, USA

Comments: Color does fade, but it definitely casts smoother and easier than any other braid, very happy with it

From: Dave: Aurora, IL

Comments: The line does fade but it casts easier than any other braided line i've used...Doesn't get it self tangled and doesn't seem to dig into itself...4 pot of 4 stars

From: Barry: Sugar Grove, IL

Comments: Line color fades way to quick! Loses its slickness. Way too much money for sub par line. I will stick with Cabelas ripcord si+. It is the best braid I have ever used. I have had it on one rod only used for top water for 3 years and it still works great!

From: Shawn: Lincoln, NE

Comments: This line fades really quick but it is also really quite through the guides. braid is braid

From: Andrew: SoCal

Comments: My wife bought me a spool of the 832. I saved for my tournament in Kentucky. I made 4 casts with a crankbait. The line broke twenty yards into the spool. Very much junk line. Big hype!

From: Peter: Machiasport, ME

Comments: Absolutely love this line. I use it in 30lb and 50lb test for my reels. The color does fade over time, but then again what braid doesn't. I used to use powerpro over this, but sufix 832 seems to be more quiet than powerpro through guides. I still use powerpro, but only because of their yellow line.

From: Mike: Waukesha, WI

Comments: In terms of slicker braided lines, this line is superior to Power Pro in every category and dynamic. I can't compare this to the new and improved Spiderwire lines (rumor is they are better than they used to be). Even though this line casts great, cuts cover better than performance braid, and in my opinion is less visible to fish than performance braid, I will also have a few rods with performance on them because I have years of knot and abrasion trust with the older line. On the finesse side, I feel this line is more sensitive as it slides the water quicker. In my opinion it is a great value at the price.

Comments: Not at all what I expected. In a bad way. Used once and the color is 50% faded already. Not quieter than other braids through the guides, in fact it seems louder. Will not buy agian, I'll be sticking with Spiderwire.

From: kyle: St Paul, MN

Comments: I agree with Tim reminds me of power pro works great. The line looses color but what braid doesn't? I do like the gortex fibers keeps your line dryer then others. The only bad thing is a bit pricey.

From: Robert: Austin, TX

Comments: been a power pro guy for years. This is better, much quieter than any other braid through the guides. I fish a wiggle wart on my spinning rod with a flouro leader. you can feel everything down there even on those long cast. Tackle warehouse just need to carry the high vis stuff so I can put on my shaky rods. This will be my new braid. great product

From: Tim: St. Robert, MO

Comments: This line was great for about 5 fishing trips. Then it showed it's weakness. Coating wore off and it was turning white. Ok, i can handle that but then it became frayed while gently pulling out a wind knot and broke a few times on me. 2 out of 5 stars for me.

From: Pat: San Jose

Comments: I have two flip'pin sticks, same rods, same reels,I spooled one with Spiderwire's new flouro braid, and one with the Suffix 832, to see if there was a difference. I latter spooled my finesse spinner, my worm rod, and my frog'gin rod with 832. I should have known, the Seige, and Deep Crank'n, along with the flouro leader has never let me down. The heavy spools of Titanium mono was my first knowledge of Suffix, And I still spool it on my kids reels, and my pond rods. I can see getting maybe a year of service on the 832, very limp and castable, however sinks very well with a 3 to 5 foot flouro leader. A bargain @ $20.00!

From: Kevin: Chelsea, AL

Comments: all lines that are sufix are gold an should be priced a $1,000,000 and spiderwire and others should be free this is the best line ever spiderwire and others can kiss my butt for all I care GO SUFIX!!!!!!!!!!!!!!!!!!!!!!!!!!!!!!!!!!!!!!!!!!!!!!!!!!!!!!!!!!!

From: Jack: San Diego, CA
Comments: This stuff is great, I have only been using it a few weeks, but I love it. I have it on my frog rod that doubles as a striper rod. I have 50lb on it and it feels like 20lb. It casts great and handles really well. The thinner diameter really helps with line capacity which is critical for 20lb+ stripers in rivers while using low profile bass sized baitcasters. For the slightly higher price over regular sufix braid, it is totally worth it.

From: Jake: Philadelphia, PA
Comments: buy this best line ever throw away spiderwire and other braids go sufix

From: Bobby: Austin, TX
Comments: By far the smoothest, strongest braid i have ever used. No wonder this won best line at ICAST 2010, its just awesome! I have 30lb test spooled on my Citica and this line is just a pleasure when thumbing the spool. HIGHLY RECOMMENDED!

From: Justin: TH, NSW, Australia
Comments: SUFFIX 832 IS MUCH QUIETER GOING THROUGH -TITANIUM ROD GUIDES THAN THE BRAND I HAVE FISHED FOR YEARS. IT HAS GOOD KNOT STRENGTH AND SEEMS TO CAST FARTHER. I LIKE IT AND WILL BUY IT AGAIN

From: Bud: Crockett, TX
Comments: The best braided line I have ever used! When they say "Advanced", they me it. It casts like a dream... Excellent knot strength... Extremely durable and tough... Not to mention you feel every "tick". So even the most subtle bite doesn't go unnoticed.
You owe to yourself to pick up a spool. I will never pitch or flip without this stuff spooled on again.

From: Jake: Wichita Falls, TX
Comments: I try it last week, and put it instead of the normal Sufix Braided; it feels thinner and is stiffer, actually it's a little bit harder to cut, but the handling is great and I took two fishes out of the water in the hookset... another great Sufix product.

From: Alejandro: Torreon, Mexico
Comments: Just got some in today. Would like to say that it feels very promising spooling it up. Did a little fine tuning in the front yard with the new line and it casts amazing, without that terrible tearing sound you get from most braids.

From: Greg: San Antonio, TX
***Note: If you have questions about this product or need assistance with an order please email your questions to info@tacklewarehouse.com
View Large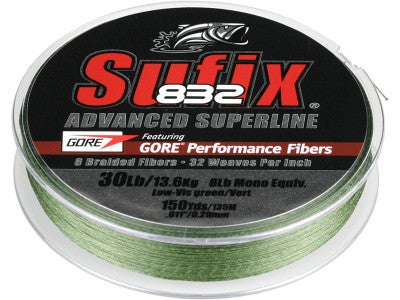 Place Your Order
More Sufix Fishing Line