Sufix 832 Braided Line Neon Lime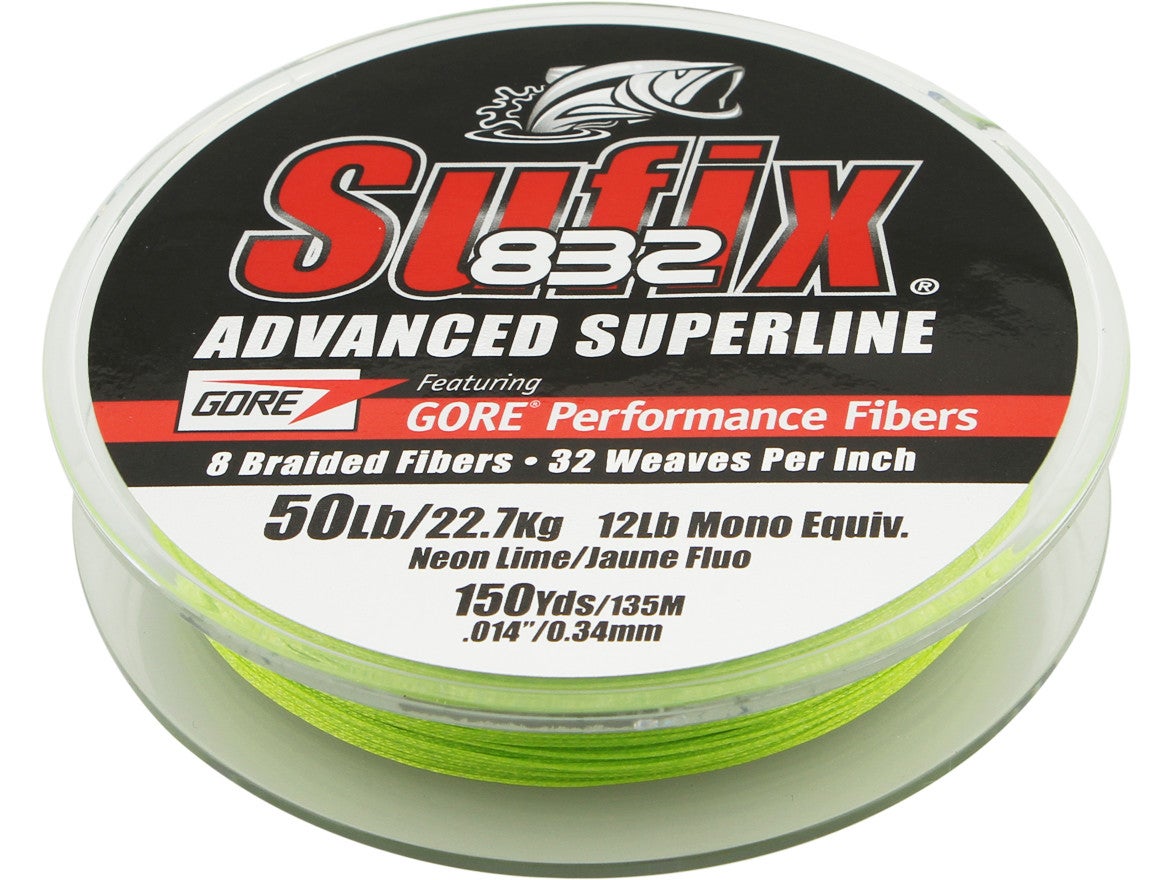 Now available in Neon Lime - Sufix 832 Superline is the strongest, most durable small diameter braid on the market. Constructed from 8 fibers (7 Dyneema plus 1 GORE Performance Fiber) at 32 weaves per inch, Suffix 832's R8 Precision Braiding and advanced fiber technology deliver superior strength, roundness and line consistency. The Gore Performance Fibers (from the makers of GORE-TEX) improve abrasion resistance, increase casting distance and accuracy, and also reduces line vibration, while the Dyneema fibers provide increased strength and sensitivity, as well as, superior hydrophobic protection and a smaller diameter. Stay ahead of the curve with Sufix 832 Braided Fishing Line in Neon Lime.
| | | | | | | |
| --- | --- | --- | --- | --- | --- | --- |
| Line Diameter | 10lb | 20lb | 30lb | 40lb | 50lb | 65lb |
| Inches | .008 | .009 | .011 | .013 | .014 | .016 |
| Millemeters | .20 | .23 | .29 | .33 | .34 | .40 |
| Equiv. Mono Dia. | 4lb | 6lb | 8lb | 10lb | 12lb | 17lb |
Place Your Order
More From Sufix Fishing Line
Customer Reviews
Comments: I really do love this stuff. Doesnt fray nearly as easy, super smooth and casts good. No wind knots either. The color retention is also very good for those guys that are color freaks. Trust me this braid is the real deal.
From: Matt: Plainfield, IL 9/18/15

Comments: I have used this braid the last three year's fishing on Kentucky lake for fun and local turnies and this is undeniabley the best braid i have used spinning or casting, very managable, strong & work's with just about any knot, using a conditioner like braid aid help's, but at least you won't snap the line on the hook set (Power Pro) at age 59 I've tried a lot of braided lines & THIS ONES MINE.
From: Mark: OH 3/16/15

Comments: this is the best braid on the market I thought tracer braid was good but this is great 100% 5/5 A+ the best

From: Connor: AR

Comments: This has got to be some of best braid to be made on the market so far. It's strong, durable, has a high abrasion resistance and is really easily to work with when tying leader knots. I've have been through every possbile brand of braid to date, from lowest quailty to the highest and Suffix 832 Advanced Superline is the best by far. It's a must have braid for every fishermans arsenal.

From: Keegan: Australia