Sufix Elite Clear Monofilament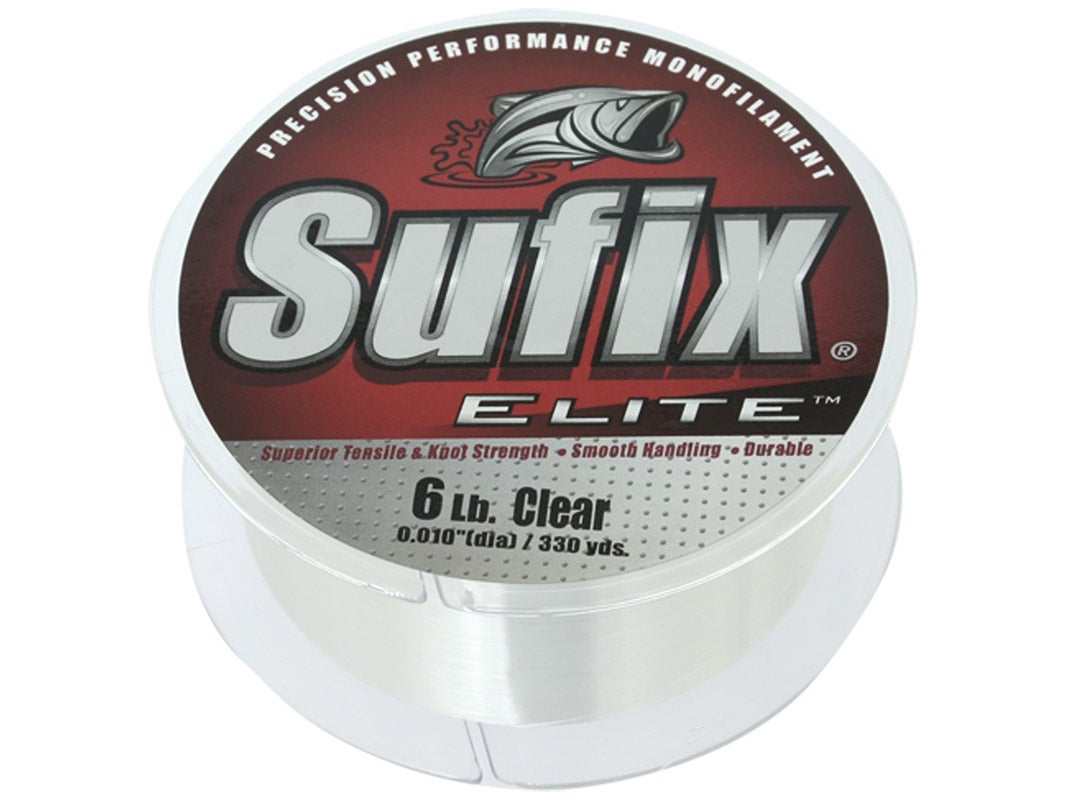 Sufix Elite fishing line is a premium monofilament line specifically engineered for precision casting that dominates in every performance category. Sufix exclusive J7 Micro Resin formula provides the perfect balance of superior strength and toughness with easy handling and casting. Sufix Elite is wound on wide, oversized spools using what they call G2 Precision Winding to virtually eliminate line memory for trouble-free spooling. For a tough but limp line try the Sufix Elite.
| | | | | | | | | |
| --- | --- | --- | --- | --- | --- | --- | --- | --- |
| Line Diameter | 4lb | 6lb | 8lb | 10lb | 12lb | 14lb | 17lb | 20lb |
| Inches | .008 | .010 | .011 | .012 | .014 | .015 | .016 | .018 |
| Millimeters | .203 | .254 | .279 | .305 | .356 | .381 | .401 | .457 |
Place Your Order
More From Sufix Fishing Line
Customer Reviews
Comments: its a good line very tough but the only down fall is it has horrible memory other than that its a great line i use the 12# test on my spinner
From: Nicholas: Onario, CA 1/11/16

Comments: Decent line, but kinda isn't any one thing. It isn't as manageable enough to be consider limp line, isn't tough enough to be a tough line. It nicks easy, sometimes barrels off the reel. Even though it has more stretch, I'm gonna stick with Trilene XL for mono.
From: James: Dallas, TX 3/27/15

Comments: love this line. Best mono on the market. I've used 17 pound test in other brands for fishing docks and any time a fish wraps up on a post it breaks but this year I've had 6 fish wrap around posts and not one fish got away. It's tough and durable and you can easily rely on suffix
From: Wilsconsin Angling Outdoors: WI 10/14/14

Comments: It's got pretty low memory and decent abrasion resistance/strength.
From: Tyler: Grand Junction, CO 9/22/14

Comments: my favorite mono. No line memory, and it's super soft. Packaging is superb, and for 8 bucks it's great. Stock up people!
From: Chris: ME 9/18/14

Comments: Worst line ever when fishing around rock lost three jigs in 10 minutes I just bought the line the day before
From: Josh: Charleston, WV
Comments: Been using this line for years now and by far my most favorite mono. P line is good too, but this has pretty much zero memory and P line has a tendency to curl. Its really strong and i Very rarely break off. Caught some toads on this stuff in trees in 30ft of water and pulled them out fine. 14lb for Texas rig 20lb for jig. Highly recommend.

From: Will: The Shoals, Al.

Comments: Sufix works well for me. It is thicker diameter for stated lb. test than most. But I also find the break strength higher than rated. Is it bettr than Stren or TrileneXL. Not sure.

From: Jay: Glen Burnie, MD

Comments: Some pros of this line: it does cast really well and has very little memory compared to stiffer lines such as Maxima. However, the line fails horribly - the worst I've ever had - when fishing rock - it has very poor abrasion resistance and will cost you fish...and that with brand-new line.

From: Ron: CA Delta

Comments: This stuff is great. Best mono I've ever used. Affordable too.

From: JDubs: NV

Comments: I was a P Line user for years and still think highly of it. Tried some Elite on the advice of a friend and was blown away. The Elite casts better, has practically no memory and is just as strong. Now buy it in 3000 yd service spools from TW and use it exclusively

From: Don: TX

Comments: best mono line super strong its even better then some cheap fluro

From: Sue: Fresno. CA

Comments: I started using suffix elete just after it came out and since I started using it, I will never use another brand of mono. It is very soft and works great on spinning tackle and baitcasters as well. It is super strong and almost no memory. I HIGHLY recommend this line to everyone who enjoys fishing.

From: D: Trumann, AR

Comments: Man suffix elite is my favorite line, hands down. I started using it while in NV trout fishing. I've used the 10/12lb test and now I have the 8lb Im going to use on my drop-shoot rig.

From: Jay: Meridian, MS

Comments: I think that this is the best Mono I have ever used. I use 14 and 17 pound test for spinnerbait fishing and I have nothing but good things to say about it. Limpness definitely adds distance to casts and makes it much more manage than stiffer lines. Pretty much zero memory. If you are going to use Mono get Sufix.

From: Dean: British Columbia, Canada

Comments: i have this line in 12# on two of my spinning rods. it performs great. also, this line is amazing tough for such a limp line. i would recommend it to anyone.

From: bassNredfish: Louisiana
Comments: 99.9% no line memory and it is the most versatile line ever i have it on all my rods and reels i use 14lb for topwater and shallow cranking and 12 for deep cranking and 6 and 8 for drop shotting and shakey heads.