Sufix Elite Lo-Vis Green Monofilament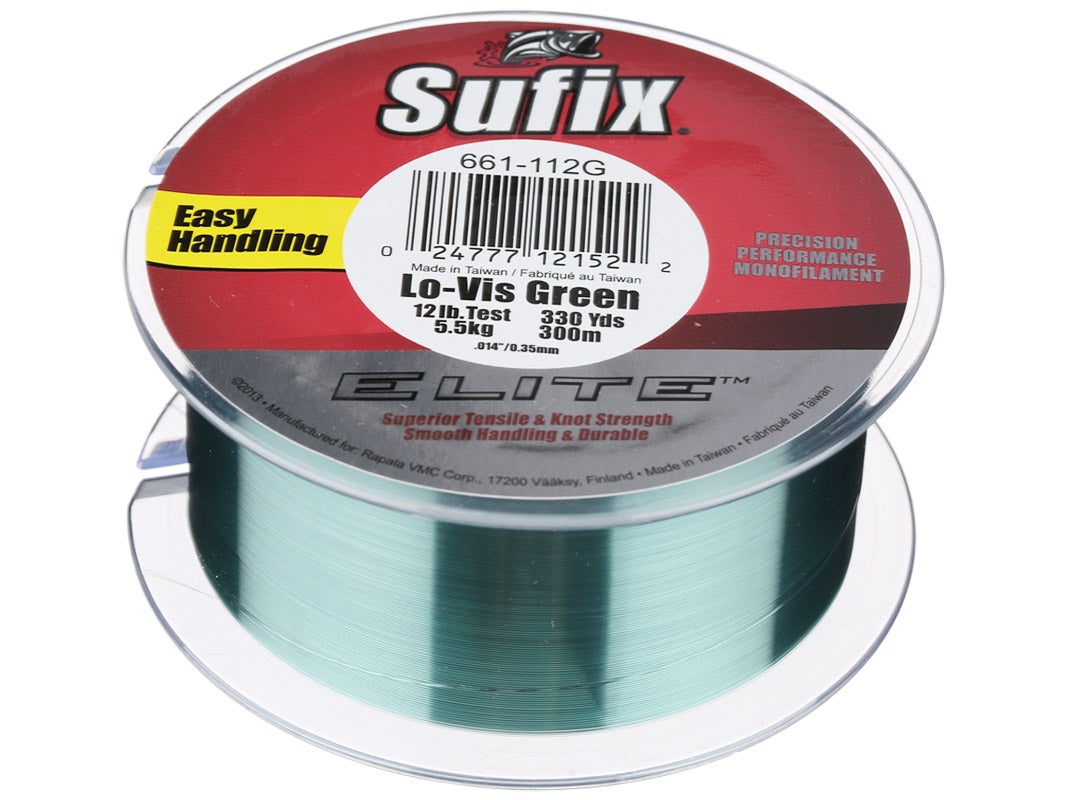 Sufix Elite fishing line is a premium monofilament line specifically engineered for precision casting that dominates in every performance category. Sufix exclusive J7 Micro Resin formula provides the perfect balance of superior strength and toughness with easy handling and casting. Sufix Elite is wound on wide, oversized spools using what they call G2 Precision Winding to virtually eliminate line memory for trouble-free spooling. The lo-vis green color makes it virtually invisible to fish. For a tough but limp line try the Sufix Elite.
| | | | | | | | |
| --- | --- | --- | --- | --- | --- | --- | --- |
| Line Diameter | 6lb | 8lb | 10lb | 12lb | 14lb | 17lb | 20lb |
| Inches | .010 | .011 | .012 | .014 | .015 | .016 | .018 |
| Millimeters | .254 | .279 | .305 | .356 | .381 | .405 | .457 |
Place Your Order
More From Sufix Fishing Line
Customer Reviews
Comments: An excellent fishing line. When you think of a good, affordable fishing line this is it. Get it, spool up your reel & have at it. its really not that expensive either.
From: Grant: Chester, CT 3/8/16

Comments: have found my line and am going no where else. stop looking and get sum suffix.

From: Jeroo: fightin' 10 feet down

Comments: Oh, alright... I feel I should speak up. I've tried the Elite, Deep Crank, and Siege in several test. I would rate each in this same order.
Elite is as good as it gets. Not better than all, but rates within the top 3 in my book. Really good line. Outstanding line for the price. Deep Crank does it's job well. It feels heavier than expected. Still, if it's depth you want, stick to Flouro. Siege is a waste of money. You will regret trying to save a couple bucks buying this stuff.

From: Trio: Northern California

Comments: Bought the 12lb. for fishing topwaters. After the first 10 minutes, the line snapped in the middle of the spool and ended up losing about 75 yards and almost my spook. Other than that, the line cast well after than that and had no further problems but I worry about line strength.

From: Mike: Chicago, IL

Comments: Best line I've ever thrown. Cheap, dependable, it's just the best choice I've ever made line wise. line won't break, knot never slips, very little line issues. If you do birdsnest it is very easy to get out without wasting a lot of time.

From: Fogle: Sumter, SC

Comments: Some of the Best Mono there is bar none. I went to the local Cabelas today in need of some new line. I talked with several reps there before deciding well getting talked into trying braid due to its castability. I went for the Power Pro 15lb test which was like a 6 or 8 lb test diameter. We stepped outside to the pond out back of the store and tried it. I was shocked that my cast was reduced to about 3/4 and less of its potential. Three of us threw the same rod a Dobyns md/hvy with a Quantum Smoke 100 and it produced the same sickening results. I couldnt get the braid off my reel fast enough I was furious as I have always used Sufix Seige and worked fantastic for castability no line sticking to itself or wrapping around the tip of the rod "some lines do this profusely" and the cast is great. Well I went back into the store and purchased Sufix Elite and my cast was back in action smooth effortless casting. I dont know how anyone could say braid casts further those same people that tell you that probably dont tell you that it slips on the reel too and you should back your reel with mono and fish with a mono leader which is what the pros do because braid is highly visible in water and not to mention that braid does cut grooves in your guides. "Braid" ...for those who have no idea of what they are doing best thing to do is let em. Sufix Elite Mono!