Sufix Invisiline Castable Fluorocarbon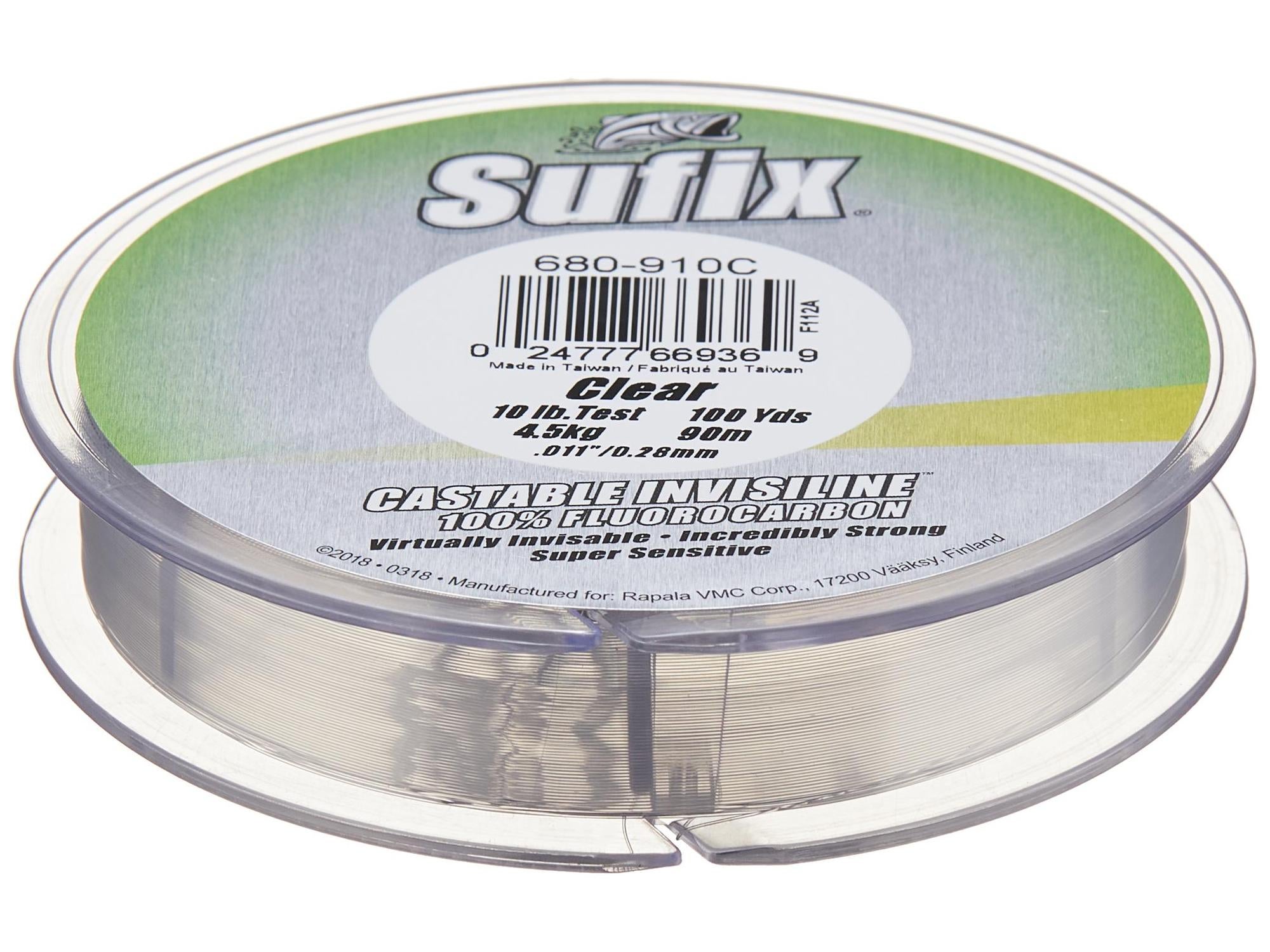 Sufix Castable Invisiline 100% Fluorocarbon Fishing Line offers the same invisibility and durability that anglers love with the original - now with added castability. Extruded differently so it relaxes more on the spool, the exclusive G2 precision winding virtually eliminates line memory, and keeps it super soft and limber. Offering exceptional handling for spinning and casting reels, Sufix Castable Invisiline 100% Fluorocarbon Fishing Line also offers a low-stretch index for optimal hook setting power, sinks 4-times faster than traditional Nylon lines, and is impervious to Ultra Violet Rays that can damage lines.
| | | | | | | | | | | |
| --- | --- | --- | --- | --- | --- | --- | --- | --- | --- | --- |
| Line Diameter | 4lb | 5lb | 6lb | 7lb | 8lb | 10lb | 12lb | 14lb | 17lb | 20lb |
| Inches | .007 | .0075 | .008 | .0085 | .009 | .011 | .012 | .013 | .016 | .017 |
| Millimeter | .018 | .19 | .20 | .22 | .023 | .28 | .31 | .33 | .41 | .43 |
Place Your Order
More From Sufix Fishing Line
Customer Reviews
Comments: still my favorite fluorocarbon after 3-4 years. Tough as nails, best casting & knot strength of any flouro I've fished. The only knock I have is that it's not the most invisible. But I have 100% confidence in this line, and that's a nice thing when it comes to fishing gear. Never experienced any 'shedding' mentioned in the other reviews but I'll check out my spools with a magnifying glass and look.
From: Brian: GA 6/15/15

Comments: been using this line for a little over a year now and have tried 8lb-20lb test and can say that this is a pretty good line. While using the 8lb line, I've caught bass up to 7lbs with no problems. I have full confidence in it!
From: Robert: Midland, TX 4/12/14
Comments: decent line, strong and fairly sensitve for fluro but it digs into the spool really bad but overall 7/10 no problems with sheding or white color

Comments: I'm glad I'm no the first to experince a great deal of shedding on their line. I bought a spool of 10lbs to use as a leader, and I have to change the leader everytime I go fishing. You can literally see the fibers peeling off after a few casts.

From: Samuel: Greensboro, NC, USa

Comments: I bought myself a spool of the 12lb 200yd and the end result of it, is my reel is now spooled with something else. I really did not like this line. As previous reviews read it sheds, mine did to. I will not be purchasing this line ever again.

From: thastickybandit: omaha ne
Comments: Read the great reviews and decided to try it. Bought 10# for throwing crankbaits. I'm not impressed at all and will be removing before my next outing. The line doesn't cast all that well (too stiff) and sheds fibers. When I pinch and pull the line and check it for cuts, line fibers shed off the line on my fingers... Not sure if I got a bad batch but I'll stick with Trilene 100% or Sufix Deep Crankin Line from now on.

From: Scott
Comments: Not invisible under the water at all! It looks very white, not very impressed with this line from this good manufacturer! Did not use it for long to test durability but switched it for FC sniper instead.

From: Charlie: Trenton,NJ,USA

Comments: I tried this line on my baitcasters and it is ok but, there are better ones out there,FC sniper and yozuri hibrid are some of them and it is not all that invisible at all, it has some white color to it also as well as memory issues. Not very impressed with it so far!

From: Charlie: Trenton,NJ,USA

Comments: Really like this stuff on my spinning reels.

From: Erik: Bakersfield

Comments: I've used most of the major brands of flouro- suffix is where its at. Imo the best flourocarbon on the market. Their winding process does wonders for reducing memory & backlashes. Sunline Sniper is good, Suffix is better. Take the Pepsi challenge for yourself.
My suffix quick overview(baitcaster):

Siege: ultra far casting, tough, not much stretch. My favorite mono. ( but as another reviewer pointed out, the camo color seems to have issues kinking for some reason).

Elite: doesnt cast as far as Seige but it's easy casting/backlash proof, limp, tough & stretchier than siege. Perfect line for baitcasting beginners.

Suffix Flourocarbon: easy casting, less memory than any other flouro I've tried, unbelievable knot strength & casting distance, tough as nails. I've yet to find a fault with it.

Performance braid: I like it better than 832 but not my favorite braid.
832 braid: messy, don't like it.
From: Brian: Atlanta, Georgia

Comments: For years i have always been a berkley user and i was good with the XL,4 years ago i moved to florida where i was lucky enough to have a BPS, after much debate with there sales man suffix was deemed to be the best line.. I fished 832 for a while, Now in NY where the fishing is differant i decided to switch to floro, I tryed the berkely and it was junk!! 3 casts on my core 50 and i took it off... So i saw this and decided ahh what the heck.. Its cheap enough(compaired to braid) so i tried it.. I love this stuff.. casts a mile,smooth and alot quieter then the braid.. I feel it is impossiable to see in the water, I will be ordering some 14 LBS for my reel, I have 10 now... Suffix is deff my line of choice no matter mono,braid or the floro....

From: Dan: Cape coral fl

Comments: This line casts great and is very sensitive, however it is visible underwater, if it wasn't for that this line would be perfect.

From: Adam
Comments: Well, was using P-Line and wanted to try something else. Bought Sufix based off of the reviews on here. Not sure what to think. I bought 3 200 yard spools, 5lb., 8lb, and 10lb. Have not tried the 5, yet, but here is my report for the 10lb. test and 8lb.. Used it on a baitcaster for a spinnerbait. Caught some decent fish and all seemed good, at first. One cast my spinnerbait flew off as my line broke. Could have been a nick in the line but I change knots, and spinnerbaits for that matter, often. Tied up a new spinnerbait and 8 or 10 casts later snapped a fish off while setting the hook. One time I got caught up in some reeds and I slapped my pole down and the tip hit the water and my line broke at the rod tip with zero pressure, just the force of my tip hitting the water, which I have done a number of times with other lines. Tried the 8lb. on a spinning reel and Oh my! I have never had line ball up in loops coming off the reel like that. Every third to fourth cast I had to sit down and unravel 5 or 6 feet of line all twisted around itself. I do like how clear the line is. I, actually, have trouble seeing it out of the water, at times. That is the only good in this line that I could find Will not buy again, which sucks, I just want to find a good one and stick with it. Maybe that good one was the P-Line.

From: Arnie: Tacoma, Wa

Comments: This is the best fluoro that I have ever used. The price is remarkably low for the quality of product that you are getting. Sensitive, manageable, and cast a mile. If you are debating using it don't it will work for you.

From: Steven: Pineville, LA

Comments: I like this line. It has low stretch, it is super manageable,strong, quite abrasion resistant, and affordable. I got some in 12 lb for mid to deep cranking. The only bad thing I can say about it is that it seems quite visable in the water to me compared to fluoros I have used in the past. I noticed it especially when spooling my reel. It looks white instead of clear. I have used Trilene 100%, Seaguar InvisX, and Sunline Sniper. I found Seaguar to be stretchy, and Trilene to be weak. I will stick to Sunline Sniper for applications where visability is a factor(even though I hate the price), but I will definitely choose this line for applications where its not.

From: Nick: Danville, FL

Comments: This stuff rocks! I've been looking for a dependable Fluro and I think I've finally found it. I've tried 100% trilene vicious etc and nothing comes close to this line. Super manageable and my polomar knots work excellent with this stuff. I use suffix 832 braid exclusively and should've know to just stick with suffix.

From: CJ
Comments: Gave Sufix a try 2 seasons ago and cant bring myself to go anywhere else..,.mono or fluoro. this is my line. GREAT stuff.

From: Jeroo
Comments: This line has the capability to compete with the higher end fluoro's like sunline shooter, at an affordable price. Good stuff, looks like sufix redeemed themself.

Comments: All you have to do is read all the reviews on this florocarbon!! This the best on the market bar none!! I think there was one guy out of 15 or 20 reviews that didn't love this line. Well Jerry from St Paul, you can have that seaguar brand!! The rest of us will take sufix!! Don't look no further than sufix for some bad ass floro!! Thanks tackle warehouse for always having the best on hand!!

From: Mrbon007: East Lansing, MI

Comments: Better than any seaguar, and just as good as more expensive stuff, for a better price. I recommend this to anyone.

From: Josh: Canada

Comments: Gave this a shot in 14lb - casts like a dream - very low stretch - super manageable. Got a few jigs stuck on rocks on the bottom - and I swear I almost could NOT physically break this line. Given its INSANE strength, I'm going to switch to 12lb test and get even better cast-ability and manageability. Amazing line, I'm completely sold, ordering more NOW!!

From: John: Tempe, AZ

Comments: I have used Seaguar for quite a while and just not been satisfied with it. This is by far the best fluorocarbon I have used. I absolutely love the 7lb on a spinner for dropshotting. I had to break it off due to a getting hung and I was amazed at how strong the 7lb line was, I landed several 2.5-3lb spot bass with no problems. I am here now ordering more. Try it, I think you will be surprised.

From: Scott: Anderson, SC

Comments: Best flurocarbon line.... period. I have been testing this line now for two months. I did the same for all the popular flurocarbon lines available in the market, not one of them will compare to the quality and durability of this line. Best of all... it will not snap!
This stuff is incredible, super strong very little memory and casts great. The only issue is, you can only get it in 100 and 200 yard spools. They need to make bulk spools 1000 yards etc.

From: Alex: Chattanooga, TN

Comments: Simply Amazing...

Comments: Awesome flouro...all I'm buying from now on. Kyle from MI is right about seaguar invisx, also I saw a test and invisx has more stretch than regular trilene when wet. I use to use berkley 100%, tried viscous (terrible memory), and this stuff. Suffix is by far the best

From: Pete: Reston, VA

Comments: All my fluoro nightmares finally went away after using this stuff. Thank You Sufix. I should have known. Braid, Mono, Fluoro - get some Sufix!!

From: Mark
Comments: Well, Jerry from St. Paul has officially become the first commenter on here to somehow manage to use this stuff wrong or he just happened to get a bad batch. This fluoro is the strongest I've ever seen. My buddy can't get 8lb test to break no matter how hard he pulls when he's hung up on something at the bottom of the lake.. I had 8lb Seaguar break on me when trying to land a 2lb or 3lb largemouth several times, as did my fishing buddy. This stuff casts great, has almost no stretch (Seaguar has a TON), and is very abrasion resistant. Not a better fluoro on the market, guaranteed. I think you should give it another shot there Jerry, practice your knot tying too.

From: Kyle: St. Johns, MI

Comments: Figured i'd give this stuff a shot and at first i liked it but then it started to unravel. Lots of memory and is not very resistant to abrasions. I use line conditioner and it didn't seem to help. There where times when i'd cast a weightless senko and the line would break off and it happened when setting the hook. I wasn't even fishing cover. Pros: no stretch Cons: lots of memory, bad knot strength, not pliable at all. I think i'm going back to seaguar. It's not horrible just not the best.

From: Jerry: St Paul, MN

Comments: Very good line. I have always been impressed with Sufix lines so I decided to give their fluorocarbon a try. It provides all of the benefits of fluoro while minimizing the drawbacks. Knot strength is good, low stretch, low memory, and it seems to be very abrasion resistant. This is myy new fluorocarbon choice.

From: Justin: SC

Comments: best fluoro on the market, period...i have tried many brands over the years and this stuff just flat out performs everything else...almost feels like mono its so smooth and casts so well...memory is extremely minimal for fluoro and strength is as good as any...i will be switching exclusively to this fluoro, no doubt in my mind...try a spool, and u will be too

From: Judgie: Scranton, PA

Comments: I'm AMAZE by how good this line is. One of the best fluorocarbon line I have use. This line did really good for me on the river this weekend (04/22/12). Caught lots of good size small mouth and large month bass on Lake Pepin. I was using the #10.

From: Nhia: Little Canada, MN

Comments: Great Fluorocarbon. Has little memory and is incredibly strong. Used this on small crank baits and plastics and it works great. I am a first time Suffix Fluorocarbon user and im very satisfied with this product

Comments: I think it says a lot about Sufix that they have ONE high quality fluorocarbon line at a reasonable price, instead of having 3 or 4 different fluoros like some garbage brands (Seaguar). Sufix doesn't need to put out 3 or 4 varieties of the same type of line when they have the tried and true good stuff right here! You cannot go wrong with Sufix and I will not stray from their excellent fluorocarbon again.

From: Kyle: MI

Comments: This line is awesome as with most of suffix line of products the only problem I have with this is the line memory when pull line off my reel i have coils. Unlike my suffix seige I have almost zero memory. All in all super strong line as expected from Suffix

From: Freddy: Ontario, CA

Comments: awesome line! Best casting and strongest flourocarbon I've used so far! I love sufix mono and braid and this just adds to my arsenal of extremely dependable sufix line!! I will buy more!

From: Kevin: Moscow, TN

Comments: I have tried them all and this by far is a top of the line castable Fluoro

From: Rob: Navarre, FL

Comments: Spooled up with some #14 for my squarebill cranks. I'm a thousand times impressed with the improvement they made from their previous Fluorocarbon line. Very manageable, not really stiff at all, it acts alot like mono and low stretch. I checked out their Heavier versions for pitching and I will be switching from Seaguar to the Sufix. Don't ge tme wrong, Seaguar is good, but this stuff is just a bit more managable. I think I've been converted to Sufix line for good now.

From: Kevin: Wausau, WI

Comments: WOW!! What a improvement over their old line. By far the best fluoro I've used yet. I would recommend this line to anybody, especially those who use seguar!! This line is super tough and casts great. I landed a 4 pound bass on 6 pound test, and had no problems, like I would have if I used seguar.

From: Mrbond007: East Lansing, MI

Comments: One of the best fluoros I have used. Super tough and low stretch. Wish it came with green tint.

From: Rob: TX

Comments: The best fluro i have ever used smooth and no stretch super sensitive.

From: Glenn: Hammond, LA